Sydney CBD's Sheraton on the Park is celebrating its recent refurbishment, the first major one in 15 years. Come and take a look inside and have a look at what the new residential-style rooms look like!
Some floors have already had their refurbishments completed and by May 2019 all 558 guestrooms will be finished. Our room #1530 on the 15th floor is a Sheraton club room. The king bed is inviting and the whole room although quite a tidy size at 40 square metres it is decorated nicely with homely touches like photo frames on the wall and a chaise lounge next to the window in the style of someone's home away from home.
The view however is probably unlike most people's homes-it's of Hyde Park below in all its verdant splendour. The bed is very comfortable with some of the smoothest sheets on offer. The pillows are a little high but I'm a big fan of the sheets.
There are plenty of plugs right by the bed to charge your phone (although the blue LED lights are quite bright when you're trying to sleep). There are also complimentary bottles of water on each side. The turndown service is by request. The room is given the extra impression of space with the enormous full length mirror in front of the luggage room.
The black marble bathroom is spacious with a large circular mirror and lights. Amenity products have switched to a new brand Le Grand Bain. There is a separate bath and shower and the range of amenities have also been upgraded - previously amenities like toothbrushes, razors and slippers were only available in suites but now all rooms have these.
It is before Christmas and the best way to celebrate is with afternoon tea with friends. Downstairs in the Gallery Lounge is where the afternoon tea is held. If you like sweets their festive afternoon tea is for you. I'm having afternoon tea with Jaqi. We start with a glass of Ruinart Blanc de Blanc champagne which is a crisp, dry champagne. Service is really lovely and friendly and they give us personal recommendations which I always like.
The afternoon tea comes out on a three piece tier that resembles a tree. The first tier is a layer of sweets including a Mojito jelly shot and there is also a Peruvian dark chocolate mousse with a blackberry glacage that resembles a dainty little Christmas bauble.
On the very sweet side is a Jasmine tea pavlova with lychee berry compote and there's also a raspberry and passionfruit millefeuille (alas the pastry is a bit soft on this one). My favourite bite is the mango tart with coconut cream that looks like a Christmas tree.
The third tier is one with the savouries. Although they are described as sandwiches they're not traditional finger sandwiches. Instead they're items like a zucchini, red capsicum and feta quiche or slices of smoked duck breast on a thick toasted brioche with native currant cream and candied wax drops. There's also a rectangle of pumpernickel topped with smoked goats curd, mint gel and sorrel. I don't try the filo cup with rum, cinnamon and ginger cured barramundi, shaved pickled pineapple and rosella flowers as I'm allergic to barramundi.
The scones come separately after the tiers are eaten so that they arrive warm which I really appreciate as I've sometimes asked for scones to be warmed up if they are cold. There are two scones each, served with jam and thick cream. And can I just say lemon and poppyseed scones are such a delicious idea? It's my new favourite scone.
We sit back and sip our teas-the herbal blood orange and eucalyptus is gorgeous (not particularly eucalyptus-y in case you're worried about a strong aroma). The white tea is also lovely as is the Prince of Kandy black tea.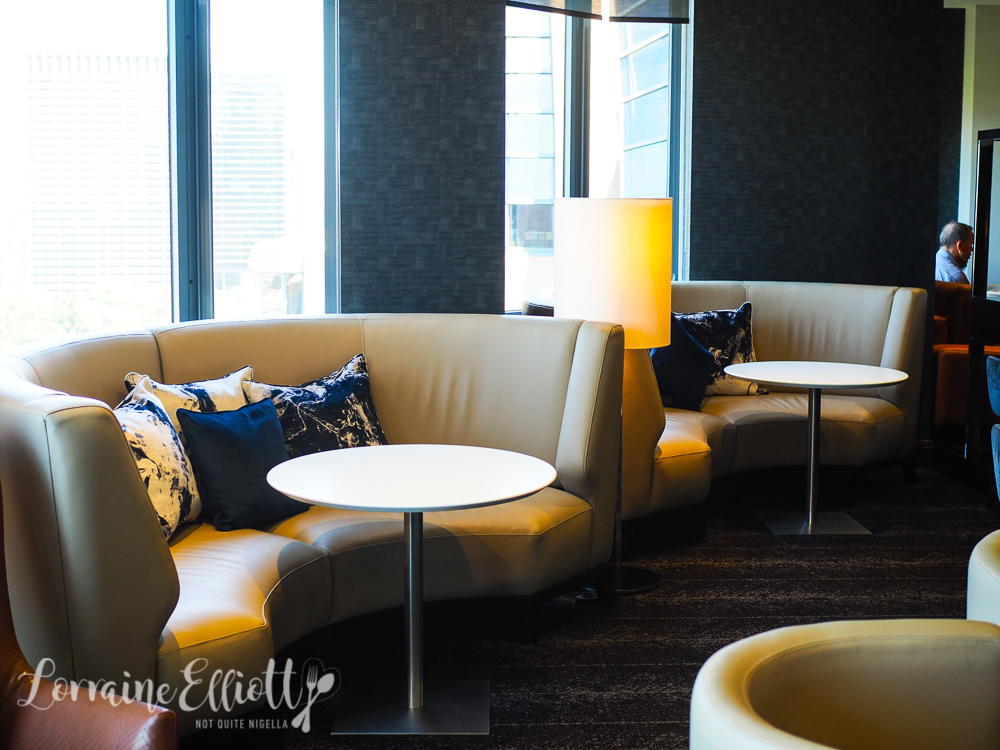 Come 5:30pm if you have club lounge access, the 21st floor club lounge is one of the most popular places to visit. Open from 6.30am to 10.00pm it hosts breakfast, afternoon tea and pre dinner canapes.
There are all the perks of the club lounge (private check in for VIPs, access to boardroom etc) but the spread of food is excellent with fresh prawns, oysters, sushi, dim sum, noodles and a large range of desserts. I do find a lot of club lounges really vary in their offerings but I'd say that this is definitely worth the extra upgrade rate given the range of food, especially if you want to eat a light dinner at the hotel.
Choose a seat, either one outside on the balcony or a soft, comfortable lounge piled high with cushions and order drinks with the friendly staff and then help yourself to the food.
The hotel also has two other restaurants on the first floor. There is their seafood buffet but we aren't huge buffet fans (breakfast buffets are an exception).
Instead we head to the Conservatory Bar which is drenched in the last vestiges of the receding day's sun and take a seat on a comfortable lounge. We order some cocktails, a Gold Digger made with vanilla vodka, peach schnapps, pineapple and passionfruit as well as a White Peach Pisco Sour with Pisco, white peach, lemon and sugar. Service is fantastic and everyone seems quite jolly with Christmas parties.
Crabmeat filo sticks $26
The crabmeat filo sticks are baked filo pastry fingers stuffed with crab with a side of sour cream and Yarra Valley salmon roe and salty dry capers. The capers really enhance the flavour of the crabmeat and the sour cream dip.
Gold Digger Cocktail $22 and 2 mini Wagyu beef burgers $25
The mini wagyu burgers are a simple slider with tomato, lettuce, tomato chutney, cheese and a beef patty although the tomato does make the bottom bun a little wet. To the side are sweet potato crisps.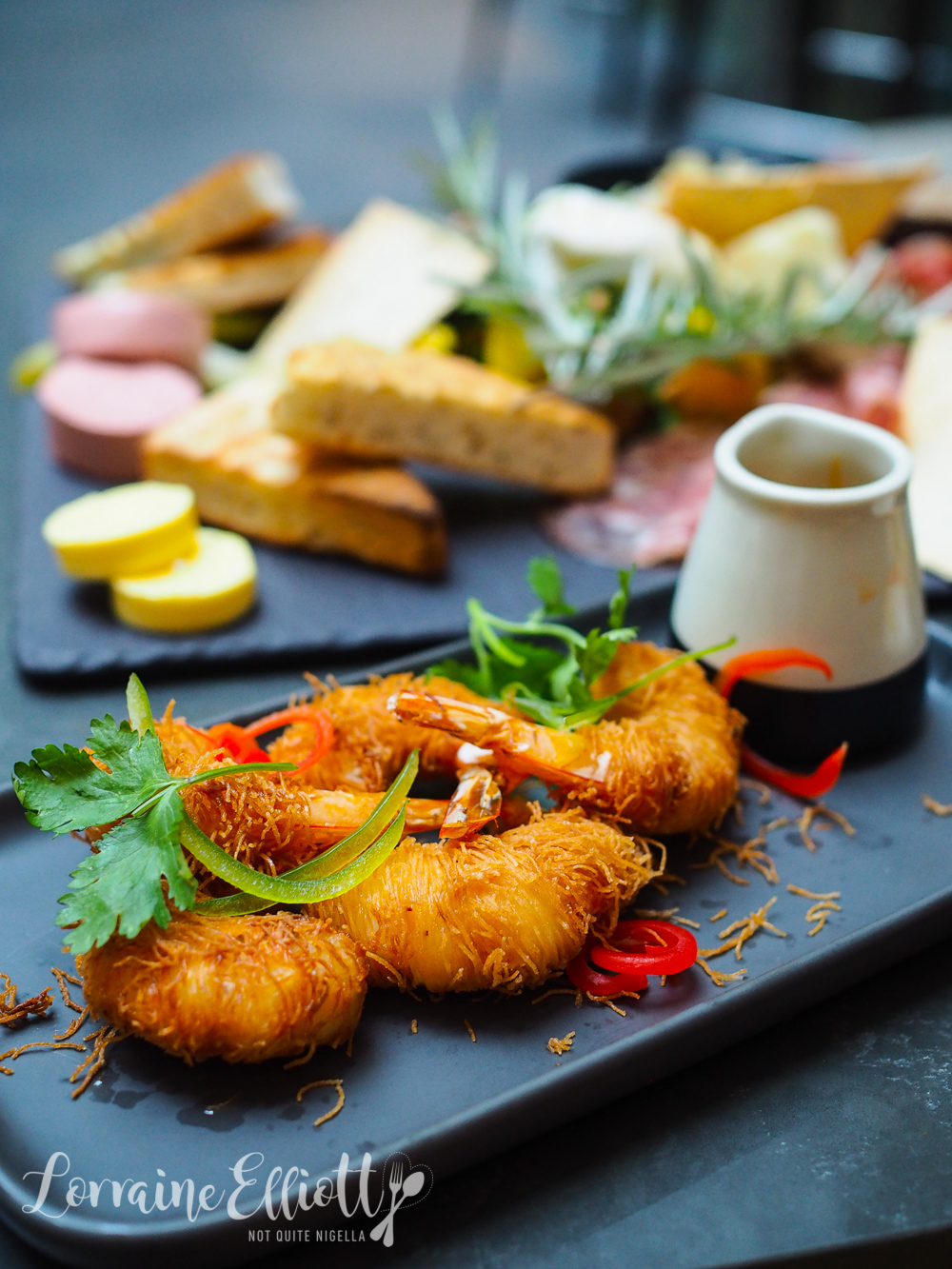 Prawn kadafi $28
For something crispy and deep fried, the prawn kadafi are prawns wrapped in needle thin kadafi pastry. They come with a mango chilli dip and are quite moreish.
Scotched quail eggs $24
I think I was hoping for more truffle in the truffle mayonnaise. It's said to be inside the quail egg and mince coating. Still it's a really tasty morsel and the sweet German mustard it comes with is excellent.
Charcuterie Platter $65
The charcuterie platter is enormous and features a range of meats, pâtés and cheese as well as crackers, fruit bread and focaccia. There's prosciutto, salami, goat's curd, cheddar, a gorgeous burrata cheese, liverwurst, duck liver pate, heirloom tomatoes, pickles and honeycomb. There's enough for 3-4 people really.
The next morning after a good night's sleep I make my way to breakfast back at the club lounge. It's humming with activity and the night time canapé display is replaced by a range of breakfast offerings from a giant, dripping, honeycomb slab to individual eggs florentines, fruit, cured meats and fish, pastries, fruit and cheeses.
I take a Florentine egg, dill edged cured salmon and some fruit and pots of yogurt and bircher muesli (research darlings, research!) and place an order for a chai latte with the waitress. The eggs florentine is delicious. I honestly didn't expect much with eggs in a bain marie but the yolk is runny and I end up finishing it all before starting on the fruit and pastries. savouring every bite so that I don't have to leave.
So tell me Dear Reader, what is the most important thing for you in a hotel bed (sheets, pillow, mattress, size)? Have you ever asked for scones to be heated? And given the choice would you go for a la carte or seafood buffet?
NQN and Mr NQN were guests of the Sheraton On The Park but all opinions remain her own.
Sheraton On The Park
161 Elizabeth St, Sydney NSW 2000
Phone: (02) 9286 6000
www.sheratonontheparksydney.com/