If you're a chilli fanatic like I am then you must give this Habanero Aioli Salsa Mayo a go. It can be used as a dip for chips or in place of aioli or mayonnaise or anywhere where you need a heat-packed pick me up. It also makes for a fantastic gift if you have any friends that love chilli!
I received a jar of Habanero Aioli Salsa by Salsa Maya at Houston Airport and fell in love with it instantly. I am forever trying to upp my chilli tolerance while at the same time trying to make sure that I don't kill my palate so that subtly flavoured food has no flavour.
This habanero mayo's deliciousness and versatility meant that I used the jar up quickly. It went on sandwiches, as a dip, in salads too or drizzled on top of bouillabaisse. And I knew that I needed to make my own version as I couldn't exactly hop on a plane to buy more. This tastes very close to the bought one and packs a punch but in the most delicious way possible.
Habanero chillies are considered "very hot" chillies and the hottest habaneros are hotter than the hottest birds eye chillies (which you can also use but the flavour and appearance will be different). You can find these orange, thin-skinned, tear-drop shaped chillies at greengrocers and you only need a few for this. And please forgive that this isn't a recipe for making your own mayonnaise from scratch. I food processor recently died and my back up doesn't have a funnel that I can pour things through so I can't make mayonnaise easily.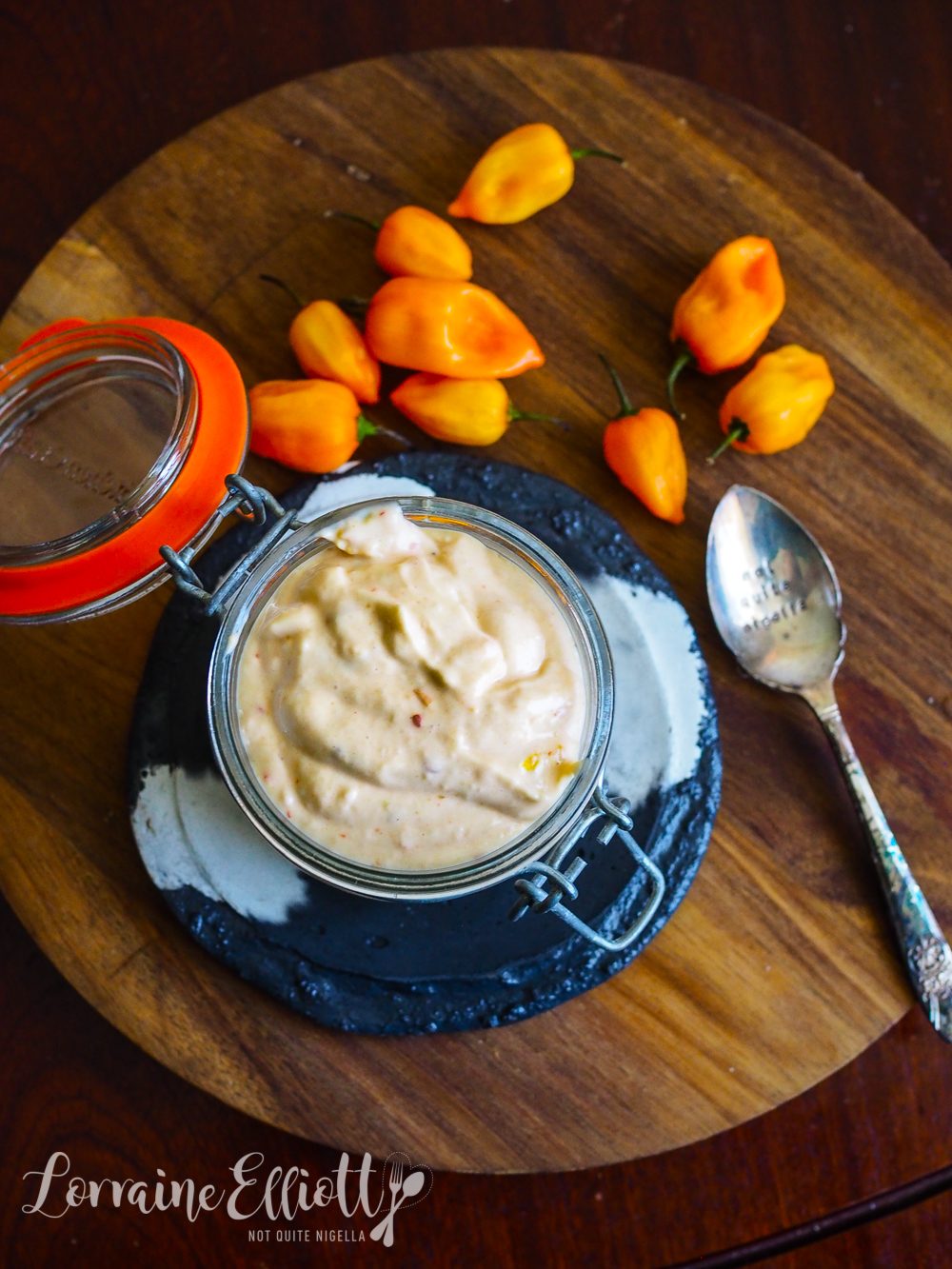 I often have trouble typing certain words - do you? Like every time I try and type habanero I type hanabero. It's not that I don't know how to spell it but my fingers always type in the wrong combination. I also do the same with the word "good" - my fingers automatically write "food".
Nina recently had another sort of spelling conundrum. I had asked her what the weather was like outside (sometimes I bury myself in the house doing work and only emerge to train with her). She tried with all her might to spell porridge but ended up giving up. Poor thing and I'm afraid I wasn't very sympathetic!
So tell me Dear Reader, what is your chilli tolerance like? Are you a fan of habaneros? And do you have trouble typing certain words even though you know how they are spelled?
DID YOU MAKE THIS RECIPE? Share your creations by tagging @notquitenigella on Instagram with the hashtag #notquitenigella
Habanero Aioli Salsa Mayo
An Original Recipe by Lorraine Elliott
Preparation time: 5 minutes
Cooking time: 0 minutes
1 cup mayonnaise
3-4 habanero chillies (you can remove the seeds if you want it less hot)
2 tablespoons vinegar (I used saffron vinegar, white wine vinegar also works)
1 clove garlic, peeled
1 teaspoon onion powder
a pinch of sugar
Saffron vinegar
Step 1 - Blend all ingredients together until smooth. Taste for seasoning adding salt if necessary.