A chicken recipe that takes all of five minutes to prepare? Yes this roast chicken dish is smothered with a flavoursome lime, chilli and garlic butter and then baked until the chicken crisps to perfection while the meat remains tender. This is for those days when you want to eat well but not labour over food.
I am in two minds about Mr NQN's latest obsession with cycling. On the one hand I think that riding a bike in a city like Sydney is completely life threatening and scary. One time my taxi drove behind Mr NQN (we were headed in the same direction, I was not stalking him :P ) and I held my breath for the entire five minutes as I saw cars getting perilously close to his bike.
On the other hand, he absolutely loves it and his eyes shine with excitement whenever he thinks about his morning ride. Another plus is that it gets him into bed early so that we're in bed around the same time for once. I get so excited that I take on the persona of a Japanese game show hostess and when he approaches the bed I run my arms up and down his side of the bed and squeal "Welcome to beeeeeed!!!" like a possessed hostess stroking whitegoods. He tries to shush me citing that he is trying to wind down to sleep but I can't help my excitement.
Another plus is that it makes him ravenously hungry. I have always considered having an appetite an asset. Certainly my closest friends approach food with excitement and hunger rather than apathy and it's a pleasure to feed someone hungry. It was after a day that started with a morning ride that he came home to a dish of lime and chilli chicken and he demolished it.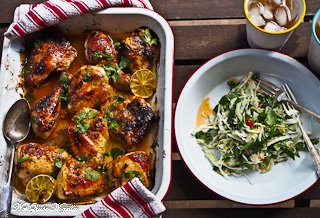 It's a dish that I first got the idea for from Charlie's blog. She mentioned being underwhelmed by a lime butter chicken. I kept thinking what a great idea lime butter would be for chicken and how could they possibly mess it up so I decided to play with the idea one afternoon. To the lime zest, juice and butter, I added chilli, sweet chilli sauce because there's nothing quite like sticky, roasted chicken. I kept going with the Asian flavours adding soy, chilli, ginger and coriander. I suppose I could have used coconut oil but the butter was already in at that stage.
What I didn't count on was exactly how tasty and delicious and simple it was. The prep can be done in a small chopper and then it's really a matter of the oven roasting the chicken. It doesn't need marinating and there's something delightfully moreish about the aromatic, tart and sweet combination. I served it with a herb flavoured coleslaw mainly made up of things that I had an excess of in the crisper. The green onions were over a metre long and could barely fit so in they went. The dressing is a simple, non creamy version with oil, vinegar and sweet chilli sauce. If you are looking for a fabulous weeknight meal or even a dish for entertaining on the weekend that doesn't require lots of stress, then I urge you to give this a try!
So tell me Dear Reader, do you save easy to prepare dishes for weeknights or do you make them on weekends when you have a lot to do? And how do you get to work? Do you cycle?
Lime & Chilli Butter Roast Chicken