So what is the food scene in Houston like? While cities like San Antonio, Dallas and Austin are easy to describe (culture & history, big money and live music Democrat enclave respectively), Houston is a big city. But that means that pretty much everything that you could want can be found here. The neighbouring border with Louisiana means that you can find delightful fusion combos like Cajun Texan food, wonderful Oaxacan Mexican cuisine as well as a place for serious meat connoisseurs!
1. Xochi, Downtown Houston, For Oaxacan Mexican Cuisine
One of the main cultures represented in Houston is Mexican. And whilst Tex Mex is huge in the United States, what is a more unique find is Xochi, a place that specialises in Oaxacan food. James Beard award winning chef Hugo Ortega is behind Xochi (pronounced so-chee) named after Xochitl, Goddess of the Flowers. It means to bloom or catch fire. The modern restaurant is in downtown Houston and part of the Marriot Hotel.
Xochi are known for their Mezcals but I spy a cocktail that piques my interest. "The Greatest Margarita" has aneja tequila, 25 year aged Grand Marnier, tangerine, lime, ginger, agave nectar and a sea salt rim with a thyme garnish. It's pretty fabulous with a great depth of flavour (and at triple the cost of the other cocktails you have certain expectations). They pour it from the shaker at the table.
We start with a range of items. Xochi is known for its mole of which there are 7 classic varieties in Oaxaca which is where this fruity, spicy dark chocolate sauce originates (along with Puebla). We try the pork rib with fire ant mole as well as a wild mushroom mole and a mole amarillo with masa dumplings and green beans. There's also a chicken tamal with black mole and a mole coloradito. Jessika explains how to eat mole. You take a corn tortilla and quarter it and then fold it over and spoon some mole onto the tortilla. They're all good but quite distinct from each other, some richer in flavour while others spicier and it's hard to choose a favourite.
I also love the taquitos dorados filled with super soft chicken picadillo, mole coloradito, crema, queso fresco and parsley. They're crisp rolls with a great balance of flavours both refreshing and fresh.
We also try the queso de rancho. It's a house made queso de cincho which is like a rich goats cheese served with chicharrones, huaxmole rojo (made of guaje seeds) and a trio of little insects including gusanos (worms), chicatanas (flying ants) and chapulines (grasshoppers). The cheese is so delicious that anyone squeamish will quickly forget the protein sources.
I've never actually had a cooked oyster that I really enjoyed until these ones. They're wood roasted in the oven and they're topped with mole amarillo, cotija cheese and breadcrumbs that are crunchy and buttery.
Another item that I also love are the Molotes de Xoxocotlan (alas I didn't get a picture). These are deep fried oval masa cakes with potato, chorizo ismeño, avocado, chile de onza (a rare chili from Oaxaca), crema, queso fresco (fresh cheese) with a chapulin or grasshopper garnish.
In terms of mains, do not go past the Barbacoa de res De Zaachila. It's a braised, rolled skirt steak with hoja santa, guajillo puya and costeno pepper broth with potato, carrots and masa dumplings. The spicy sauce is sublime and the beef so tender and served rare.
The crispy duck is also good with a crispy skinned duck with plenty of soft meat underneath it. There's also a salsa de albanil (tomatillo salsa with avocado and queso fresco) and chicharrones on top.
Another favourite are the enormous scallops - when they say everything is bigger in Texas they mean it. Four gigantic scallops are served on a bed of mole verde with white beans, green beans, chayote and masa dumplings. There's richness and piquancy from the sauce that is very appealing.
The dessert menu is broken up into two sides: a chocolate side and a regular side. We are persuaded across to the dark side and aren't disappointed. The hot chocolate by the jug is divine and they froth it at the table. It's Oaxacan hot chocolate served with piping hot churros and serves two.
The cremoso de chocolate is a wonderfully smooth milk chocolate pudding. Not so much a cakey bready pudding but a light, soft cold pudding paired with airy sponge cake, peanut powder and strawberry.
But one of the most eye catching dessert is "Cacao". It's an almost life sized cacao pod rendered out of painted white chocolate. It is filled with chocolate textures from tejate (a Oaxacan non alcoholic maize and cacao beverage) foam, a milk chocolate cloud-like mousse and chocolate criollo soil. It's a chocoholic's dream come true. And best shared or taken home to nibble on!
2. BB's Cafe, the Heights, for Casual Cajun Texan Food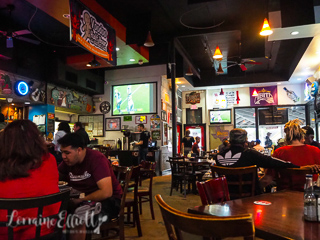 Head towards The Heights area near downtown where tourists are not so plentiful and shop at the hipster boutiques. On Studewood Road, you'll find a popular intersection that gets very busy at night due to the many eateries located there. You can go casual at BB's which has an interesting mix of Texan and Cajun food.
Although it is called a cafe, it's not what Australians might think of as a cafe. There are television screens playing sport with a very casual atmosphere. Dressing up definitely seems out of place (who me?). The menu has a selection of "Tex-Orleans cooking". Jessika and I try the fries. They are enormous and sort of like poutine with shoestring French fries, queso cheese, gravy and chopped beef or "roast beef debris" which is pretty damn delicious and like a cousin to poutine.
Another appetiser are the chicken bites that are stuffed with cream cheese and jalapenos and then wrapped in bacon and served with a side of Cajun cream sauce.
3. Ritual, The Heights, for Meat Connoisseurs
However my favourite spot in the area is the restaurant Ritual across the road. It's a slightly hipstery butcher cum bar cum restaurant. Although it's during the quiet lull time of 4pm when Jessiak and I visit there are still plenty of patrons. There is an oyster bar as well as table, booth and bar setting.
If you're there on a weekday then you can see the butchers hard at work making boudin or dry ageing the beef. Apart from being a butcher and restaurant it is also a taphouse featuring local and craft beers.
Jessika and I start with the Pig Mac. It's radiatore pasta or radiator shaped pasta with poblano chilli, Cheddar, soft pigs cheek topped with crispy pigs ears. It's excellent and a super rich delicious version of mac and cheese.
The next item is a Ferda Pork Po-boy with toasted bolillo (French bread), dijonnaise, smoked ham, pulled pork, cheddar, rocket, tomato, red onion, rosemary aioli and bread and butter pickles. It's enormous and comes with a side hand cut fries and may make all your porky dreams come true.
Now hush puppies a real Southern snack and are tied up in the history of the civil war between the North and the South. Ritual's hush puppies are large and made of a sourdough corn meal hush batter deep fried and topped with sticky delicious jalapeno jelly.
But I saved my favourite (along with the Pig Mac) til last. My favourite item is what they call a "gravy". What they consider gravy is not quite what we envisage when we hear the word gravy. Here it is like a chunky soup in a cup of fish, tomato red pepper bisque with huge chunks of gulf crab and shrimp, some Texas white rice and some grilled sourdough on the side. You can of course get the gumbo but this gulf seafood gravy is just the perfect combination of textures and richness with perfectly textured seafood. Next time, we'll stay for dessert too!
So tell me Dear Reader, which restaurant did you like the look of the most? Have you tried much Oaxacan cuisine or moles?
NQN travelled to Houston as a guest of United Airlines, Texas Tourism and Visit Houston but all opinions remain her own.
Xochi
1777 Walker St, Houston, TX 77010, USA www.xochihouston.com Phone: +1 713-400-3330
BB's
2701 White Oak Dr, Houston, TX 77009, USA Phone: +1 713-868-8000
Ritual
602 Studewood St, Houston, TX 77007, USA www.ritualhouston.com Phone: +1 832-203-5180