"Austin is where all the Texan hippies go...it's just like California," said Miranda, the native Texan to me over a breakfast of donuts and tacos. She wasn't the only one telling me this - a string of hipster friends had told me about how much they loved Austin.
Looking around there's nary a stetson or a pair of boots to be found. Instead everyone is sporting goatees, skinny jeans, coloured Ray Bans and long flowing dresses with soft, flowing L.A. hair waves. "Austin is the refuge for the liberals and Democrats that were kicked out of their conservative town" Miranda says archly.
Another distinguishing point about Austin is the proliferation of food trucks or trailers. With around 1,300 food trucks and trailers in the one city it's easy to become overwhelmed with choice. And with just one night in Austin (we couldn't find accommodation because a college football game was on), Belinda and I had to choose carefully where to go. Diversity is king in the food truck scene and you can eat from all over the world if you follow these carts around.
Many of them are located in small clusters of around four or six. While they're spread out to cover as much ground as possible, they're relatively close to each other if you drive. Until recently, they were grouped in quantities of a dozen but the space that they occupied was pegged for construction and as a result they have scattered into smaller groups. We drive around the CBD and sure enough, come across a group of four. A couple of the trucks don't look attended while we stop at the Short Bus Subs.
The woman in Short Bus Subs is very friendly and offers to write down some names of her favourite trucks for us with directions. We order a Mexican Coke and a sub called "The Bully" as we felt like a bit of spice. There's a large selection of vegetarian subs as well as deli meat ones. The Italian bread is baked every day using the owner's grandmother's recipe.
"The Bully" is filled with a flavoursome mix of genoa salami, pepperoni, provolone, lettuce, tomato, pregano, pepperoncini, oil and vinegar and the key is the not too thick toasted bread and the combination of fillings. It has just the right ratio of bread to filling.
Next door is a snow cone truck called Sno Beach which is quite busy this early evening with people enjoying a refreshing snow cone. The ice isn't quite as fine and melt on the tongue as Hawaiian shave ice but the flavours are quite good with myriad choice. Bearing in mind my food consumption I tried the sugar free coconut and it's not too bad at all.
Armed with some recommendations we take the short drive to South 1st street. Eminem is blasting from the inside of Torchy's Taco truck. Queues are always a good way of telling how good a truck is and the line is longer than most for this truck.
I ask about the most popular tacos and they point out a few which I order. We take a number and stake out a place on the red benches nearby and watch the dance of the car park - there are more patrons than spaces here.
You can order your tacos on flour or corn tortillas and we have one of each. The trailer park taco is filled with fried chicken, green chillies, pico de gallo and cheese and there's the option to make it trashy by omitting the lettuce which we do as we're told that that's how most people prefer it. It then comes with some creamy poblano sauce which is a chilli ranch sauce.
The scallywag is the taco of the month and is filled with coconut battered shrimp, bacon, green chillies, shredded jack cheese and pickled onions. There's also a layer of home made habanero peach jam and coriander or cilantro. The shrimp is very succulent and the flavours combine well together. Out of the two types of tortillas we prefer the softness and pliability of the flour tortilla.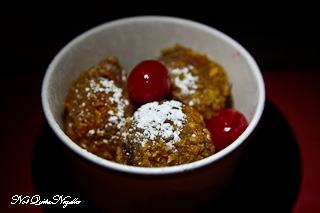 We were curious about the little nookies which are deep fried chocolate chip cookies topped with powdered sugar and cherries. They're balls of raw chocolate chip cookie dough coated in cookie crumbs. I can really taste the oil that they're cooked in and admittedly I'm not a raw cookie dough person so I don't really go for these.
Just a few metres down the road is Gourdough's which is doing a roaring trade from their Airstream trailer even at the early dinner hour of our visit. I had always assumed that donut time was around breakfast or mid morning but apparently it is any time at Gourdoughs. Their donut menu is stuff of legend and intrigue and Anthony Bourdain paid a visit to Gourdough in 2010.
Donut names like "Heavenly Hash" (Marshmallow with Chocalate Fudge Icing Topped with Fudge Brownie Candy), "Granny's Pie" (Caramel, Pecans, Bananas & Graham Cracker) and "The Puddin'" (Cream Filled, Cream Cheese Icing, Bananas & Vanilla Wafers) all tempt us. We narrow down our selections ruthlessly when all we want to do is order "One of everything please and a pair of elasticised waisted sweat pants."
It takes a while for them to arrive as each is freshly cooked to order. Each donut is $4.50 or $5.50 although you can also add toppings at an extra cost or design your own.
*Mother Clucker - $5.50USD Fried Chicken Strip with Honey Butter *
Our donuts are all ready at the same time and we're amazed at how big they are. They were not kidding when they describe them as big fat donuts and they're weighty too. The "Mother Clucker" is a delicious honey butter soaked donut with chopped up pieces of crispy deep fried chicken strips. It's their riff on the classic southern dish of fried chicken and waffles but I must admit I prefer eating the two components separately. I adore the honey butter donut with all of the sweet butter flavour soaked in.
The "Flying Pig" is probably their most popular donut and whilst there are three bacon donuts on the menu, we thought that the simplicity of this one would appeal. Another bacon one, the "Fat Elvis" has bacon, peanut butter icing, bananas and honey while the "Porky's" has Canadian bacon, cream cheese and jalapeno jelly.
The bacon on top is thin and crispy and just about perfect. I did find that as strongly maple as the icing was, there was just too much of it. Belinda suggested eating around the icing but I couldn't actually find a spot without it. Otherwise the taste combination is pretty darn fabulous ya'll. It only took a couple of days to turn me Texan.
The "PB&J" donut is the "dessert" choice for us and it's absolutely moreish. The freshly fried donut is topped with a peanut butter icing, squirts of dark purple grape jelly and peanut butter drops. The whole thing is probably a cardiac arrest in a donut but it's probably the best way to go.
The next morning we drive to try out our final food truck, "Biscuits and Groovy" just near the Hyde Park in the Highland and Hancock area. It's mid morning on Sunday and some of the food trucks aren't out just yet and the idea of having a breakfast of biscuits and gravy sounds too Southern to pass up.
We order at the trailer door and take a seat. The menu is all veganifiable (is that a word?). All of the food truck meals have taken a while to arrive - between 15-30 minutes with this taking 30 minutes or. Belinda quips, "It's longer than a Texan drawl." We do some people watching and I'm completely struck by how different Austin is from the rest of the state.
This area in particular could double for Sydney's Newtown or Surry Hills and hipsters, tattoos, small dogs and bikes surround. Since it is Sunday morning, a woman stops her car blasting loud gospel music and lifts her arm and hand up and down outside the window in a "Praise the Lord" gesture before the lights change and she drives away. Nobody bats an eyelid.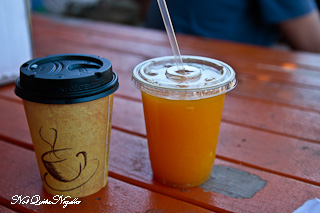 The orange juice is freshly squeezed and has a tang of fresh oranges.
Both biscuit plates come out and they're heavy and abundant with toppings. There are three split buttermilk biscuits in each one. The "Johnny Hash" biscuits are smothered in white pepper gravy with cheese, sausage, bacon, potatoes and chives. The bacon in particular is good, thin, crispy and tastes brushed with maple syrup.
We should have perhaps ordered some biscuits that looked a bit different from each other but these two are their most popular combos. The "Gloria Gaynor" is similar to the "Johnny Hash" but with scrambled eggs and jalapenos instead of the potato. There are two cheeses, bacon, sausage, jalapenos and chives on this. This feels like more of a breakfast biscuit dish because of the fluffy scrambled eggs.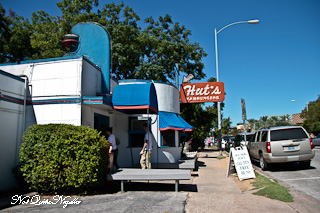 After that very sustaining breakfast we stop by Hut's Hamburgers for lunch before we hit the open road for our next destination (one of the road trip's highlights!). Hut's is dark, and I mean dark, it feels like it's night time in there even though it is lunch time and the sun is shining bright outside. It feels like a sports bar more than a burger place and has been open since 1939. Located on 6th street we pass lots of bars and restaurants getting there.
I'm not a huge milkshake person. I can be done after two sips which leaves a lot leftover so I usually don't order them unless I'm with Mr NQN. But one sip into Belinda's cherry malt milkshake and I am going back for more. I am slightly biased against faux cherry but this milkshake tastes so strongly of malt that it is probably the nicest milkshake I've ever had.
We both like pineapple on our burgers and this had a soft bun and thickish patty but the pineapple really needed bacon to go with it and cheese. The pineapple was slightly sour too which really dominated the flavour of the burger.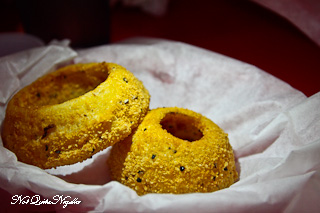 I really wanted to like the onion rings-after all how cute do they look? The onion inside the rings is thick, almost too thick but even though the seasoning looks herby, it really didn't have much flavour - like plain polenta.
Still, there was a lot of praising the lord on this visit to Austin.
So tell me Dear Reader, would you prefer to live in Austin or other parts of Texas? Have you ever picked up an accent from visiting a country or city?
All travel and meals were independently paid for in this post
Want to see the other road trip posts? Here they are!
Road Trip USA: Phoenix to Albuquerque
Road Trip USA - A Breaking Bad Pilgrimage to Albuquerque
Road Trip USA - Quirky Albuquerque, New Mexico
USA Road Trip: New Mexico to San Antonio, Texas
USA Road Trip: Spicy San Antonio, Texas!
Short Bus Subs
801 Barton Springs Rd, Austin, TX 78722, United States (4 locations in total)
Sunday to Thursday 10:30am-9pm
http://shortbussubs.com/
Sno Beach
801 Barton Springs Rd, Austin, TX 78722, United States
Monday-Sunday 12 pm - 9 pm
http://snobeachatx.com/
Torchy's Tacos
1311 S 1st St, Austin, TX 78704, United States Mon-Thu 7 am - 10 pm
Fri 7 am - 11 pm
Sat 8 am - 11 pm
Sun 8 am - 10 pm
www.torchystacos.com/‎
Gourdough's
1503 S 1st St, Austin, TX 78704, United States
Phone:+1 512-707-1050
Sunday to Thursday 8:00 am – 12:00 am
Friday 10:00 am – 3:00 am
Saturday 8:00 am – 3:00 am
Biscuits and Groovy
5015 Duval St, Austin, TX 78751, United States
Phone:+1 512-373-6031
www.iwantbiscuits.com/ Saturday and Sunday 8:30 am – 2:00 pm Monday to Friday 9:00 am – 2:00 pm
Hut's Hamburgers
807 W 6th St, Austin, TX 78703, United States
Phone:+1 512-472-0693
7 days 11am-10pm
www.hutsfrankandangies.com/‎