Visiting Austin? This fascinating city in Texas is all about keeping their uniqueness alive-their unofficial slogan is "Keep Austin weird". Along with being a Texan barbecue mecca, there's plenty of live music and nightlife in Austin and there's a reason why people just love Austin.
The saying goes that when you're Austin, you're not entirely in Texas, you're surrounded by Texas. Or as Governor Rick Perry calls Austin, "The blueberry in the tomato soup – it's a little different than the rest of the state". That is, they're the fruity liberal blues swimming in a sea of red. And here is how to make the best of your time in this amazing city.
1. Explore South Congress
The South Congress area or SOCO south of Lady Bird Lake is a must visit with a great collection of eateries and boutiques. Want quirky items like tiny hands, Trump toilet paper, finger slugs and other stuff that you didn't even know that existed, let alone wanted? Head here.
Want an old fashioned barber shop? They've got that. Cowboy boots? Allan's sells cowboy boots from $150 to ones over $1,000. You might even spy a pair of boots made for Arnold Schwarzenegger that feature the head of a cobra on the front. Honestly unless I had seen it for myself, I would not have believed it.
Head to C-boys for live music and some free-pour cocktails that will make you sing. The Tropical Bloody Maria is ferociously good-just the perfect balance of flavours with Dulce Vida Pineapple Jalapeno tequila, Zing Zang Bloody Mary mix and a chilli lime salt rim. Or try the pink Cosmopolitan Martini with Deep Eddy Lemon vodka, triple sec and cranberry and lemon juices.
Sweet Potato Beignets $8USD
A few minutes' walk away is Cafe No Sé with a range of delicious and reasonably priced all day meals based on a very on-trend menu. Sweet potato beignets tickle your fancy? They're just about as light as a feather and you've just got to order these delightful little orbs with parmesan, crispy sage and turmeric aioli.
No sé cheeseburger, sweet onion, pickles, buttermilk bun $13USD plus + Nueske bacon $4USD + a sunny egg $2USD
If you're after a good old fashioned American cheeseburger Cafe No Sé's burger was featured on Iron Chef Eats and it is a fantastic example of that soft buttermilk bun, beef patty, cheese, sweet onion and pickles with bacon and a sunny egg.
Grilled shrimp burger, spicy kewpie mayo, bok choy slaw $18USD
Or the shrimp burger was another item also featured on the tv show. It's a thick, juicy shrimp patty with a good side salad that isn't just decoration.
2. Eat Barbecue
They say that no visit to Austin is complete without barbecue and there are always plenty of choices. Franklin's is the most famous but the queues are just as famous starting at 7:30am (they open at 11am). And even at Terry Black's the queue is long. Luckily we're with Jason from The Real Austin Tour on the "Bucket List tour" who has spent the morning with us taking us to the Congress building and showing us the quirky elements of the city with his trademark sense of humour.
Terry Black's Barbecue owners are Terry's twin sons Michael and Mark Black of the famous Black's barbecue in Lockhart. A few years ago I went to Lockhart, considered the bbq capital of Texas and I think that if you're a hardcore bbq lover you may as well make the 1 hour drive there because that whole town is all about barbecue and you can eat at any of the four places there or all like we did. Black's is one of the best and if you don't have time to drive to Lockhart you can get your fix at Terry Black's.
The brisket is melt in the mouth soft-they smoke these outside in the pit oven 104 at a time or so. The brisket is covered in a black pepper spice rub before being cooked for 13-16 hours. The briskets that they're cooking now are for tomorrow.
The turkey is also incredibly moist and tender. But the favourite here much like it was for me a few years ago at Black's is the pork rib. The intense flavour and fall off the bone quality is a divine combination. The sides are also excellent with a basic mac and cheese done perfectly and green beans, pickles and onions. Unlimited drinks are served in a souvenir Black's cup.
Don't forget to ask for a free pit tour where they will show you the process for making brisket!
Pit tour
3. Explore Some Of Austin's Bars
There is absolutely no shortage of late night options in Austin and the city really comes alive at night. Native Hostel is a bar with a mural outside that reads "Don't be a dick." Inside it's welcoming with plenty of places to perch, stretch out or sit. It also has its own hostel as part of it.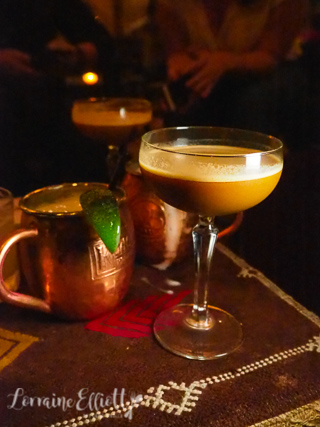 Native Foam Mule $12USD and Espresso Martini
We're here for drinks and a snack. My order of a Native Foam Mule with titos, ginger beer. sea salt and lime foam is a touch too limey but I am more preoccupied with the waffle fries.
Waffle Fry Nachos Full $14USD
Yup waffle fries. Waffle chips topped with queso, tomato, onion, chiles, coriander, sour cream and an amazingly meat like seitan chorizo substitute brisket. My mouth is watering just thinking of these right now.
Everyone will inevitably ask if you've been to Rainey Street. The long stretch of converted bungalow houses are now home to some of Austin's bars and cocktail lounges with plenty of seating in the former backyards. The crowd is youngish and a bit cliquey at Bungalow and it's best if you're with a crowd because a couple of our group tried to chat to other groups only to be rebuffed.
4. Visit A Honky Tonk Bar
I have to admit that when I visited Texas a few years ago I was hoping to see some cowboys but I didn't see any. But brace yourself for the cowboy experience at the Broken Spoke honky tonky bar where the bar staff are rude but the clientele are just about the friendliest you could hope for.
Take for instance the cowboy with the rope who when asked will lasso you. Or the other cowboy who upom seeing a group of Australian women who have never stepped foot in a Honky Tonk bar, take us each for a spin on the dancefloor and patiently shows us how to dance. And then there's the woman who is like a brunette Dolly Parton who wants to talk about big hair and men and the fact that it's her birthday. It's a welcoming crowd.
5. Check Out One Of Austin's Many Food Trucks
Looking for a late night eat? When a food truck is judged by a magazine as being one of the top 8 eats in Austin then you know you've got to try it. Located at Wislers bar (in itself a great place to hang) it's full of friendly locals and their dogs. Food trucks are very popular in Austin and number in their thousands. Thai Kun is the food truck that has taken Austin by storm offering authentic Thai food just like what you might have in Thailand. Food is made to order and takes abut 10 minutes but they bring it to your table. Kristie and I spend the time at the nearby photo booth taking silly pictures.
Clockwise from bottom left: Thai-Kun Fried Chicken $9USD, Waterfall Pork $9USD, Beef Panang Curry $10 + egg $1USD
So with authenticity comes heat because Thais like it hot. And this dish does come with a warning. It's hot AF. All dishes even come with a drink because that is how extra this place is. The pork shoulder is grilled and sliced with Tiger Cry sauce, pickled cabbage, toasted rice powder, cilantro, red onion, sticky rice. he pork is super tender and succulent but it is very hot and you do need to take their suggestion and use the sticky rice to temper the heat on your tongue.
The fried and marinated chicken thigh comes sliced with a round of chicken fat rice, Boom sauce, cucumber. It's very moreish and the Boom sauce is a powerhouse of flavour.
The beef Panang curry is less hot although it isn't mild by any means. It is beef chuck simmered in homemade panang curry, Kaffir lime leaf, steamed jasmine rice and Holy Basil with an appealing sweetness to it. We added the fried egg on their suggestion and it goes very well with the curry.
Where to stay?
Our home for the stay is the InterContintental Stephen F Austin located on Congress Avenue in downtown Austin. It's a gorgeous hotel and named after the man that they call the "Father of Texas". I'm in room #711, a king corner room which is wonderfully spacious. There is a good sized lounge area and desk and the view from the room is on two sides with big windows.
The king sized bed is very comfortable with a good range of pillows. The telephone on the side of the bed also has bluetooth so you can play music although the time display can be a bit bright at night while you're trying to sleep.
The bathroom is very spacious with a bath and shower combination. My favourite part is the dressing table with magnifying mirror for makeup. The products used are by Agraria in a gorgeous lemon verbena scent.
There is free wifi if you join the IHG club (which is free to join). Service is friendly although sometimes there is a disconnect. When I ordered some things they never arrived and the service from the concierge lacks sincerity and warmth when we asked her for directions.
So tell me Dear Reader, have you ever been to Austin? Have you ever been to a Honky Tonk bar? Are you much of a dancer?
Graffiti Park at Castle Hill
NQN travelled to Austin as a guest of Visit Austin, Texas Tourism and United Airlines, but all opinions remain her own.
Cafe No Se
1603 S Congress Ave, Austin, TX 78704, USA
Open 7 days 7am–10pm
cafenoseaustin.com Phone: +1 512-942-2061
The Real Austin Tour
austindetours.com/real-austin-tour/
Terry Black's Barbecue
1003 Barton Springs Rd, Austin, TX 78704, USA
Sunday to Thursday 11am–9pm
Friday & Saturday 11am–9:30pm
Phone: +1 512-394-5899
Broken Spoke
3201 S Lamar Blvd, Austin, TX 78704, USA
Phone: +1 512-442-6189
Native Bar & Kitchen
807 E 4th St, Austin, TX 78702, USA
Phone: +1 512-551-9947
Thai Kun
1816 E 6th St, Austin, TX 78702, USA
Phone number +1-512-407-8166