Love food, wine and getaways? Sirromet Wines, just outside of Brisbane in Mount Cotton have a new offering along with their cellar door. There are glam tents (think a step above glamping) and a gourmet food safari across their 560 acre estate.
Sirromet is actually owner's Terry Morris's name backwards. And from June 1st, 2018 they have opened up the property to guests with 18 tent style accommodations.
To do this they enlisted the help of Grant Hunt who helped developed the lodgings for Longitude 131 and Qualia. The Australian made tents are from Ballina and are fully enclosed tents on platforms. There are also two family tents and one honeymoon tent but most tents are made for couples.
My tent #14 is one of the picks for maximum privacy as they look out to the Laguna paperbark trees and scribbly gums. The tents are designed as tree houses that float above the landscape and the patio is the perfect place to sit and bush watch with a glass of wine.
The tents have king sized beds and side windows that can be unzipped to let air in or zipped up. And fear not for winter, there is reverse cycle air conditioning in all tents. It's like a tent but also entirely unlike a tent in everything that it has. The leather compendiums are made by a local leather worker and the recycled paper contains the seeds of native plants so that when it is recycled it can seed more plants. They tell us that most suppliers are no more than 50kms away.
There is a bathroom with a 2 head shower, good quality toiletries including a local, organic soap and a separate toilet. Behind the partition that separates the bed and the bathroom are robes, ironing board, kettle, tea, coffee and a mini bar fridge with soft drinks and Sirromet wines. Internet is free albeit patchy for unlimited devices. Room service isn't currently available although there's a sweet surprise in the tents for guests with a chocolate bar.
Wallabies are abundant on the property as is the silence of the bush. If you're lucky you may also see kookaburras, goannas, owls and native birds. This is also a haven for star gazers and astro-photographers as the light pollution is low.
The whole point of staying here is to relax but a girl needs to eat right? One of the experiences available to large groups but is also open to the public on certain dates is the food safari. Starting in the afternoon guests enjoy a 4 course meal stopping at picturesque locations on the property.
Chef Mathew Fulford and his staff greet us at The Arbour, near the wedding chapel. Sirromet is a popular place for weddings and the accommodation was built based on wedding guest's feedback. There we try a glass of 2010 Vintage Signature Collection Sparkling Chardonnay Pinot Noir and nibble on roaming canapes like French breakfast radishes with smoked brisket butter. Mat makes this using the brisket drippings whipped with butter. There are also beetroot macarons, blinis with Russian caviar or veal tartare and pickled turnip, broccoli with Brook trout roe.
We climb onto the tractor for our next stop. Chief wine maker Adam Chapman is at the wheel and he drives us to our next location which is called The Supagolf Hole 8, where there is a stunning display of seafood for us. There are Stradbroke island oysters, pickled mussels, Moreton Bay bugs, enormous prawns, sushi, tuna and salmon sashimi and pickled octopus. We feast on this with a glass of the 2013 Le Sauvage "The Wild" Chardonnay.
We hop onto the tractor for the next stop at the back paddock for the Laguna Fire Pit where we are greeted with a lamb on a spit. They use Milly Hill lamb here for their slow cooked Asado Lamb Argentinian style which is cooked for 8 hours and basted with a large rosemary bush to add flavour. There are also delicious sides that they pull from the ground in their cast iron pots.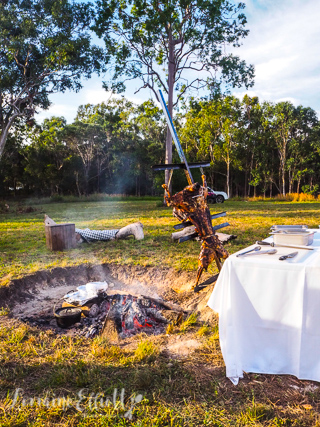 We take a spot on a blanket covered log and feast on the juicy meat with chimichurri and lamb gravy and the Shiraz lees sourdough bread slathered with whipped browned butter. The roast pumpkin is sweet as are the grilled capsicum and zucchini. Adam pairs this with a 2014 Le Sauvage "The Wild" Shiraz Viognier with 96% syrah and 4% viognier and explains that here they always choose wines to support the food, not the other way around.
It's another little surprise at our next stop where we get to try wines straight from the 41,000 litre stainless steel tanks at the tank farm. This is to show how wines develop over time.
Chief winemaker Adam Chapman
Adam also gives us a hint when tasting wine-a complex minefield where people become perplexed by trying to suggest fruit characteristics. He suggests that for white wine, pick white fruits, e.g. peaches and pears. For red wine pick red fruit like berries and cherries.
Our last stop is at the Barrel Hall where a pre-desert of spherified passionfruit. Then dessert proper is served: it's textures of chocolate from a spiced chocolate cardamom mousse, tempered chocolate with a shiraz sorbet.
The next morning a breakfast basket appears on my patio and I'm woken up by the sounds of kookaburras with their early morning calls. There's a warm bagel topped with onion cream cheese, smoked salmon and rocket as well as a pot of yogurt, strawberry jam and berries. There's also a delicious nutty muesli and fruit pastries.
I nibble on breakfast while sitting on the patio-Brisbane warms up early so it's already 19C when I sit outside in my warm robe. The day's plans include a cooking class at James Street Cooking School in Fortitude Valley as well as a laneway coffee tour.
Chef John Meredith is in charge of the Thai cooking class. It's one in which we will learn how to make massaman curry, gai yang chicken and Thai fish cakes. It's more a demo class than an interactive class and that may suit those that prefer to eat but I love to learn new techniques and get in there and cook. Get John started on any topic and he can talk at great length.
There are good tips that we picked up. He tells us that mortar and pestles are for paste and food processors are for purees and that the coarser the food the finer you need to chop it for a mortar and pestle. They also work best with one hard ingredient like peppercorns to help grind. You can either use a mortar and pestle with a pounding motion for wet ingredients or you can use a grinding motion for dry spices.
He also tells us that for Thai fish cakes, it is best to use fish that is high in protein and oilier fish rather than varieties like whiting or flathead to help keep their shape. Otherwise you will need to use a binding ingredient like breadcrumbs or egg. If you do want to use a food processor, use it in a pulsing motion rather than constant pureeing.
Much of the ingredients are from his garden including fragrant galangal and ironically named dwarf kaffir lime leaves which are easily 6 times the size of regular ones. I am itching to do more than chop a chilli and a clove of garlic but John seems to be on a roll talking and cooking.
After a couple of hours of John talking and demoing, we sit down to a meal cooked by John with wine. He has actually prepared the massaman beef curry hours before so we use prawns in our massaman curry sauce.
We then rush off to our next stop, a coffee laneway tour with Lee-Anne Harris of Walk Brisbane tours who meets us at Queen Street Mall. During our three hour tour we will cover three laneway coffee places and see some public art on the way. Our first stop is at Iconic Coffee, a spot on George Street where a fairylit laneway guides the way into a tropical Balinese themed oasis.
Here we start the tour with a coffee flight. We are instructed to first try the cold drip coffee which is a Columbian cascara coffee made from coffee skin. Here they serve it with honey and it's perfect for the warmer weather. There's also a Brazilian black coffee and the in house roast called the Iconic blend with a milk base. Owner David Lin explains that not all coffee is designed to be served with milk. We also try some apple slice covered in crunchy sugar as well as a pear and almond cake.
Street art fairy doors
Our next stop is located a short walk away on Burnett Lane where there is a neat little collection of street art. Our destination is Felix, a former record warehouse turned coffee shop that is hidden away. At night it turns into a bar.
It seems cold drip and cold brew are popular coffee types in Brisbane because of the warmer climate and here we try a cold press Parallel coffee which is from Ethiopia. We then get to try for comparison a cold brew. The taste difference in remarkable-the cold drip is cleaner in flavour while the cold brew has more flavours to it. But by now I'm all coffee'd out as this is a lot of coffee for one day (and ideally not done in the afternoon).
Street art in Burnett Lane
"We are a bar from 10am," says the waitress at Bean. (sic) off George Street down a little graffitied alleyway. This is the sixth coffee of the day and by now it's Friday night and all we want is a cocktail. Their coffee is good though and it's interesting how different each establishment's coffee is. They serve us a Brazilian medium roast single origin 4 ounce piccolo.
Bean. is also home to the "Blue cheese cocktail" menu, the blue cheese not indicating an ingredient but rather Australian slang for the $10 note. There are three cocktails on the blue cheese menu including the espresso cocktail that contains one shot of real coffee (the other ones sound pretty fab and include a chai apple pie cocktail).
I have a couple of hours back in the tent to shower and get changed before dinner which is at Lurleen's, Sirromet's main restaurant. There is an a la carte menu as well as a tasting menu with matching Sirromet wines.
We start with some chestnut macarons and some more of that soft Shiraz lees bread with the crunchy crust and browned butter.
Limocello cured kingfish, custard apple, kohlrabi, bitter mandarin, ice plant served with 2017 Vineyard Selection Verdelho
The kingfish is cured in house made limoncello with custard apples grown on the estate, kohlrabi and this is offset with their home grown mandarins and ice plant. I like the bitterness of the mandarin with the sweetness of the custard apple.
Brussels sprouts, chestnut, broccolini, salsify, fennel served with 2015 Signature Collection Chardonnay
The Brussels sprouts dish is flavoured with plenty of sherry vinegar to give it a punchy taste. THere's also roasted chestnuts, salsify, broccolini and fennel for a wonderful seasonal winter dish.
Duck breast, chickpea, preserved apricot, lilly pilly served with 2015 Signature Collection Merlot
The duck breast is aged for 7 days and a Pekin cross. It is served with preserved apricot puree and lilly pilly with hummus and crunchy chickpeas for texture.
Stockyard Striploin MBS5+, fermented chilli, soubise, local garlic served with 2014 Signature Collection Cabrnet Sauvignon
My favourite course is the Stockyard striploin, a Queensland beef that we don't often see in NSW. It's perfectly cooked and tender, served with fermented chilli, onion soubise, roasted onions and a local garlic and I like the pronounced savoury flavour of the steak against the sweet onion soubise.
Peanut Butter Parfait, raspberry jam, blackberry, honeycomb sreved with 2016 Sirromet Late Harvest Pinot Gris.
Dessert is a peanut butter parfait with raspberry jam, blackberries, honeycomb and roasted peanuts. I would have loved a bit more peanut butter but I am a bit of a hardcore peanut butter addict. As it is, everyone managed to finish everything. There's also coffee, tea and petit fours. These are house made dark chocolate truffles filled with a raspberry centre.
The Once in a Lifetime Breakfast $49.50
The next morning we return to Lurleen's for breakfast. The breakfast baskets are included in the room tariff but guests also have the option to upgrade to the a la carte menu at Lurleen's and it is also open to the public. I have my eye on the Once in a Lifetime breakfast. This is not for the faint hearted. It is a slice of toasted sourdough, a grilled half lobster, smoked salmon, poached free range eggs, spinach, truffle, salmon caviar and hollandaise. It's every bit as delicious and indulgent as you would hope. The only thing is that the truffle isn't very apparent as a flavour.
The Mexican Benedict $20.90
There are also a range of benedicts (five in total) and the Mexican benedict with chili beef, chorizo, tomato salsa, spinach, chilli and hollandaise is absolutely delicious and definitely no runner up.
Healthy Delight $18.90
For those of us looking for something healthier there's the healthy delight with quinoa, half an avocado, sauteed mushrooms, baby spinach, poached eggs, a tangy goat's curd, fried halloumi and a chia seed pesto sauce. It was nice enough but perhaps needs another element (bacon! ;) ) but given the other two breakfasts were a bit of a hard act to follow I prefer the others.
And of course no visit is complete with a stop at the cellar door. Guests can also have cellar door tours either privately or with the public. There go for 1 hour and include a 30 minute tasting for $20 a person. One of the stops is Terry Morris's private wine cellar of which there are only three keys-one for Terry, one for Adam the chief wine maker and the other is the restaurant manager.
Terry Morris's pivate wine cellar
98% of the grapes grown for Sirromet are actually grown in the Granite Belt and there are only two varietals grown here. The Granite belt is a good growing area due to its altitude as it is 836 metres above sea level. Sirromet's wines have won over 900 awards and most of their market is in Japan and China.
We try some of the Le Sauvage wild ferment wines along with the wines that we didn't try over the rest of the weekend. Our last taste of Sirromet is a taste of their 2014 Assemblage wine made with Cabernet Sauvignon, Petit Verdot and Merlot. At $128 a bottle it is not an inexpensive drop but it's a high note to end our visit on.
So tell me Dear Reader, do you like camping, glamping or this sort of accommodation? And do you prefer hands on or demo cooking classes?
NQN was a guest of Sirromet Wines but all opinions remain her own.
Sirromet Wines
850-938 Mount Cotton Rd, Mount Cotton QLD 4165
Open 7 days 10am-4:30pm
sirromet.com
Restaurant Lurleen's
Breakfast – Saturday and Sunday, 8am – 10am
Lunch – Wednesday to Sunday from 11.30am
Dinner – Thursday to Saturday from 6pm