I've got something to confess to you today. As many times as I've been to Queensland in the past 12 months (I'm counting six times) I've never been to Brisbane. Gulp. Please don't throw ripe fruit. I know it's a glaring mistake given that I've heard that it is an up and coming food destination but you need to speak slowly to me. Be patient with me.
But that's changing today. I'm dining at Alchemy, right on the Brisbane river and one of the many restaurants affected in January by the Brisbane floods. It has had a revamp by husband and wife team Brad and Angelica and they're doing some very interesting things involving goggles and liquid nitrogen. Brisbane is an interesting city to dine in. It seems locals like having established versions of Sydney and Melbourne restaurants-case in point Aria, Sake and the Bavarian Bier Cafe but also local chefs have carved out an identity for themselves with their own restaurants. Today I'm lunching with Angelica and Edward from Alchemy.
Bread with paprika and manuka honey
The bread is served with a quennelle of soft manuka honey butter which is unusual and lovely.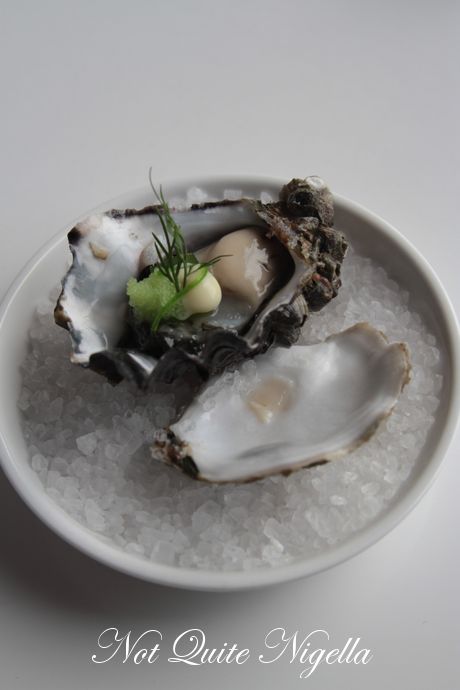 Amuse bouche
The amuse bouche is a Kunamoto Coffin Bay oyster with wasabi cucumber jelly on top. It's briney and piquant and refreshing the oyster slipping down easily.
Chilli crab omelette $25
The chilli crab omelette is full of South East Asian flavours and features a lime sesame broth, fried onions, mint, coriander and chilli and has a sweetness to it. The crab omelette has small shreds of crab in it. It's slightly on the sweet side to me whereas I prefer it a bit more balanced with the sour, salty and spicy.
Bourbon barbecued ribs with corn bread and honey yogurt $28
Come to mama! The ribs have been sous vided for three days and as a result are fabulously soft and have the bones removed so that it becomes a neat rectangle. The ribs are then glazed with a Wild Turkey barbecue sauce. The ribs are fabulous and come with a cute little mini corn bread and orange marmalade and honey yogurt although I don't know if I need that many sauces as the ribs are just right in themselves.
Veal Tri Tip with Caramelised Endive, Celeriac Puree, Roasted Hazelnuts with a Onion Paper and a Cardamom Jus
There are a lot of purees going on this plate with the veal tritip which has been sous vided for three hours and is lovely and tender. There is firstly the orange and celeriac puree, the fig, port and vanilla puree as well as braised endive, onion tuile and red wine jus. The onion tuile is more like a thin as paper fruit leather than a crisp tuile and of the purees I find I like the celeriac but the sweet and very aromatic vanilla puree is a bit too much for me.
Lychee and ginger sorbet
The lychee and pickled ginger sorbet is very refreshing and comes someway between a granita and a sorbet.
Floating Island
The œufs à la neige or floating islands here are coated in crunchy almond praline which is all sorts of win for me because I love texture in foods. The almond praline gives it a nice crunch and the basil ice cream, stewed rhubarb pieces, rhubarb consomme and basil ice cream (which has just the right amount of basil) go well together.
Honeycomb nitrogen bite
Now is the time for the scientist to come out. Chef Brad comes out from the kitchen and takes his place in front of the  table where there sits a bowlful of liquid nitrogen. He is stirring two pieces of honeycomb with Pernod around the liquid minus 93°C liquid nitrogen  (and reportedly when they first did this, Brisbane health and safety were all a twitter about it!). He fishes two bites out with a slotted spoon and hands them over. They're crunchy and cold and infused with a lovely honeycomb and aniseed flavour.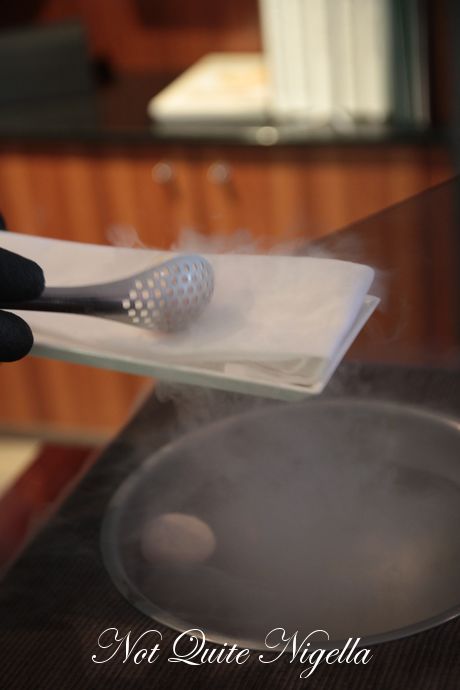 Amaretto sour nitrogen bite
Our second taste comes out , an Amaretto sour and it reminds me of a refreshing meringue in texture with a distinct lime flavour.
Squirting the Malteser from the whipped cream canister
Our third taste is a Malteser ball. He squirts it out of the whipped cream canister into the liquid nitrogen. He stirs this for the shortest time for only a few seconds. The inside still retains a creamy texture while the outside has a thin crackly shell just like a Malteser and is my favourite out of the three as I like the contrast of the thin shell, soft creamy interior and malty chocolate flavour.
And of course this doesn't happen in front of everyone without some curious souls taking a peek from other tables! They stop by and take a long look curious at the chef in the goggles and the crowd around him.
So tell me Dear Reader, have you tried much molecular gastronomy cuisine?
NQN dined at Alchemy Restaurant as guests of Alchemy
Alchemy Restaurant
175 Eagle Street, Brisbane, QLD 4000
Tel: +61 (07) 3229 3175