Acquafresca is the new casual Italian trattoria in the renovated Harbord Diggers Club in Freshwater. Chef Giovanni Pilu dishes up pizzas made using imported Sardinian flours, pastas and mains. And ever tried a pizza with hot chips? Yes it's a thing!
There was a lot of talk between Ivy and I as to where we would go this Saturday night. For both of us, pizza is life and when Acquafresca came on my radar I knew that it would be both of our first choice.
Acquafresca is located in the Harbord Diggers Club, tucked away in a corner and it is very busy this Saturday night. It's smaller than I expected for what I'd imagine is a drawcard restaurant. I'm not a member of any club but I have to admit I like the idea of having 4 hours free parking and an easy carpark. "Ooh we don't really have to go outside!" I say excitedly to Ivy because winter and me don't really go together. We quickly sign in with our drivers licenses and follow the signs.
I had tried to book earlier this week but they were completely booked out and suggested that we come early as they have some table for walkins. Except it seems that because it is so family friendly that everyone and their family has come early too. There are no tables inside but there is a table for four outside. So much for not having to go outside. There are heat lamps and Mr NQN gets my extra jacket from the car.
The menu is mostly made up of pizzas, antipasti and snacks as well as a few pastas, meat and sides. There isn't a wood fired oven (they weren't allowed to they say) but they do make their pizzas using Sardinian stoneground durum, spelt and semolina flours. The dough is given a slow rise for around 48 hours which allows for better digestibility.
Cannellini & macadamia dip $9
There are two prices on the menu, one for club members and one for guests wit a saving of a between one and a few dollars for each item. We start with a dip and some sliced mortadella. The cannellini and macadamia dip is smooth and creamy with grated on top bottarga & fried carasau (a paper thing crispy Sardinian flatbread).
Mortadella $9
We all really enjoyed the mortadella on a chickpea "focaccia" which is like a round pikelet made with chickpea flour making it gluten free. There's thinly sliced mortadella and pickled fennel and I like this so much I immediately want another.
Piccante $27
Although it has only been open for a week the food comes out a very timely manner with our pizzas, pasta and side arriving together. Our first is the piccante with tomato, fior di latte, salami, n'duja, guanciale and caramelised onions. It's a long oval pizza rather than a round one and comes served elevated on a long board. It is a tad pricier than other pizzas but the toppings and crust are good. We are all chilli fiends and it isn't especially spicy so we ask for some chilli oil.
Bottarga $27
We were looking for more unusual dishes and the bottarga bianca pizza was recommended to us by the lovely waitstaff. It has fior de latte, potato, bottarga and artichokes. This was never going to be my favourite pizzas as I live for tomato on pizza (I was known to eat tomato paste as a kid). But it's really quite good because that base is good although I do miss that lovely tomato sauce. I should also take this chance to come clean. I love pizza crusts - that's part of why I love Napoletana style pizzas so much I think because I love those puffy sides. They are my jam. I polish off Mr NQN's crusts.
Spaghettoni $27
I could have happily eaten any of the pasta dishes but it was a bit of a carbonara night i.e. we were freezing and needed comfort. They use a wholemeal spaghetti and bacon, egg yolks and a bit of cream. It's rather gorgeous and I really wish I had the whole thing to myself.
Broccolini $13
The broccolini comes out well cooked with a very fine salumi pangrattato or salumi breadcrumbs on top.
Patatine $23
And I mentioned French fries on pizza. And when Ryan says, "How about we try another pizza?" I know the one to order - the Patatine with tomato, fior di latte and hot chips. Yep French fries on pizza, which one may have assumed to be an Australian adaption, is apparently a traditional pizza topping popular with Italian kids. And you know what? It's pretty damn good! The French fries are crunchy and salty and add seasoning and crunch.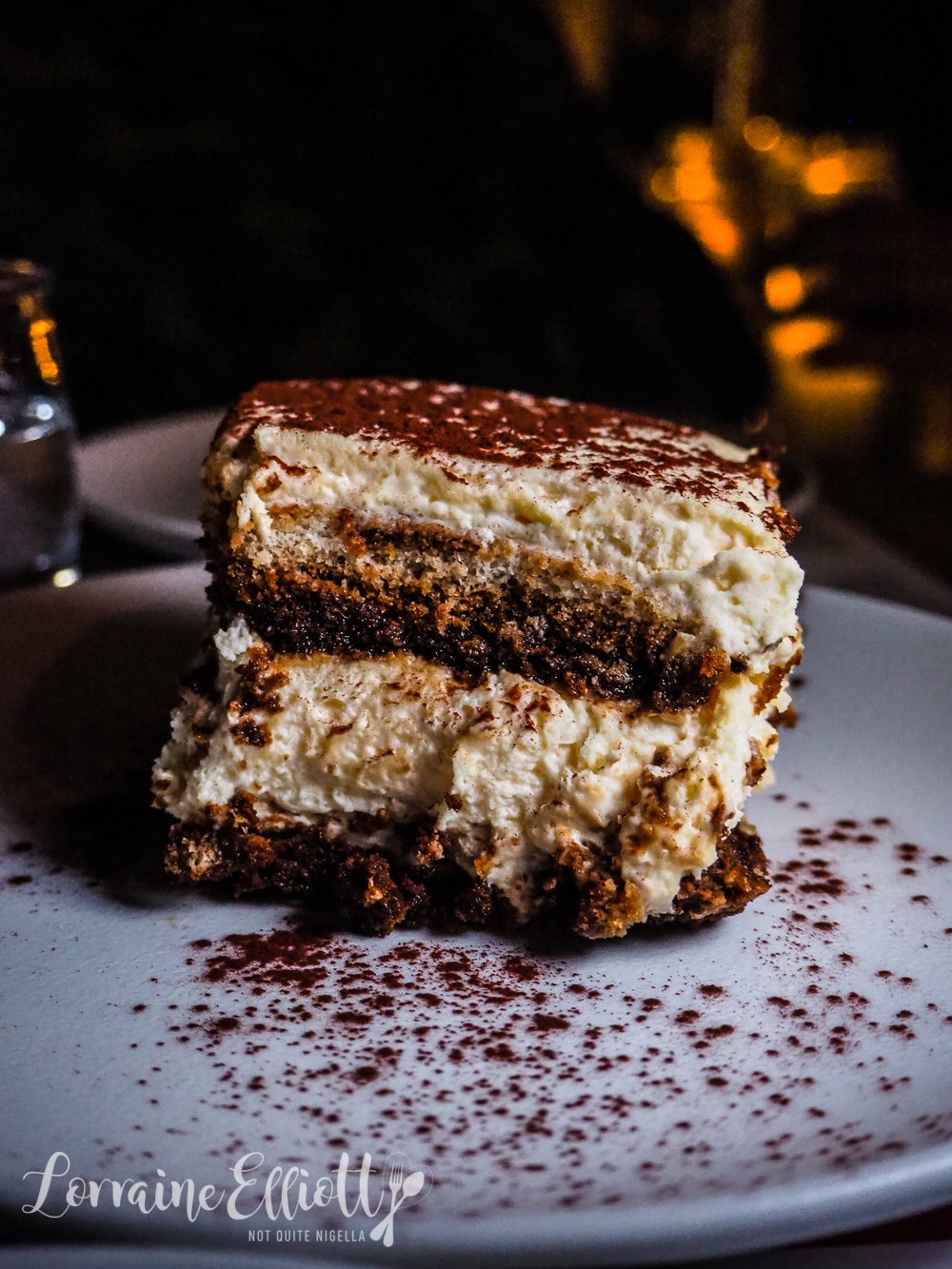 Tiramisu $17
There are 7 desserts plus cheese but owing to our carb loading we decide to share two between the four of us. The tiramisu comes out as an enormous square with massive, creamy, fluffy mascarpone layers.
Zeppole $17
The zeppole come out in a serve of four egg sized donuts that are light and fluffy and rolled in sugar with creme anglaise on the side. I like how light and fresh they are but Ryan finds them quite eggy. Nevertheless our pizza craving is satisfied...if only for a day or two ;)
So tell me Dear Reader, do you eat pizza crusts? And did you eat tomato paste as a child? Have you ever tried French fries on pizza?
This meal was independently paid for.
Acquafresca
Harbord Diggers Club, 88 Evans St, Freshwater NSW 2096
Open days lunch and dinner (02) 9071 8681
acquafresca.com.au/