The Sardinian restaurant is the flagship of the Pilu empire. Located water front in Freshwater the elegant restaurant first opened 16 years ago. We were curious to see what it was like now.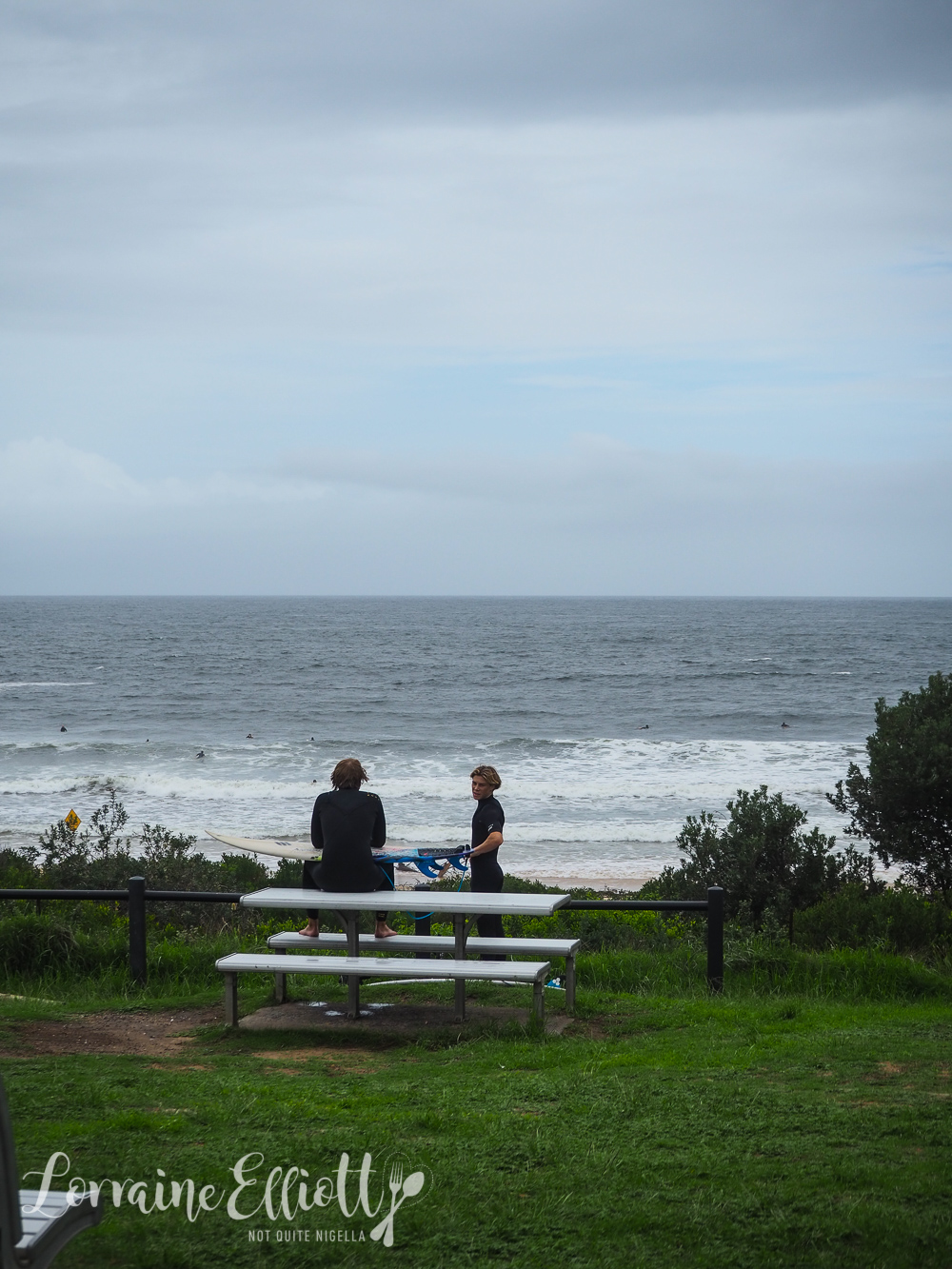 The last time I visited Pilu at Freshwater was a while ago, before the blog started. It was for a friend's wedding. Needless to say, it was the best wedding food. So what is it like now?
The Northern Beaches is a laid back part of Sydney and worth the 1 hour drive north. Surfers watch the waves outside while a baby dachshund surfs on their surfboard perched on the grass. Ivy and I are here for a Galentine's Day celebration and arrive a smidge late but we've called them to let them know.
The white painted beach house is divided in two parts. One part is the casual Baretto panini bar while the restaurant part faces the water. The restaurant has tables in the covered verandah area as well as a little further in. We take in the view in front of us. It's a rainy day but we've been spared the bucketing down of rain so far.
For lunch there's a choice between 2 or 3 courses for $78 and $98 respectively. We usually go for 2 courses at lunch but as we've travelled a distance and it has been a while between visits we go for the 3 courses. Service is friendly and lovely from all of the staff.
2017 Su'Entu 'Aromatico' – Isola dei Nuraghi IGT $22 and La Cura $22
Ivy orders a glass of Sardinian Chardonnay while I choose a cocktail. It's a La Cura for me which is actually the most perfect cocktail for me with Sloe gin, limoncello, pink grapefruit syrup, hibiscus and tonic. I love that it isn't overly sweet, has sour notes from the grapefruit but is also pretty and drinkable. They bring a cork plate of carasau, a traditional Sardinian crisp bread with plenty of herbs and salt as well as cubes of house made focaccia and house made ricotta with black truffle honey. I try not to eat it all but it's hard especially with that sweet, thick black truffle honey and creamy ricotta.
Battuta di cervo, salsa ai capperi, pinoli e cremosa di bufala
Ivy and I are sharing and swapping over because that means that we can try more. Her choice for the entree is the venison tartare with a green caper sauce, pine nuts and dainty cubes of Riverine Buffalo Blue cheese and carasau crisps for texture. It's one of those perfectly balanced dishes in terms of both flavour and texture with just enough of every ingredient so that each bite is satisfying.
Spaghetti alla chitarra allo zafferano con cicala di mare e 'Nduja
My entree is the spaghetti alla chitarra that is a particular type of spaghetti from Abruzzo made on a chitarra or guitar cutter which means that it is more square shaped than round extruded spaghetti. It comes with 2 split honey bugs and nduja which lends a wonderful heat and spice. This is rich but lovely and quite honestly I'd be happy with this and my cocktail and a bit of bread (but I'm not crazy Dear Reader, there's the signature dish of suckling pig coming up).
Polcheddu arrustu (Limited Availability)
Ahh yes the suckling pig. I've had a few suckling pigs but rarely have I had the skin such crispy perfection from end to end. The free range pork is from Melanda Park on the Hawkesbury and just melts with the layer of soft meat, melting fat and thick, crispy, texturally perfect skin.
I look to my left at my bread plate where I had deposited the bug shells and left half a piece of the focaccia. When I visited the bathroom they replaced the plate with a new square of focaccia and I split it in half and add some of that soft, melting meat and hot damn if this isn't the best sandwich ever. "OMG you have to try this," I say to Ivy offering her the other half of the bread and some suckling pig. Before long we're both lost in raptures of this tiny, perfect sandwich. "I want to eat that all over again," I say mournfully as the plate is cleared. Pilu's suckling pig is now on my last meal list.
Ricciola alla brace, finocchi croccanti, radicchio e bottarga
We also decided to go for the Spencer Gulf Hiramasa Kingfish cooked over charcoal so that it is beautifully charred on the outside yet sashimi soft on the inside. Atop are textures of fennel, radicchio and bottarga and to counter the light bitterness, dabs of sweet orange gel.
Bigné, al ciooccolato con nocciole, arrancia e mandorle
The dessert is where Ivy and I diverge. She loves the Domori dark chocolate bigné or deep fried choux beignet filled with hazelnut and orange cream with almonds. I'm just not a huge orange and chocolate person but it is lovely and soft.
Seadas ripiena di ricotta con miele della zona
Whereas I'm absolutely smitten by the Seadas deep fried Sardinian pastry. It looks like a large ravioli, perfectly domed and filled with ricotta and sultanas. The honey drizzled over this is from beehives in Frenchs Forest nearby.
After our meal it's time to return back to the city with a great deal of reluctance.
So tell me Dear Reader, have you been to Pilu? What is on your current last meal menu? When you're running late, do you call the restaurant to let them know?
This meal was independently paid for.
Pilu
Moore Rd, Freshwater NSW 2096
Phone: (02) 9938 3331
Lunch: Tuesday – Sunday from 12.00 noon
Dinner: Tuesday – Saturday from 6.00pm
pilu.com.au