Via Napoli heads East to Surry Hills! The North side's well loved Italian restaurant has taken up place on Crown Street in Surry Hills. Pizzas and antipasto by the metre are a constant feature as is the jovial staff headed by Luigi Esposito.
One evening Mr NQN and I were eating at a restaurant on Crown Street in Surry Hills and we were seated near the open window. Every so often there would be a loud roar and we wondered if we were sitting underneath a party or if there was a huge sporting match in the apartment upstairs. Then we realised that the noise was actually that of the crowd at Via Napoli's newest outpost in Surry Hills. We made plans to return a few nights later, armed with hungry friends.
So there The Wizard, Oz, Dorothy and the Tin Man. Well actually I made those last two names up, it was the Wizard, Oz and Chloe along with me and Mr NQN. It was a hot Sydney night, the first hot day of spring and daylight savings and we were all ravenous.
Via Napoli is not a place if you want a quiet night in. It's rowdy, noisy and it is busy this Sunday evening. Open for just a month this much loved Italian restaurant from Lane Cove had already garnered eager patrons. Although we usually go a la carte over set menus, here the long menu and the fact that the waitress has come back several times to take our order but we are too busy talking steers us in that direction.
For $45 a person you get a shared antipasto platter along with a shared metre long pizza. The mood here is buoyant and the Wizard and Oz have had a great day sailing and Mr NQN cycling so it seems as good a reason to celebrate as any and a round of cocktails is ordered. Oz is gluten free so they bring him his own gluten free antipasto and a gluten free pasta (gluten free pizza isn't possible because of cross contamination).
The antipasto plank arrives at the table with the usual Via Napoli fanfare. Luigi the owner brings it to the table with a round of clapping. "It costs $2,000 to fly to Naples for this but tonight, you don't have to pay that!" he says. Around us people celebrate birthdays, planks of pizza and antipasto are delivered with rounds of applause from the staff and other customers and it's a full on sensory experience.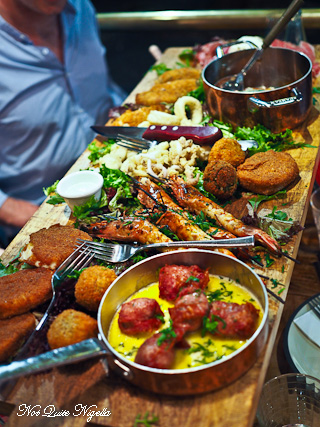 And speaking of a full on experience, the antipasto platter is generously portioned. In fact you could just eat this and be happy (but hello I live for pizza so no). There is a lot on the plate including deep fried crumbed Fior di latte mozzarella, arancini rice balls, deep fried potato crocchetes staffed with buffalo mozzarella and a copper pot of Parmigiana di Melanzane or sliced eggplant layered with buffalo mozzarella, parmesan cheese in Napoli sauce.
There's also deep fried local calamari, Spiedini Gamberi or prawn skewers and Capesante or Prosciutto Parma wrapped scallops in a gorgonzola sauce. "Do you want bread?" they ask and they hand us a basket that goes a little untouched (our eyes are bigger than our stomachs). We have to consciously stop ourselves from finishing it all because we know we have pizza next.
Service is friendly and amenable but our pizza comes out without us choosing it which is disappointing although they had said that we could choose it. We love spicy toppings and as a result of us not selecting the toppings, there's a pizza that none of us really go for. It's the Crudo e Rucola with fior di latte, prosciutto parma, parmesan, basil and rocket pizza on a white base.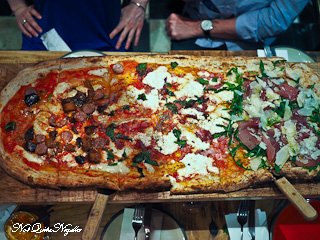 It's a touch dry and none of us would have ordered this pizza preferring the tomato based offerings. The two other pizzas were more of a hit. There's a Pizza Fritta with buffalo ricotta, fior di latte, cacciatore mild salame & pepper and a Luigi's fantasy which is the chef's choice with sausage, buffalo mozzarella, eggplant and basil.
So far we've been here a few hours and this allows our food to digest and contemplate taking a peek at the dessert menu. There are items like tiramisu, chocolate mousse and creme brulee but Mr NQN goes straight to the Nutella pizza with the Wizard echoing his choice. It's much bigger than we thought and blanketed with a thick spread of Nutella.
It's spongey soft and even though we've eaten so much already I can't help but take a couple of bites. The ever hungry Wizard says , "I'm starting to feel reptilian" which harks back to our pizza challenge. They pack up a single slice of Nutella pizza and we hand it to the Wizard. "You'll need this tomorrow morning," and he nods. He knows there's nothing quite like leftover pizza in the morning, even the dessert kind.
So tell me Dear Reader, how often do you go for set menus over a la carte? Would you want to choose your own pizza too? And re you a Nutella friend or foe?
This meal was independently paid for.
Via Napoli
628 Crown St, Surry Hills NSW 2010
Phone:(02) 9428 3297
Lunch: Thu – Sun 12:00 pm – 5:00 pm
Dinner: Mon – Sun 5:00 pm – Late