There's been a bit of a foodie renaissance in Tamworth and New England lately. While there have always been wonderful producers, in the last few years great eateries have started to emerge in the area and now locals and visitors have no shortage of fantastic places to eat and stay.
There's a reaction that people first have when they check into Goonoo Goonoo Station in Tamworth. It's slightly wary and cautious, looking around the "butcher shop" with a hanging carcass and enormous chopping block of wood. "Am I in the right spot?" they ask reception staff.
Goonoo Goonoo (pronounced Gunner Gernoo) is a beautifully restored heritage listed series of accommodation restored to make use of as much original material as possible. It started as a village established in 1831.
The village's original post office is the location for the Goonoo Goonoo guest lounge and the reception area is a quirky play on the site's original purpose as a butcher shop. The lamb carcass isn't real as the check in staff playfully tap on the plastic carcass. "Everyone has the same reaction," they say laughing.
We are staying at The Inn which is a freestanding 2 bedroom cottage with two king bedrooms. There is also accommodation in the small village for anything from 2 to 10 guests. Prices for accommodation are reasonable starting at $165.
The Inn is a comfortable cottage that is appointed in a country luxe style much in line with the setting. There's a lounge room that opens up to a large dining table and a galley style kitchen.
The main bedroom has a comfortable king bed as does the second bedroom. There are 1.5 bathrooms here too. As it gets cold in Tamworth there is reverse cycle air conditioning.
It's comfortable although we would have loved robes and slippers to bundle up. It's an easy 20 minute drive from the main area of town down the New England Highway.
In Tamworth for breakfast we stop by Addimi Espresso on Peel Street, the main street in Tamworth. With the chilly weather we opt to start the day with a rich hot chocolate but then try to balance things with a green breakfast smoothie with spinach, banana, yogurt and honey.
We also try the savoury bowl with quinoa, pumpkin, cherry tomatoes, spinach, ricotta, avocado and mushrooms and we also add in a potato roesti for good measure.
But I have to admit that I prefer the sweet breakfast of French toast made with a slice of brioche topped with bacon, fruit compote and maple syrup. It's simple but hits the spot.
We wander around town popping in and out of shops and getting a lay of the land. I try on an Akubra hat and buy some spices from The Magic Pudding, a well stocked little homewares store.
People are friendly and there are all the hallmarks of a musical town - Tamworth is of course known for its country music festival in January where the population swells and visitors flock from all over the world. There is a Slim Dusty statue and musical note motifs.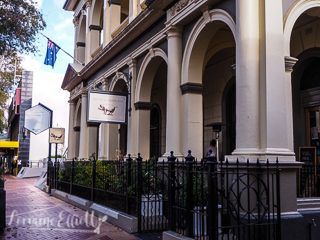 Which leads us to lunch at The Pig and Tinder Box also on Peel Street. It's housed in a converted old bank building and has an airy, welcoming atmosphere with plenty of indoor and outdoor seating. I sink down in a banquette near the window, letting the sun stream down on me. Service from Claudia, one of the owners is wonderfully friendly.
We start with two cocktails because it feels like a weekend (and honestly I had no idea what day it was). The Black Forest is made with Kraken black rum, blackberry liqueur, fresh blackberries and lime and is sweet and intense. The Scottish Cucumber is light and refreshing with Hendricks gin, St Germain, cloudy apple juice, cucumber and basil.
The dumplings are filled with chilli and pork and served with a sweet soya red vinegar. We make quick work of these.
The arancini are very popular and they come six to a serve sitting atop some aioli. These are made with rice, cauliflower, smoked cheddar and baby spinach and are crunchy on the outside with a nice smokiness from the cheddar on the inside. The saffron is quite light in the aioli.
We couldn't go past the lamb shoulder which is roasted until very soft. It is served on a wild rice pilaf with a generous amount of basil labna and dukkah. Although Mr NQN doesn't usually go for lamb he likes this as it isn't overly fatty.
Like the lamb, the pork belly isn't very fatty. The skin isn't quite crisp but Mr NQN doesn't mind this. It is served on a corn puree with charred baby corn and skinned, blistered cherry tomatoes.
Both desserts come from the land of the giants. I go for the coconut baked cheesecake with a bed of coconut biscuit crumbs, toasted coconut, a light cream cheese topping, fresh pineapple and two scoops of raspberry sorbet.
While Mr NQN is smitten with the rhubarb and yogurt parfait, two enormous slices topped with batons of roasted rhubarb, rhubarb crisps and rhubarb coulis.
We also pop into Sonny's next door, also owned by the same people at The Pig and Tinder Box where there are wonderful breads and tarts as well as a croissant menu featuring five types of croissants and take some to go. They're delicious and great for an afternoon snack.
That evening back at Goonoo Goonoo, we pull on layers and follow the curved, lit pathway up to the Glasshouse. It's a stunning building, that is as the name suggests all glass.
During the day it's clean lines feature while at night it's the woods and greenery. Service is friendly and chatty and it's quite busy for a Wednesday night.
Our original choice of oysters aren't available on Wednesday night so we go for the scallops instead. The New Zealand scallops come four to a serve and are topped with melted seaweed butter and additional wakame salad. It's simple but tasty.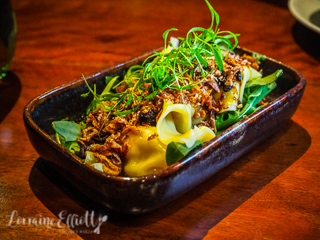 I must admit I ate most of these steamed wontons filled with pork and prawns and a delicious black bean dressing. They're topped with fried shallots for crunch.
I find ordering pork belly can be a risk. Sometimes the crackling isn't crispy, sometimes the pork isn't melting. But this is their most popular main and I can see why. It's an enormous piece of pork belly with a crackling skin and a soft, melting meat underneath it and really one of the best pork belly dishes I've eaten. It's served with a bold vermicelli with sliced water chestnuts, Asian greens, enoki mushrooms and XO Sauce. I can't stop eating this it's so, so delightful.
Because we are polar opposites Mr NQN who normally does not like cooked fish adores the local Arc-en-ciel house smoked rainbow trout. The key here is the light touch of smoking and the fish is very delicate. It is served with a citrus salad and a salsa verde.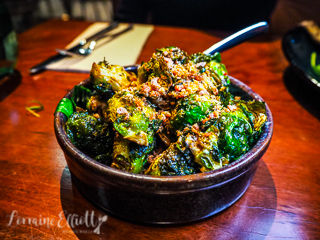 This is a generous serving of Brussels sprouts. They're seasoned with a sweet fish sauce and dried shrimp. I overheard another table asking if they were fishy and they are but I do love bold, fishy flavours and it goes remarkably well with the pork belly because of the compatible flavours but is perhaps too overwhelming for the trout.
The salted caramel bombe Alaska is filled with housemade salted caramel ice cream, chocolate sponge on the top and bottom and a slathering of torched meringue on the outside. It's obviously a very sweet dessert but quite nice.
Out of the two we both preferred the chocolate sphere or really a half sphere with a Belgian chocolate shell, liquid caramel and a coconut and sour cream ice cream parfait with crunchy peanut praline. As a chocolate and peanut lover, this hit the spot.
And it's nice to be able to walk five minutes to our warm homestead. I have a shower and go to bed early and fall asleep straight away.
The next morning I get up early to work out and then it is back into town to try Hopscotch restaurant for breakfast. Hopscotch is part of the Tamworth Regional Park and is popular with families because of the adjacent playground. There is an outdoor kiosk as well as a restaurant.
Alas a few things that I wanted to order weren't available but there is still quite a bit to choose from. We start with a chai latte and a Golden Gaytime shake-I feel as though the small version might be the best way to go with these shakes and it's certainly striking and yes it tastes like a butterscotch Golden Gaytime with additional texture from chocolate coated honeycomb.
I couldn't resist the idea of an early morning croquette. It's a single trout croquette split in half and served with house preserved lemon peel, wilted spinach, capers, gremolata, pangrattato with creme fraiche and poached eggs.
I also decided to go with a local favourite and something you don't often see on city menus and that's the savoury mince with ground beef mince, carrots, corn and peas in a hollowed out cob loaf served with poached eggs. And you know what? It's pretty damn delicious and filling, just the perfect antidote to a chilly morning.
About 10 minutes drive away is the Oxley Scenic lookout that offers panoramic 180 degree views of Tamworth below. I watch a couple picnicking there and the view is expansive with views of the mountains in the background.
But always in the back of my mind is food and after walking around the town centre I stop into Hissy Fits. Now you know a place is special when half a dozen people message you on social media to see if you are going there.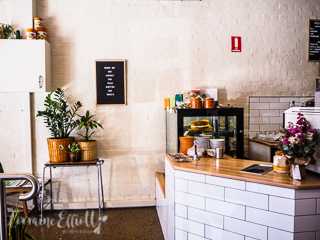 Run by Claire and Jordan the menu is American and Mexican borne of both of the owners' backgrounds-Claire's mother is American and she was born there while Jordan owned a tortilla place.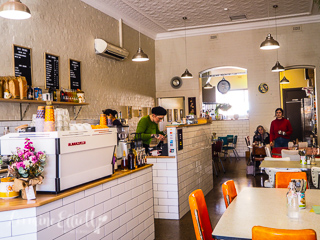 It's a gorgeous retro themed diner and service is very friendly. I've come at a time a little between breakfast and lunch so I can have a bit of both.
I start with a PB & J milk shake served ice cold in a metal tumbler. It's delicious and strong in peanut butter. All syrups for their drinks are house made.
One of my favourite breakfast items is the breakfast quesadilla-this one is made with jackfruit and mushrooms in place of the beef brisket and it is served in a tortilla with charred corn, coriander, lime and a fried egg on top. The filling is delicious and this is such a filling but tasty way to start the way.
If you're looking for something more traditionally breakfasty there's the roasted field mushrooms that come out as two large mushrooms topped with Meredith goat's feta, a crispy potato roesti, savoury granola and chipotle aioli.
And from the lunch menu I try the Southern fried chicken tacos with juicy, crunchy crumbed chicken bites, coleslaw, charred corn salsa, quail egg, kewpie mayo, Sriracha, coriander and lime on a corn tortilla. These have got a great crunch from the coleslaw and the chicken together and the chicken itself is the real star as it is so juicy.
There are five burgers on the menu, two of which are Southern fried chicken burgers. The old fashioned is a fillet of that succulent fried chicken, buffalo sauce, escabeche, coleslaw, Jack cheese and ranch dressing. And holy heck you've just got to dive right in. It's saucy, crunchy and on a soft, warm bun. There's also a side of potato chips and pickles for a bit extra.
And what better thing to go with the burger than tater tots? Here they're topped with squiggles of Sriracha, kewpie mayonnaise and togarashi seasoning. I dare anyone to stop at three (or in my case a dozen!).
I was about to leave when I saw the cake display. "Are they made in-house?" I ask and they answer yes. I sit back down and order a slice of their baked cheesecake, so divinely smooth, light and with a touch of lemon. For good measure and to have with my chai, I also get a chocolate cookie, generous with chocolate pieces.
On my way back to Goonoo Goonoo I stop by the Big Golden Guitar. Australians have an obsession with big things and there is no more fitting tribute for Tamworth than a golden guitar. There's also a museum attached to it as well.
Dinner this evening is at the Workshop Kitchen. The restaurant is connected to the Powerhouse Quality Inn. The steak house has deep leather banquettes, low lighting and an extensive menu with steak house classics.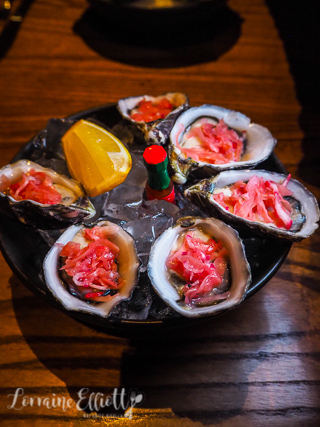 We start with some oysters, half a dozen naturals topped with pickled radish and ginger salsa which slide down easily. These are meaty, large oysters.
Although I prefer raw or natural oysters I'm curious about the kaffir lime leaf glaze and while I'm not a huge Kilpatrick fan, these are really good with the addition of the fragrant glaze.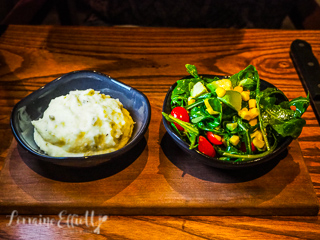 Usually when an item says POA it means that it can usually be expensive (remember when clothing was POA?). But this is actually quite a reasonably priced steak and is the only dry aged steak on the menu. It's a 90 day Dry Aged Beef grain fed sirloin from Mountain View Farm. With it you get a choice of two sides and a butter but we ask for the Cafe de Paris and the chilli and lime Butter with a side of jalapeno parmesan mashed potato and the avocado, sweet corn, tomato salad and wasabi dressing. I particularly love the salad as I've been craving it a lot with all the meat heavy dishes we've been eating. The steak is perfectly cooked as ordered and it goes well with both butters. There are also three types of mustard: Colman's hot, seeded and wholegrain.
My favourite main is no surprise: it's beef short ribs. I love how tender and melting they become after a long, slow cook. These are grass fed beef ribs with a Jack Daniels bbq sauce basted so that it becomes sticky and crispy on the outside and soft and melting inside. They are served with an Asian vermicelli salad and a pile of perfect chunky, crisp chips.
One item intrigued me on the cocktail menu and I decided to order it with my dessert. It was called "The Ron" and it is quite a production taking 20 minutes to make. I didn't realise that The Ron was actually named after Ron Jeremy, the porn star who apparently has branched out into rum. And at $45 it is not for everyone (apparently they sell about one a month). It has Caribbean rum, Dobson's Le Caf Coffee & Maple Liqueur, brown crème de cacao, salted caramel ice cream and peanut butter finished with honey roasted peanut praline, shaved chocolate and 23 karat gold leaf. And do you know what? It's actually delicious and like a liquid dessert really with all of those sweet, creamy flavours.
We had heard a lot about the matcha creme brulee. While it is very nice they actually forgot to put matcha in it and it's a regular vanilla creme brulee. It comes with a large round of lemon scented shortbread.
I adored the sticky date pudding which comes out warm with a jug of salted caramel. I especially loved the roasted sesame ice cream that came with it on top of a dried slice of orange as it gave the sticky date pudding an added element of flavour.
The next morning is our last in the region and we head towards Uralla, about an hour drive away. Our final destination is Bellingen but we stop by The Alternate Root for breakfast. This is a gorgeous cafe, store and farm housed in an enormous building with original pressed tin ceilings.
The Alternate Root's owner Rachel Doran explains that the name does cause some controversy with some saying that they will never patronise the place while others take selfies by the outside mural. What it serves is tasty, healthy, wholesome fare.
They even have their own pastry chef who makes sure that the pastry cabinet is stocked up with goodies. While waiting I browse the shop displays and find a leather bound notebook I buy for a gift.
For breakfast and lunch there are sausage rolls and filled paninis but the item you have to try are the ricotta hot cakes. They're nothing like the Bill's cafe ones. That are oval shaped and beautifully crisp on the outside and spongey soft on the inside and served with a choice of berry compote or caramelised banana with syrup (we went for the latter). Oh my they are utterly delicious with little pockets of ricotta.
The beef sausage roll is served hot and it takes about 10 minutes to heat as they don't have a microwave. It is served with salad and a delicious chutney.
And because we can't resist house made pastries, we have an espresso macaron, a slice of lemon curd cake which is lemony perfection as well as a pretty paleo lemon tart. All washed down with a pot of red vanilla chai tea!
On our way to Bellingen, we also stop by Armidale to the Goldfish Bowl for a loaf of bread, some coffee and for some tarts. It's a very popular place with locals-being off the main drag doesn't seem to have hurt business as it is bursting to full this Friday morning.
People can order pizzas, sandwiches, or breakfast from the large chalkboard menu. We also try a lemon meringue tart with over an inch of fluffy meringue and a gorgeously tart lemon curd filling. The strawberry tart with vanilla custard has a lovely crisp base to it too.
Just look for the goldfish mural on the side of the building, done over the space of 2 days by Sydney based street artist Crisp Street Art.
So tell me Dear Reader, have you ever been to Tamworth? What did you think of the Goonoo Goonoo station reception area? And would you order The Ron?
NQN and Mr NQN were guests of Visit NSW but all opinions remain her own.
Goonoo Goonoo Station
13304 New England Highway, Tamworth, NSW goonoogoonoostation.com/
Addimi Espresso
306 Peel St, Tamworth NSW 2340 Open Monday to Saturday 6am–3pm SundayClosed Phone: (02) 6766 7802
The Pig & Tinder Box
429 Peel St, Tamworth NSW 2340 Open Monday to Friday 12pm–12am Weekends 12pm–1am thepigandtinderbox.com.au Phone: (02) 6766 1541
Glasshouse at Goonoo Goonoo Station
13304 New England Hwy, Timbumburi NSW 2370 Wednesday & Thursday 5:30–10pm Friday 12–11pm Saturday 8am–11pm Sunday 8am–3:30pm Closed Monday and Tuesday goonoogoonoostation.com/eat-drink
Hopscotch
Tamworth Regional Playground Bicentennial Park, Kable Ave & Hill St, Tamworth NSW 2340 Monday to Thursday 7am–4pm Friday & Saturday 7am–10pm Sunday 7am–5pm hopscotchrestaurant.com.au Phone: (02) 6766 8422
Hissy Fits
457 Peel Street, Tamworth, New South Wales 2340 Open Tuesday to Saturday 7am-4pm Sunday 8am-2pm Closed Mondays (02) 6766 7861 facebook.com/HissyFitsCafe/
Workshop Kitchen
Quality Hotel Powerhouse 248 Armidale Rd, East Tamworth NSW 2340 Open 7 days 6:30am–10pm powerhousetamworth.com.au Phone: (02) 6766 7000
The Alterate Root
48 Bridge St, Uralla NSW 2358 Open 7 days 8am–2:30pm facebook.com/The-Alternate-Root-1480351168940999/
Goldfish Bowl Bakery
3/160 Rusden St, Armidale NSW 2350 Monday to Thursday 7:30am–3pm Friday 7:30am–3pm, 5:30–8:30pm Saturday 7:30am–1pm Sunday Closed Phone: (02) 6771 5533 facebook.com/thegoldfishbowlbakery/