Looking for a relaxing mountain getaway to celebrate the changing of the seasons from Summer to Autumn? The Blue Mountains has bloomed and there are so many new things to see and do while you're there. There's exquisite Art Deco style accommodation, a divine afternoon tea, relaxing afternoons at scenic wineries and the newest restaurant and hotel to open in the Blue Mountains!
While winter is usually the season most associated with the Blue Mountains, Autumn is actually a wonderful season to visit the Blue Mountains as it's not quite as cold and there are avenues of trees with bright yellow foliage. For the past few years we've been travelling to the coast for Mr NQN's windsurfing and that has meant that I've missed out on my biannual trip to the Blue Mountains. So much so that I truly understood the term heartache as I missed it so much.
On our drive up to Katoomba we stop by our friends at Meltdown Artisan Chocolatier. Jen Lo, her husband Nick and rescue greyhound Macc moved from Sydney's St Leonards to a studio in Lawson towards the end of 2021. Her chocolate studio isn't yet open to the public - yet, that will be in a couple of months, but her chocolates can be found online or at stores in the Blue Mountains like Floral Ink in Wentworth Falls. Jen is also holding cake decorating classes at Lyttleton Store and the next one is on May 7th 2022.
Earlier that morning Jen snagged me a box of Black Cockatoo Bakery pastries, a bakery located nearby her studio. There's an Oomite Scroll, miso walnut cookie, a lemon meringue tart and an almond croissant. The pastries are very good and I particularly enjoy the Oomite scroll and the almond croissant as the pastry is crisp scattering crumbs everywhere with each bite.
We head further up the mountains to our accommodation in Katoomba. Chatelaine (meaning Lady of the Manor) is a luxurious 3 bedroom house that captures the grandeur and style of the Blue Mountains with its 1920's decor. Lorraine Allanson owns and runs 5 houses in the Blue Mountains and is an excellent host with an eye for style and meticulous detail. She does all of this without any formal training in hospitality or tourism.
There are three bedrooms in this self contained home overlooking the Jamison Valley and the Megalong Valley. The expansive 4,774sqm grounds are immaculately kept with misty rolling green hills. The simple but charming front of the cottage belies the glamourous rooms within. The pick is the master bedroom cloaked in dramatic blacks and golds with a king size bed and a maroon velvet chaise lounge. There's also a bedroom decked out in powder blue and one in baby pink towards the back of the house. There are two and a half bathrooms with three showers available. These are stocked with Molton Brown toiletries.
Walking through the house there's a billiards room and a lounge room with a pressed metal gas-log fireplace to keep things toasty along with central heating. The kitchen is an art deco style kitchen with pressed metal rangehood and in the fridge are generous provisions for your first day's breakfast as well as a bottle of wine and a well stocked pantry. Prior to your stay Lorraine will ask what sort of bread you like and milk and dietaries so that you get the stay that you want. There's also a large dining table that seats 8. There's also wifi included and Netflix is available if you bring your own account. And although this is located centrally near the bushwalks of Katoomba, it is completely private and quiet and it is immaculately clean. This house is designed for 6 people so it feels extra special having this haven all to ourselves.
This evening we're booked in for the Equinox Feast event at the Hydro Majestic Hotel in Medlow Bath. This beautifully restored hotel is the host of two Equinox festival dinners featuring four courses and entertainment in their ballroom. It starts early at 5:30pm and we are led to our table by women dressed as 1920's flappers.
We are offered our choice of sparkling, red or white wine and the first course is already sitting at the table and we nibble on the charcuterie board and bread and crackers while Monica Trapaga performs and emcees the event introducing the band and individual performers.
The entree is a dish with carrots and asparagus on a bed of yuzu bean puree that is surprisingly sweet. Someone else in the audience describes it as eating an arrowroot biscuit and they're not wrong.
The main is very tasty and it's a steak crusted in crumbs and herbs with a round of capsicum butter. It's generously portioned with more than enough for two and roasted vegetables on the side. The steak is cooked perfectly medium rare.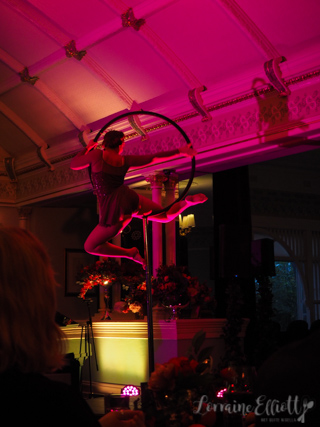 We watch a magician and acrobats perform while we eat our food. Dessert is what appears an apple - but inside it has white chocolate mousse, apple compote and a liquid salted caramel centre. I end the night with a tarot reading and a cocktail in the bar sitting back in a wing back chair while the rain falls gently outside.
The next morning we rise to a misty morning with the view outside our window painted black and white. If it were anywhere else I'd grizzle but mist suits the Blue Mountains. I make a hearty breakfast with the provisions. There's bacon, eggs, toast and in the pantry there's muesli and cornflakes available for anyone seeking a lighter repast. Then it's off to a day of visiting wineries in the Megalong Valley.
We meet at Carrington Cellars in Katoomba where we park the car and browse the store. Carrington Cellars is owned by Mark Jarvis along with a consortium of buyers and it one of the few independent liquor stores left. The design of the store is inspired by the original Dan Murphy's in Chapel Street, Melbourne. The front door still has the weigh plate that used to weigh the coal. Towards the back of the store is where the stables used to be to keep the horses that delivered the coal. The building was originally a power station that ensured that Katoomba had light power before Sydney did.
Nowadays the bottle shop specialises in wines from the central west including Bathurst, Orange and Mudgee. There is a range of organic and local wines and if it isn't local they also stock family owned wineries within Australia. Currently lower alcohol or no alcohol wines are popular and during COVID sales of French and Italian wines spiked to unprecedented levels as people weren't able to travel to those countries. We have a beer tasting here with three of their beers, a pale ale, Indian pale ale and an English ale aged for over 2.5 years. This ageing was actually an accident of sorts. COVID reared its head and they ended up storing the beer for that time.
After our beer we are off on our Megalong Valley Wine Trail tour with Fantastic Aussie Tours. We board a bus that takes us for the 45 minute drive to the Megalong Valley where we will stop at two wineries that sit adjacent to each other. The bus drive picks you up at Katoomba just outside the Carrington and drops you back four hours later and it is $40 per person. You can book the wine tastings at each of the two wineries.
We pass the alpacas grazing on the left when we arrive at Megalong Creek Estate and are greeted by the four wine dogs that enthusiastically welcome visitors. Megalong Creek Estate is a family run winery that was established in 2002.
The tasting shed is an open air shed with gorgeous views of Narrow Neck and the escarpment. Guests can have free tastings of all of the current wine vintages and you can also book a grazing plate with charcuterie, fruit, cheese, crackers and olives. Normally this is $20 for two but as we have a larger group ours is upsized for 6 people. We start with some Prozzante-their version of a prosecco and frizzante and move into the Pinot Grigio, a more food friendly wine. After this we try their Viognier with its silky minerality and finish with their Shiraz dubbed "The lost Shiraz 2021". For the first time they have had to use fruit not from the estate. Usually Megalong Creek Estate produces single vineyard wines made only from their fruit but in 2020 their grapes were devastated by the bushfires and in subsequent years weather has played havoc with their yield. Owner Mike Davis tells us that it looks like this year will continue the trend.
It's a short 5 minute stroll (or 2 minute bus ride) next door to Dryridge Estate. The popular cellar door opened in 2012 and from its raised heights you can enjoy a tasting of wines, charcuterie boards with a spectacular view. It has been a few years since we last visited but Mr NQN and I both remember the groodle George, the enthusiastic good boi who can play endless games of fetch. As if one cue George reappears with a plastic ball in his mouth as if time has never passed and we were only there yesterday.
The wine tasting experience is $10 per person for wine and includes tastings of all the current vintages. There's also a cheese & charcuterie board for two people at $35 as well as a Ploughman's Lunch Platter for four people for $50.
All of the Dryridge wines are named after the family's grandchildren. Emma MacMahon the GM of Dryridge Wines pours our wines for us starting the Riesling Isabelle which pairs well with oyster and sashimi with its high acidity. After that we try their Mila Vermentino with peach flavours and a dry finish and then we segue onto their Provence style rosé Francoise that is light and dry. Then it's onto the Alexander Pinot Noir served chilled with strong hints of raspberry and then their spicy Florence Merlot Cabernet. Angus the adorable newest pup is a big charcuterie fan and hovers around looking for scraps with wide, pleading eyes. After eating our fill of charcuterie and wine we say goodbye to George and Angus and board the bus back to our house.
We spend a bit of time relaxing back at Chatelaine watching the mist envelop the view while sitting by the fireplace. Then it's time to leave for Blaq, the new restaurant at the new Kyah Hotel in Blackheath, which has enjoyed a revamp and was formerly the Redleaf Resort. The hotel's General Manager Mate Herceg is also the chef and it's gradually being rolled out with the aim to complete all of the sections of accommodation and common areas by the end of the year.
The restaurant Blaq mirrors the minimalist cream rooms and curved arches. There is a bar in the centre that people can eat and drink around as well as a second adjoining room to the main room. The food is sourced as locally as possible in combination with their 200 square metre garden outside that they plan to double in size by the end of the year. There are plans to get some quails and a highlander cow.
We start with a couple of their signature cocktails. It's a floral G&T for me made with Karu infinity gin, amethyst tea, butterfly pea, ginger, tonic, citrus and rose petals. I also really like Mr NQN's Flamin Galah with local dark rum, Australian amaro, pineapple juice, orgeat, lime, lemon myrtle and burnt cinnamon and we end up swapping cocktails.
The menu starts with snacks but we go straight into entrees. The charred cucumber came highly recommended. It's actually delicious, I never really thought to char cucumber but it is tasty and served with roasted hazelnuts and a miso crème fraiche that has an appealing rich, creaminess to it.
Another tasty entree is the beetroot which is served pickled with dabs of Lidsdale goat's curd, radicchio, watercress and a lemon vinaigrette. The beetroot has a nice sweetness to it from the pickling and the goat's curd is aromatic and creamy while the lemon vinaigrette gives it a nice zestiness.
My favourite is the sashimi platter with kingfish, salmon and sesame seaweed with pickled ginger, daikon pickles, wasabi and white soy dipping sauce. It's a generously sized platter and perfect for sharing between 2-3 people.
There are two sections of mains, the "Charred and Grilled" and the "Bigs" and the former comes with salad and chat potatoes on the side. The lamb rack is succulent and juicy and served pink in the centre and served with a generous side green salad and a wedge of lemon.
One of my favourite mains is the boar fish fillet cooked perfectly and served on a bed of silverbeet, pine nuts, currants with a tahini dressing. The fish changes every day but if the boar fish is available I really recommend it.
Another favourite main is the Riverina beef flank tagliata cooked medium and served with rich roquette and thick shavings of 24 month aged parmesan with garlic, lemon and extra virgin olive oil. Sometimes a steak really needs no trickery just skillful cooking and a pairing with simple flavours and that is the case here.
On the side we try the polenta chips that are well seasoned and fragrant with rosemary. These are crispy on the outside and soft and fluffy on the inside.
We also have some kale with fermented garlic on the side which comes from their garden outside. Mate explains that they haven't had to buy herbs and leafy greens for a month now as the garden provides them with all of these.
We try all four desserts. The chocolate mousse is simple but nicely presented with fresh fruit on top and enormous chunks of honeycomb and cocao nib brittle on top. The honeycomb chunks could be a bit smaller especially as the honeycomb gets a bit sticky in texture from being with the mousse.
The blueberry cobbler is sizeable with plenty of saucy berries and a delicious rum ice cream. There is supposed to be a meringue shard on this but it isn't on ours.
I'm not sure if the strawberry slice is supposed to be frozen but it's semi thawed which does give it an unusual texture. It has a strawberry mousse on thin sponge layers and topped with local berries with a pistachio crumb.
The orange and ricotta doughnuts are probably my pick for the desserts. They come 4 to a serve with a honey and thyme syrup on top and are light and fluffy in texture.
The next morning we sleep in and enjoy our last few hours at Chatelaine before heading back to Katoomba town centre to Avalon restaurant. Avalon is located on the main street of Katoomba on Katoomba Street and has a loyal following. The restaurant is housed in the former Savoy Theatre and owners David Cartwright and Dylan Brookes have had the restaurant for almost 7 years. Dylan used to eat here as a child and when the couple were planning a semi retirement they decided to take on the popular restaurant. They made use of their skills in their previous jobs (David in sales at Estee lauder and Wella and Dylan in publicity at the ABC) and have kept the restaurant going where most nights they operate at full capacity. They didn't lose any staff during COVID lockdown and one of their secrets is being adored by locals.
There is a downstairs section as well as an upstairs one and it's a visual feast and when you walk in you don't know where to look whether it be the bar with its vintage memorabilia, the main room with its Barbie cage that changes when inspiration strikes or the pictures of "Joyce" whose face adorns their business cards and overlooks the whole restaurant as a patron saint of sorts. The upstairs dining room has views of Leura and the Jamison Valley below. I have friends that are obsessed with the Avalon and their licorice cheesecake (licorice lovers, you have to try this).
The afternoon tea is available on weekends and must be booked ahead of time as it is all made on the premises. The sparkling high tea is $60 per person and includes a glass of bubbles to start as well as a three tier stand and unlimited tea or coffee. The sandwich layer is always my favourite and there are some really creative flavour combinations here from a brie, strawberry, walnut, mint and caramelised onion sandwich which sounds a bit bonkers but absolutely works, to an incredibly delicious take on a cucumber and cream cheese sandwich with a layer of macadamia butter. There are also soft brioche buns filled with smoked salmon and a fig, prosciutto and lemon open sandwich. These are all absolutely delicious and it's also very filling-even though I've skipped breakfast I'm pretty much full after the sandwiches and half a scone.
That brings me to the lemonade scones that are wonderfully light and fluffy. These are served with clotted cream and strawberry jam and are so good that I finish the whole scone. By this stage with the glass of sparkling wine and the chai latte (made with a house made syrup of tea leaves and spices) we can't really tackle the sweets.
That's not a problem and David gives us takeaway containers so that we can enjoy the sweets when we get home. There's an Eton mess with soft clouds of cream, raspberries, strawberries and house made meringues. The mango tart with vanilla custard is sublime with the tart shell crisp and buttery and the custard smooth. There is also a buttery white chocolate mini bundt cake and a rich Black Forest mini tier cake with a cherry on top. The food is so fresh and good quality that we are already planning our return visit before we've even left our current one. Such is the lure of the Blue Mountains.
So tell me Dear Reader, is there a favourite season for you to visit the Blue Mountains? What is your favourite thing to do there?
Meltdown Artisan
https://meltdownartisan.com/
Chatelaine
https://mountainwhispers.com.au/properties/chatelaine-katoomba-2/
Hydro Majestic Hotel
https://www.hydromajestic.com.au/
Fantastic Aussie Tours
https://www.fantastic-aussie-tours.com.au/blue-mountains-tours-and-transfers/
Blaq Restaurant
https://www.thekyah.com.au/blaq
The Avalon
https://www.avalonkatoomba.com.au/