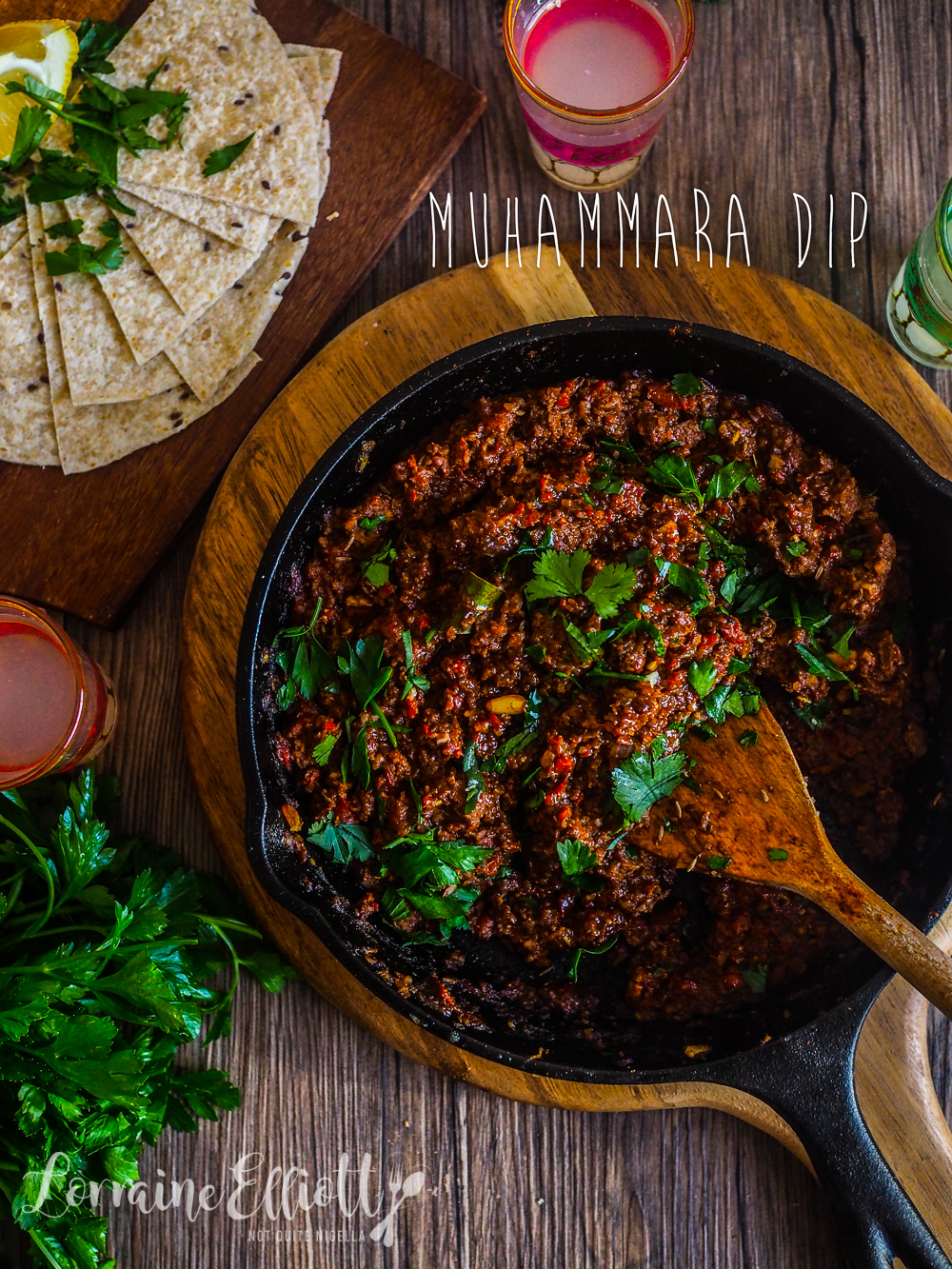 Muhammara dip is a delicious Leventine and Turkish dip originally from Aleppo, Syria made from red capsicums or peppers. You can make a quick one easily but when I tried the Muhammara dip while overseas it was so utterly different and delicious that I asked the chef for the recipe which he kindly furnished me with.
I've had Muhammara a few times before. It's lovely but this dip which we ate at the Outrigger Laguna Phuket was something special. And when chef Roberto emailed me the recipe it looked quite different from a lot of Muhammara recipes.
A lot of Muhammara recipes are quite simple-they're based on roasted, skinned red capsicums, garlic, pomegranate molasses and some nuts. This one is more detailed and doesn't contain pomegranate molasses but I think with the extra ingredients, nuts and spices comes a world of flavour. And don't worry, this makes quite a lot, at least 2 cups' worth so the extra effort is worth it.
When they sat this down in front of us over lunch with a selection of dips (and we had only a couple of hours before eaten breakfast), this one was clearly the favourite. You usually just have it with bread but I also topped pizza with it and served it with meats and it was very versatile and went with pretty much everything I paired it with. And I am glad to say that this tasted just like the one we had in Thailand.
Speaking of going away, whenever we both go overseas, we find Mochi a dog sitter because she does have separation anxiety issues. We found a new sitter that we chose because one of the couple worked from home and they had another dog. We were hoping that if there was another dog, that Mochi's separation anxiety would abate. Basically she barks the whole time that she is alone which is not great for neighbours or her anxiety levels.
One afternoon the man had to leave for a meeting. And poor Mochi barked for the whole time he was away. It seems as long as there is a human around she is ok but it has to be a human and not another dog. Still, they really adored Mochi and marvelled at how when they didn't take her out for a pee she went to their ensuite and peed down the drain hole! They were great hosts sending us lots of pics and videos of her and were very responsive when we asked about how she was doing.
There was one slightly odd incident though. When we picked her up I looked at our dear little Mochi. She looked slightly different. They had trimmed the fur on her face! I take great pride in making sure Mochi has a nice fur cut and she looked a bit lopsided. It isn't easy trimming her ear fur but it isn't hard to make it look good and her ear fur looked a bit sad and straggly. "Does she look different?" I said to Mr NQN under my breath when we came to pick her up. I mean I wouldn't trim a child's hair and she is my child. I debated whether to ask them about it but then curiosity got the better of me so I did. The woman explained that they were giving their dog a bath so they decided to give Mochi one too and trim her ears!
So tell me Dear Reader, do you think it's odd for someone to trim a dog's fur without asking? And have you ever tried Muhammara dip? Do you like it?
DID YOU MAKE THIS RECIPE? Share your creations by tagging @notquitenigella on Instagram with the hashtag #notquitenigella
Muhammara Dip
Adapted from chef Roberto Conrad
Preparation time: 30 minutes
Cooking time: 30 minutes
Note: this dip is best made the day before as the flavour improves immensely with time
1/2 onion, finely chopped
3 bay leaves
2 teaspoons smoked paprika
1 teaspoon Aleppo chilli powder
1/2 teaspoon ground cumin
1/2 teaspoon ground coriander
Pinch cinnamon
400g/14ozs. red capsicum peppers, grilled and blistered, skin removed, processed*
3 cloves garlic, peeled and finely chopped
1/2 cup tomato paste
60g/2.1ozs. walnuts, toasted, coarsely ground
60g/2.1ozs. pine nuts, toasted, coarsely ground
20g/0.7ozs. pistachios, toasted, coarsely ground
80g/2.8ozs. breadcrumbs
1 cup vegetable stock
1/4 cup chopped parsley
1/4 cup chopped coriander
Step 1 - Add a tablespoon or two of oil to a frying pan and saute the onion for a couple of minutes. Add the bay leaves, smoked paprika, chilli powder, cumin, coriander and cinnamon. Then add the red capsicum, garlic, tomato paste and cook for a minute.
Step 2 - Then add the walnuts, pine nuts, pistachios as well as the breadcrumbs. Fry for a few minutes adding some oil if necessary and then add the vegetable stock in two or three lots allowing it to absorb into the dip. Top with fresh parsley and coriander and taste for seasoning and add salt or pepper if it needs it. Allow to cool completely and store in the fridge. This is best made the day before to allow the flavours to develop.
To prepare capsicums, remove the core and deseed. Place under a very hot grill until the skin is blistered. Place in a plastic bag and cool for 15 minutes. Then remove the skin-it should slip off easily.