This olive and garlic dip is something special and utterly moreish. It takes all of 5 minutes to make and can easily be made vegan too. If you're entertaining this New Year's Eve you're 5 minutes away from making the most moreish olive and garlic dip ever. I promise that if you make this once, it won't be the only time. This is a pushy recipe Dear Reader!
This dip is based on an olive dip that you get at the supermarket which is basically olives mixed with aioli or mayonnaise. It is one of the most moreish dips around and is by a brand called Yumi's. I was inspired to make it by a jar of pitted black olives, you know the super unfancy kind of sliced olives that you put on pizza. The kind that you definitely don't serve on a cheese platter. But sliced black olives make for great Halloween eyes so I find myself buying jars of olives every year for decorative purposes. Usually Mr NQN eats them but he wasn't overly keen on the sliced olives.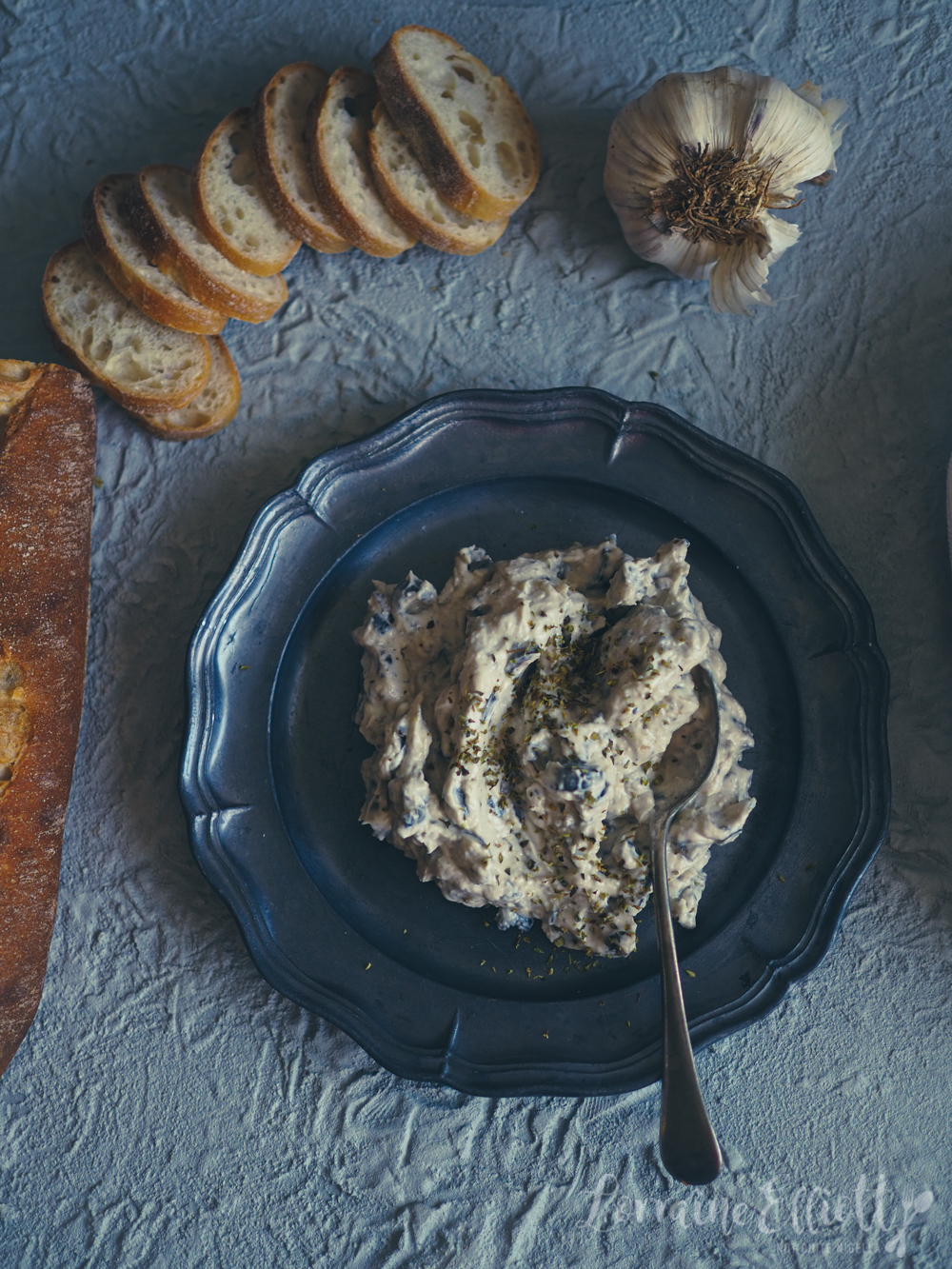 Then I remembered the fluffy garlic toum that I make often. What if I combined the garlicky fluffiness with chopped black olives? It turned out even better than I could have hoped. I scraped the bowl with the bread licking up every skerrick. You can hold back on the garlic if you want but my theory on garlic is that nobody is bothered by garlic breath if you all have garlic breath and if you're going to kiss someone, you want to kiss someone that loves garlic because life without garlic is a life half lived.
I made this dip for New Year's Eve. To me, it's the most overrated night of the year mainly because there's such an emphasis on it. Some people throw lavish parties, rent boats or camp out to secure a spot. As for us we usually go away but this year everywhere that was dog friendly was booked up (we had booked a place but the guy had to switch his house to a rental because nobody was holidaying). This year, fingers crossed, we are going to Valentina's house for an outdoor NYE barbecue. Everyone has their rapid antigen tests ready and I got my booster shot today so hopefully I'll be fine in time for it.
I ended up getting the Moderna vaccine because Ivy told me that she had read that you get a broader spectrum of protection if you mix vaccines. I booked both Mr NQN and I in for Moderna and as I type this the booster is going through me so I'll let you know how I go. But I hope that whatever your plans are for NYE, it's that they're fun, however you define fun and I really hope that you'll give this delicious dip a try!
So tell me Dear Reader, what are your plans for NYE? Are you boosted yet? Which one did you get and how did you feel afterwards?
DID YOU MAKE THIS RECIPE? Share your creations by tagging @notquitenigella on Instagram with the hashtag #notquitenigella
Olive & Garlic Dip
Rated 5.0 out of 5 by 4 readers
An Original Recipe by Lorraine Elliott
Preparation time: 5 minutes
Cooking time: 0 minutes
Serves: 8
3 cloves garlic, peeled and roughly chopped
1 cup/250ml/8.8flozs oil (neutral flavoured oil like canola)
1 tablespoon water
1 tablespoon lemon juice
40g/1.4oz egg white or aqua faba
1/2 teaspoon salt
1/2 cup sliced black olives, roughly chopped
Please note: this recipe only works with a stick or immersion blender, not a food processor. It will not whip up properly when made in a food processor.
Step 1 - Place the garlic, oil, water, lemon juice, egg white or aquafaba and salt in a jug and grab your immersion blender. With the stick blender resting on the bottom of the jug turn it on and move it around in slow circles where it will start to turn white. Move the stick blender up to catch the oil and then keep whizzing until all the oil has disappeared and you get a fluffy, white spreadable paste. If for some reason it doesn't emulsify add a tablespoon more egg white or aquafaba. The quantity of egg white/aquafaba I have given above should be more than sufficient to emulsify the mixture but this is just in case.
Step 2 -Stir in the black olives and place in a serving bowl. Serve with crackers or bread.