There's not much that Nina gets excited about in the way of food. Her position on food can best be described as angry indifference-anger that she needs to eat or make food and indifference to the actual eating process. But she beseeched me to take her along to Alem's House in Camperdown because she adores Ethiopian food.
I pick her up and we make our way to Camperdown while the boys will meet us at Alem's House. "I want to park right outside the restaurant because I can't really walk in these boots," I tell her. "I'll carry you to the restaurant if you want," says Nina. I'm not sure if she's joking or not but I warn her that I will take her up on the offer.
Alem's House is a casual cafe style eatery serving Ethiopian food. They serve breakfast and all day toasties as well as lunch with more traditional Ethiopian fare. The lunch menu is actually the same as dinner and it is vegan and gluten free.
It is also BYO and service is friendly. We are told that Alem isn't here tonight as she is pregnant and works in the mornings preparing the food.
We start with a roasted barley smoothie with a light level of sweetness. It's creamy with a slight grainy texture to it. I also have an Ethiopian chai which is loose leaf tea with a side of milk.
Most people dining there order the Feast platter which is great value at $20 per person although there is a minimum of 4 people required. This is a base of an enormous injera bread, a spongy, light bread with a slightly tangy or sour flavour made with teff flour (making it gluten free). The sourness comes from the fermentation process. It is topped with a range of seven vegetable dishes that are all vegan and gluten free. There is also a roll of injera bread that you use to scoop up the fillings with your right hand (although they do offer cutlery).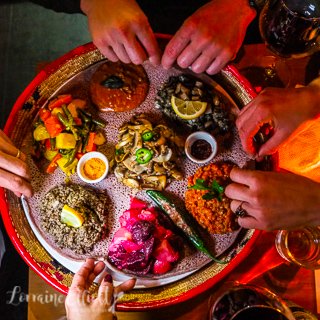 I start with the item closest to me, the beetroot potato salad which is good - I prefer the beetroot to the potatoes as the latter needs a bit of salt. The Azifa or brown lentil salad has a strong hit of mustard as well as chilli, fennel seeds, onion and garlic. The Gomen is a mild tasting sauteed spinach and onion dish with ginger and garlic while the Atakilt Wat is a classic vegetable curry with beans, carrot, potato, turmeric, garlic and onion. The Shiro or chickpea stew is comfortingly mild.
My favourite is the Mushroom Tibs with thinly sliced mushrooms, green chilli, garlic and fennel seeds. Likewise the Misr Wat is a delicious red lentil dish heady in ground spices, garlic, onion and spiced oil. Once we finish the injera bread we start on the injera bread base. To season there is also Awaze, a very strong paste made of berbere, garlic and wine as well as a pot of Mitmita, a powdered seasoning mix made with African bird's eye chili peppers, cardamom, cloves and salt.
There's also a single tomato stuffed long green chilli. Without a knife we just take a bite and pass it on. I offer Nina the first bite. "No I'm just going to see if you think it's hot," just in case but then again my chilli meter is broken and while I find it tingly Nina finds it too hot. She downs the roasted barley smoothie to dampen the heat.
We need to order another serve of bread which comes out quickly. The food is filling and for four people just enough although you may need more if you're ravenous.
For dessert there are two vegan cakes available. There's a chocolate brownie cake with a layer of icing on top which is a tad dry but not bad. The pick is probably the carrot cake with a vegan buttercream icing on top.
"So are you going to carry me?" I ask Nina and she says of course. I put my bag down and hand my phone to Mr NQN. She gets down on one knee and loops one arm around my leg and lifts me up and spins me around. "More more!!" I say to Nina even though I am dizzy. I start to think that all Friday nights should end with a wrestling lift after dinner...
So tell me Dear Reader, could you lift a person? And have you ever tried Ethiopian food? Do you like parking close to a place or do you not mind walking?
This meal was independently paid for.
Alem's House
132/134 Parramatta Rd, Camperdown NSW 2045
Monday & Tuesday closed
Wednesday 7am–3pm
Thursday & Friday 7am–3pm, 6–10pm
Saturday 8am–3pm, 6–10pm
Sunday 9am–3pm
Phone: (02) 8957 4328
alemshouse.com.au/