Jambo Jambo is an Ethiopian restaurant on Glebe Point Road. They serve up tasty, enormous platters of injera bread topped with a range of vegetables and meats. Jambo Jambo means "hello hello" in Swahili.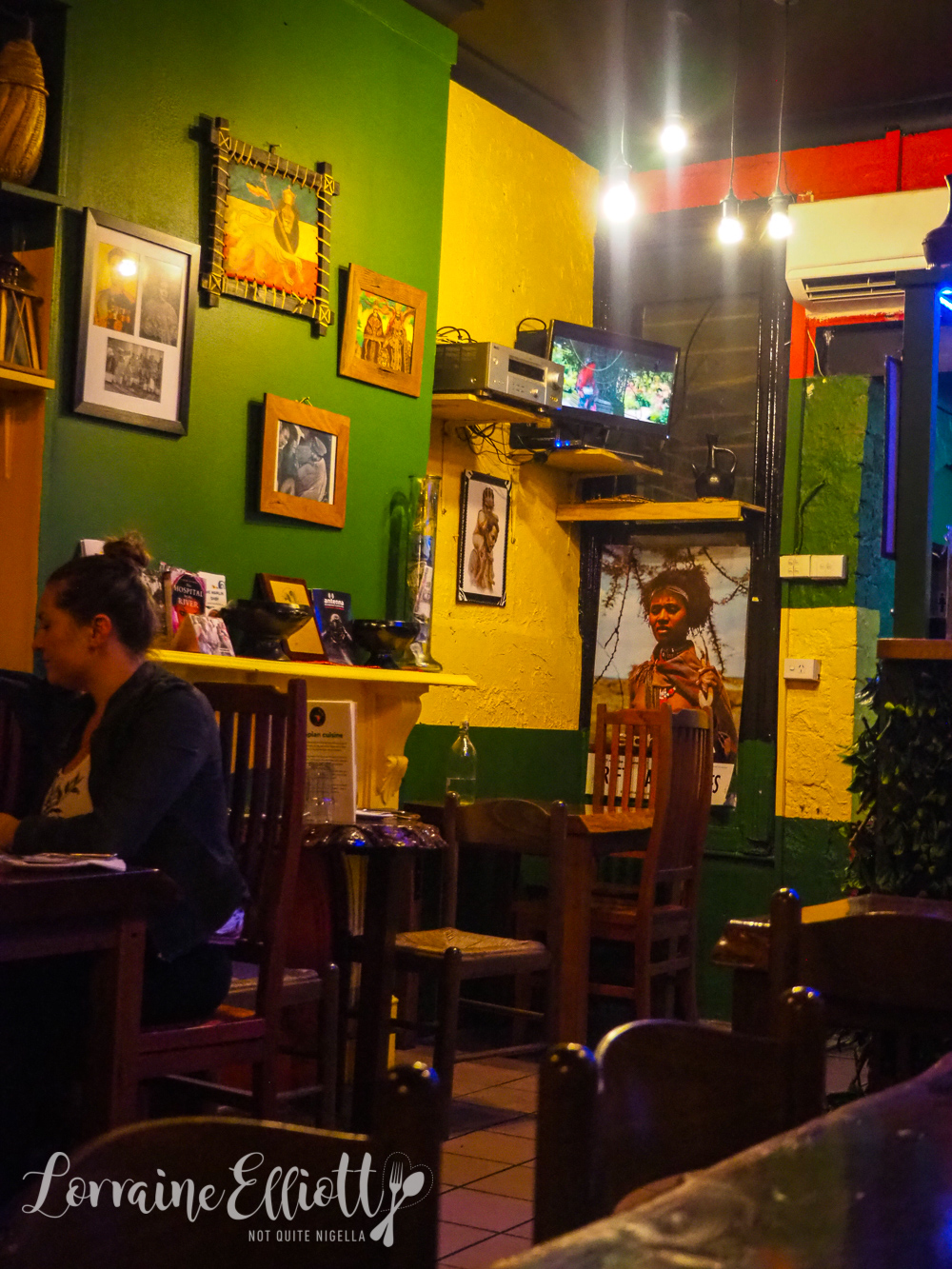 It had been months since I last saw Nina. We had both been travelling and while I had seen Garth at Halloween, Nina was in Tasmania at the time. This catch up was long overdue and Ethiopian food is South African born Nina's favourite cuisine. The restaurant is colourfully decked out with Ethiopian paintings and photographs.
Jambo Jambo's owner Joeseph Bekele is a former refugee success story. He is very hospitable and checks to see if everyone is attended to and orders. The menu has a few options. It's basically made up of vegan or a mixed meat and vegan curries served atop the spongy injera bread at anything from $45 for vegetarian to $60 a person for meat options.
When the waitress suggests that we put everything on the one plate but Nina says that she doesn't want her food touching the meat Joeseph comes over to take our order and suggests that he put together something to cater for vegetarian Nina and the rest of us omnivores, "I don't want to take more money from you" he says.
All meals come with an entree and dessert although you can also order dishes a la carte at $23 per dish. It is also licensed and you can also BYO at $4 per person.
Kitfo
One of the entrees consists of lettuce wraps filled with spicy lean raw beef or kitfo. You fold it up like a taco and eat it. The spicy beef is delicious as it is mixed with spiced butter and a hot Ethiopian chilli mix called mitmita.
Sambusas
The other plate has some chapati flatbread and some sambusas that are small deep fried pastries stuffed with lentils, onions, green chilli and garlic with a pot of honey in the centre. The bread is warm and would be great with some dip but we really like the little pastries with their tasty spinach and onion filling.
Soon after they come out with the large platters and trays of rolled up injera bread. This spongey, holey bread is made with a fermented teff flour batter and are gluten free. We have a mixed platter of toppings including Doro Wat, a saucy chicken leg stew with lemon and spices. It is chicken slow cooked with onions, garlic, ginger and berbere (Ethiopian hot spice mix with a base of dried red chillies) and served with a boiled egg. There's also Zilzil tibs, a grilled beef dish with tomato, onion, pepper and rosemary that actually reminds me of a Chinese stir fry.
The Lamb Tibs is diced lamb cooked in onion, pepper, garlic, rosemary and comes with a rich, flavoursome gravy. My favourite is the Key Wot with goat on the bone, another slow cooked meat dish made with onion, garlic, ginger and berbere. Vegetable-wise my favourite is the Gomen or collard greens that are chopped up and simmered with onions, garlic and herbs. The Alicha is a tangy vegetable curry made with carrot, cabbage, potato, onions, garlic, turmeric and ginger. To eat, you unroll a section of the injera bread and use it to scoop up some of the filling and eat with your hands (although there is also cutlery provided if you prefer). There is an unlimited amount of injera bread given and they frequently come around to see if you need more.
I try some of Nina's food and while there are many of the same dishes she also has the Kik Wot which are split peas stewed with onion, garlic, ginger, turmeric and herbs and this is mild and comforting. I preferred the Misr wot with split lentils with the same mixture except made hot with spicy berbere sauce.
There's a choice with dessert of Ethiopian roasted coffee or ice cream. As all of us can't drink coffee late at night we go for the ice cream that comes with scoops of mango or chocolate with 3 scoops per couple. The bill is also very reasonable at around $80 per couple.
So tell me Dear Reader, do you like eating with your hands? And would you choose coffee or ice cream for dessert?
This meal was independently paid for.
Jambo Jambo
93 Glebe Point Rd, Glebe NSW 2037
Tuesday to Sunday 6–11pm
Monday closed
jambojamborestaurant.com.au
Phone: (02) 8033 2303