Pilgrims Cafe is a chain of a few wholesome cafes that offer tasty food at reasonable prices. Originally started in 1980 they serve vegetarian and vegan food. One sunny Autumn day we decide to stop at the Cronulla branch.
"I think we've parked in another suburb," I say to Mr NQN as we've parked so far away from Pilgrims. I had almost forgotten how hard it is to find a spot to park in Cronulla, especially on a sunny day.
The entrance to Pilgrims is almost a blink and miss it affair. A slender entranceway leads up to stairs where the main cafe sits. It's a large cafe with also an outdoor area around the corner on the ground level that is dog friendly.
Greenhills juice regular $8
You order and pay at the counter with the friendly staff. We've been to the Milton cafe and really enjoyed the food but there are some Cronulla exclusive items. One of them is a fresh juice for Mr NQN called the Greenhills with pineapple, apple, kale, mint and ice that isn't too kaley and really good. I like my chai latte although it is very sweet. It tastes like it is house made too and not made from a powder.
Chai Latte $4
Bliss Burger $13
I can tell that Mr NQN doesn't want to share the bliss burger with me. For starters he wolfs this down (and this is after a breakfast at home of hot cross buns, leftover Indian food and a plate of Indian sweets) and he reluctantly slides this over to me. Now this isn't a fancy chef burger. There's no brioche or milk bun. It's a wholemeal bap roll with a mixed grain pattie, fried onion, avocado, cheese, tabouli, sprouts, special sauce and peanut sauce. And you know what? It's wholesome and delicious.
Haloumi stack $17
The halloumi stack is also very good with grilled haloumi served with toasted sourdough, avocado, roast tomato, pesto & fried eggs. The pesto gives this a burst of flavour and the only thing I'd change is the amount of halloumi which is just two squares which isn't quite enough especially as the name halloumi stack suggests more.
Herb potato bites with sour cream and chilli sauce $6
I spy one of the specials-the potatoes with a side of sour cream and chilli sauce which is satisfyingly old skool in a 90's way. The potatoes are well seasoned (honestly they taste like they were baked in bacon fat, even Mr NQN does a double take) and it's a huge serve.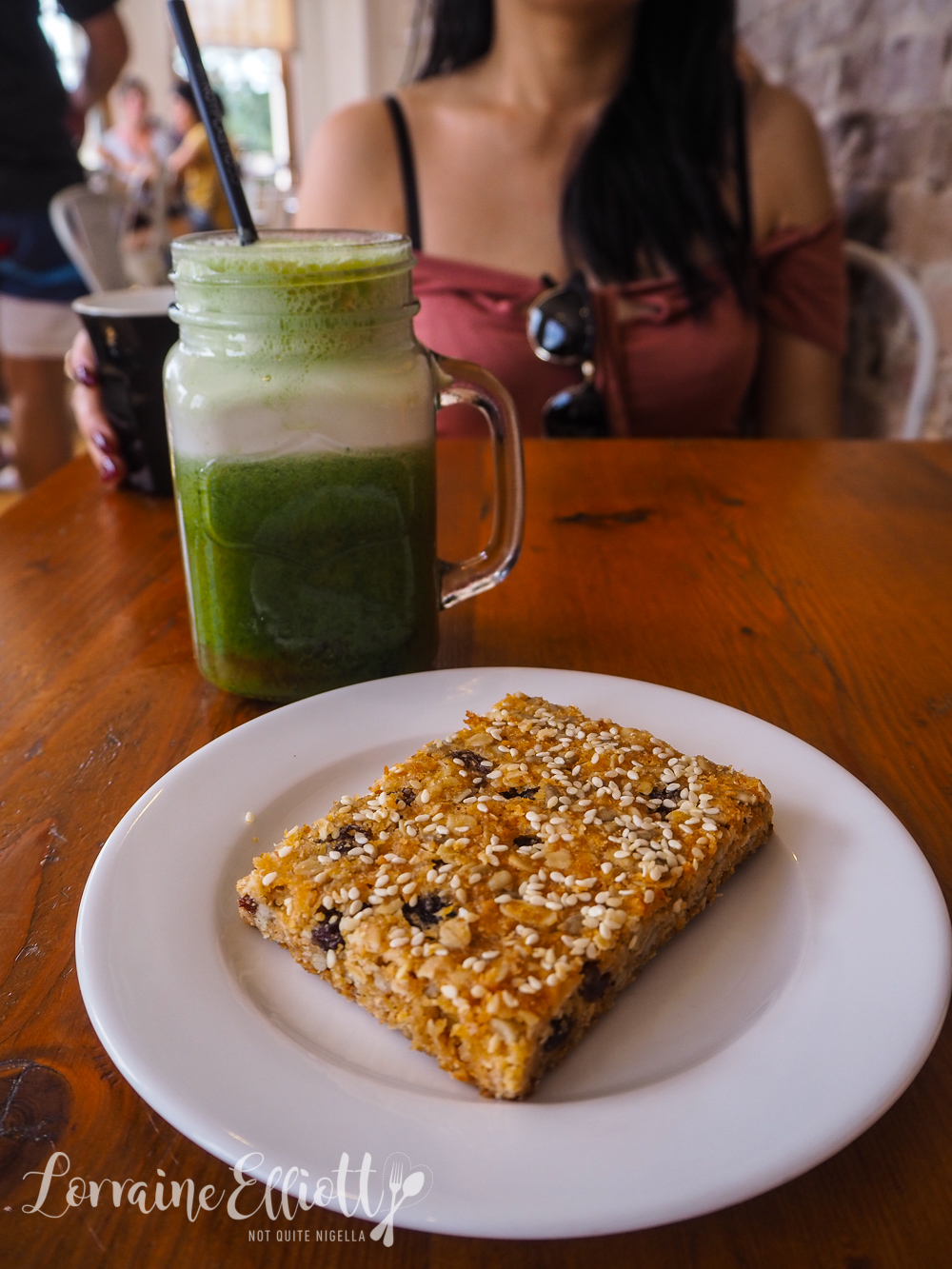 Oat Slice $4
For something sweet and because I was trying to choose healthier options (just a temporary thing darlings!) I bypass the chocolate brownie and go for the oat slice. I actually didn't hold much hope for this as it looks boring but it's actually really good and surprisingly sweet with oats, seeds and dried fruit. And since we've parked so far away we get a workout walking back.
So tell me Dear Reader, do you randomly try and choose healthier options for just one meal? And would you expect more than two slices from something called a Haloumi stack?
This meal was independently paid for.
Pilgrims
97 Gerrale St, Cronulla 2230
Phone: (02) 9523 7580
pilgrimscronulla@gmail.com
Mon - Fri 8am - 2:30pm
Weekends 8am - 3pm
Mexican nights: Thurs, Fri & Sat. 6pm - late