I really have to let you in on a little secret. My week touring Queensland with the Queensland Writer's Centre allowed me to indulge in one of my favourite past times, one that I rarely get to do. That is, order room service! Each night, tired from presenting writing workshops and driving long distances, we each retired to our hotel rooms. As soon as I got in I ordered room service, had shower and watch The Big Bang theory while my room service meal. I realise that there is a perverse pleasure in it, after all, I eat out for a living but when presented with an option for the reverse, I can enjoy that just as much.
However, after five days of doing this, I started to look forward to the eating out dance at a restaurant. And when I landed in Brisbane I was meeting the lovely Claire, a Brisbane local. She had booked us into Tartufo at Fortitude Valley.
Tartufo is an Italian restaurant although the bones of a French brasserie still remain and although the wait staff are mostly Italian, the feel of the restaurant is still French with dark wood panelled sections and booths, large mirrors, Venus lights and intriguing paintings. The restaurant is large and busy this Friday evening even though we are dining relatively late at 9pm (their last sitting). Chef Tony Percuoco emerges from the kitchen to talk to customers throughout the evening.
Service from the maitre'd is very friendly and enthusiastic whilst our Italian waiter is sober, unamused and unsmiling (whatever happened to that Italian charm?). "Should we share?" I ask Claire and then we burst into laughter. Of course, dining with a food blogging pal, it is a given.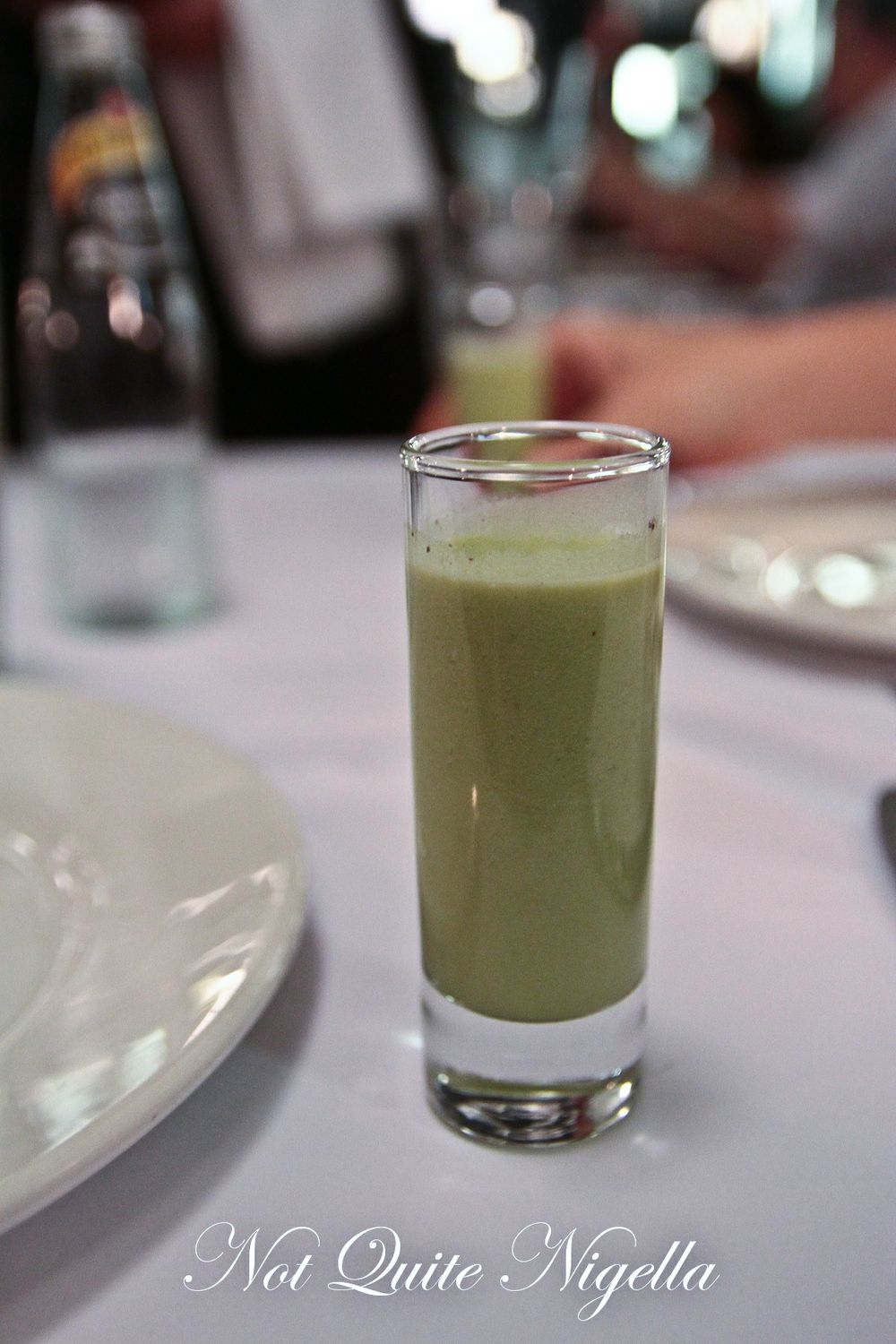 We start with a slender shot of pea and pancetta soup, smooth in texture and sweet from the peas with seasoning and flavour from the pancetta.
Vitello tonnato - braised gippsland (vic) veal served cold, thinly sliced, topped with a tuna mayonnaise of capers, anchovies and served with cornichons $24
Bread is offered but we decline as we have a hearty meal ahead of us. We start with the vitello tonnato and it is Claire's first time trying this dish. It is thin slices of veal topped with a tuna mayonnaise, served cold with baby capers and cornichons. I usually like a bit more lemon in this dish and my favourite is really at Honeycomb or Cafe Sopra.
Capesante di bosco - pan seared scallops with pea puree, broad beans, chorizo and watercress $23.50
The sea scallops perplexed us at first."Is there a scallop missing?" Claire says as the dish actually appears to have had a scallop swiped from it. There is even a little smooshed up (that's a technical term ;) ) squirt of pea puree that looks as if it had a scallop on it and a gap where one would have been. We're not sure and our attempts to find our waiter prove fruitless so not letting it cold, we try it. The pea puree is sweet and there are squirts of a grainy light brown emulsion that tastes like a gravy.  This isn't mentioned on the menu and we weren't able to ask our elusive waiter so we weren't quite sure what that was. The scallops, four to this serve are fat and juicy and combine nicely with the slices of very smokey chorizo.
Cotoletta alla valdostana - gippsland (vic) veal rack served rare, filled with fontina cheese, sage and prosciutto, coated in an almond and breadcrumb crust, pan fried and served with rocket and fresh lemon $39.50
Mains come out shortly later - I guess that's the advantage of dining later as the kitchen is less stressed and busy. Our first main is a beauty. An enormous Flintstones sized veal chop it comes lightly breaded in a flaked almond coating and pan fried. Served rare, the veal is tender and filled in the centre with pancetta, sage and fontina cheese that just oozes out like lava. Served beside it is a rocket salad. Sadly both of us, try as we might, have trouble finishing this enormous serve.
Pappardelle al sugo di coniglio - hand made pappardelle, served with a rabbit ragù, finished with pecorino romano and freshly cracked black pepper $25
Our second main was a dish that Claire had tried before, pappardelle with rabbit ragu in white sauce studded with carrots. The rabbit meat is cut into small cubes and is flavoursome and tender and the white sauce with herbs is a good complement to the flavour although I was expecting a tomato based sauce for the ragu. The house made pappardelle is thin but gathers in mounds although this doesn't stop me from fishing the last bits of this dish out.
Funghi trifolati- sautéed mushrooms in garlic, extra virgin olive oil and parsley $9.50
The mushrooms come thinly slices and simply cooked with garlic and parsley and was something we both really enjoyed.
"Should we just share a dessert?" I asked Claire giving her the option of backing out of the food madness. "I think we should get one each" she says. We ask for recommendations and the chocolate fondant is their signature dessert. For good measure the jelly ravioli intrigues us so we order that.
Raviolini transparenti cioccolato - sweet jelly ravioli filled with a chocolate amaretto mousse, served with hazelnut nougat and a strawberry consume $17
The jelly ravioli is just that - two layers of clear ridged jelly encasing a chocolate mousse centre. It is paired with little pieces of crunchy nougat, raspberries and blueberries and a strawberry sauce. It's a creative dessert and one that we hadn't seen before so we enjoyed the novelty of this.
Fondente al cioccolato - soft centred chocolate fondant with mascarpone cream, fresh blueberries and an redcurrant sauce $17
However, the dessert that had us scraping the plate for every last bit was the chocolate fondant which I took to with a fork to cut in half. As soon as my fork hit it, a dam of liquid chocolate burst forth from the chocolate cake outer and oozed out onto the plate. "It has to be at least a 70% liquid to 30% solid ratio" I say admiringly and I can immediately see why it is their signature dish. The only thing better than chocolate cake is liquid chocolate cake and we scrape every single drop off the plate along with a quenelle of ricotta cream.
Surprisingly, we're not the last table to leave and it is almost midnight when we leave and that night, I dream of swimming in a liquid chocolate river and never wanting to get out.
So tell me Dear Reader, do you like ordering room service when you're staying at a hotel? And when you eat out,do you always finish your meals or do you leave some on your plate?
Tartufo
1000 Ann Street Fortitude Valley QLD 4006
Tel: +61 (07)3852 1500