This gochujang glaze is a simple but absolutely delicious way to serve salmon or any fish or potatoes for that matter (chicken will also do beautifully!). Gochujang or Korean red pepper paste (easily found at most supermarkets) is mixed with a few seasonings and brushed on grilled salmon and potatoes where it caramelises beautifully! This is a pushy recipe Dear Reader for a tasty, simple lunch or dinner!
In the last few years I've been exploring a lot more Korean food and one of the bases for many dishes is gochujang. I love the combination of spicy and sweet flavours and that's why I enjoy Korean food so much as gochujang is used a lot. This salmon is one of my favourite lunches and I often make half a dozen salmon fillets serving some at dinner and then keeping a few for lunch as it is also delicious cold. It works so well as the protein for a rice, noodle or salad bowl!
What is gochujang? It is a Korean red pepper or red chilli paste. It is wonderfully sweet, spicy and salty at the same time and is a fermented paste made with chilli powder, meju powder (dried fermented soybeans), yeotgireum (barley malt powder), glutinous rice and salt. It's intensely flavoured but super delicious and versatile and is used in marinades or to add flavour boosts to soups and stews. Gochujang is usually sold in red plastic tubs. Store gochujang in the fridge (just make sure that it doesn't dry out, I keep the little plastic seal layer on it to give it an extra layer to prevent it drying out) or you can decant it into an airtight jar.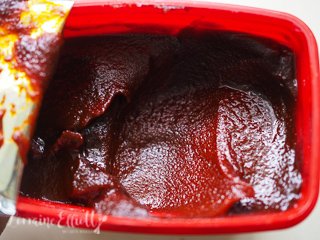 What is mirin? This is another indispensable ingredient for Japanese cooking. It's a sweet rice wine with a lower alcohol content and sweeter flavour than sake. You can substitute it with sweet wine or if you don't have this use 1 tablespoon rice vinegar or white wine mixed with 1/2 teaspoon of sugar.
Don't have salmon? This works beautifully with whole white fish or chicken pieces too! This also works with tofu for a vegetarian version.
Don't have potatoes? This gochujang glaze works well with all vegetables that are good for roasting. Think corn, broccoli, eggplant slices, carrots, parsnips or zucchini. Roast them in the glaze at 180C/350F (avoid roasting a very high temperatures and it may burn as the sugars in it caramelise).
Asparagus tip: Asparagus stalks get woody as they get older and the woody ends are dry and unpalatable. Hold your spear of asparagus and break off woody end - asparagus will snap naturally where it is woody leaving you with the tender spear.
This is one of those recipes that I really urge you to have up your sleeve. The salmon takes less than 10 minutes to cook and that is even with making the glaze (which you make during the first few minutes of grilling). Honestly the potatoes take longer (but psst: they're totally worth it! ;) )
I was having a busy week when I made this and I was thankful for having a quick dinner. I had pre-planned this and was looking forward to it as I had bought all the ingredients for it.
Except at 6am on the day I was supposed to make it, I woke up with a start. "Ginger...where is my knob of ginger?".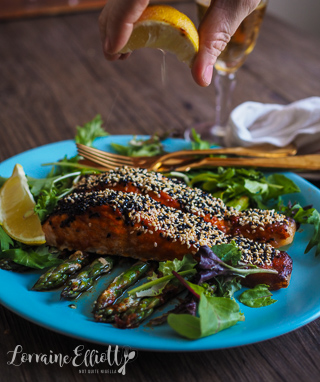 I can't believe one small knob of ginger woke me from my precious slumber but there it was, like the pea that annoyed the princess. My mind by now was fully awake. I recall picking the knob of ginger for its smoothness so that it was easy to peel and I remember paying for it but I don't remember putting it away. Was it in my shopping bag? Was it rolling around in my car boot? Was it sitting in the kitchen next to my garlic?
In this case I used some pickled ginger but have since made it with fresh ginger and they're both fantastic. And Dear Reader, I never did find that knob of ginger. I'm sure it will turn up one day, maybe it will be tomorrow or the next day or perhaps it will be shrivelled and a tiny knob by the time that it shows up!
So tell me Dear Reader, do you ever wake up with odd thoughts like that? Do you ever buy something and never see it again? And do you like gochujang? Also Happy Easter everyone and I hope you all have a very relaxing Easter break! :)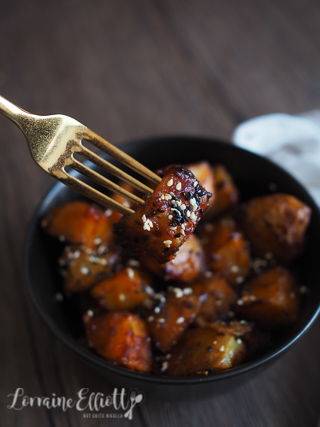 Did you make this recipe?
Share your creations by tagging @notquitenigella on Instagram with the hashtag #notquitenigella
Gochujang Grilled Salmon & Potatoes
An Original Recipe by Lorraine Elliott
Preparation time: minutes
Cooking time: 10 minutes for salmon, 45 minutes for potatoes
Serves: 4
750g/1.6lbs potatoes, scrubbed and cut into bite sized pieces
Oil for drizzling
2 tablespoons gojuchang (Korean hot pepper paste)
1 tablespoon mirin
2 teaspoons sesame oil
1 clove garlic, finely grated
1 teaspoon grated ginger or finely chopped gari (pickled ginger)
1 teaspoon soy sauce
2 tablespoons each white and black sesame seeds
1-2 bunches asparagus
4x125g/4oz. portions salmon
Lemon to serve
Please note: this makes enough gochujang glaze for the salmon and the potatoes. If you're just making the salmon, you can halve and refrigerate any leftover glaze.
Step 1 - Firstly steam the potatoes. You can do this in the steamer or in the microwave (add an inch of water and cover). Steam until tender.
Step 2 - While the potatoes are steaming, preheat the oven to 180C/350F and line a tray with parchment. Mix the gochujang, mirin, sesame oil, garlic, ginger and soy sauce to form the glaze for the salmon and potatoes.
Step 3 - Drain the potatoes and gently toss the potatoes in some the gochujang glaze (reserve 1/4 of the glaze for the salmon). Drizzle with oil. Bake in the preheated oven for 30 minutes, then turn potatoes over and rearrange, increase heat to 190C/374F for another 10-15 minutes until caramelised. Boss move: if your sesame seeds are untoasted you can sprinkle them on top now and then return the potatoes to the oven to bake for 5 minutes which will toast the sesame seeds. Season with salt and pepper.
Step 4 - Place the asparagus on an oiled foil-lined tray and top with fish fillets, skin side down. Brush the fish with oil and season with salt and pepper. Grill for 3 minutes. Then brush the fish with the glaze and grill for another 3-5 minutes depending on how cooked through you like your salmon. Sprinkle the sesame seeds over the salmon and serve with lemon.