This 3 ingredient tuna pasta is a wonderful home-style Italian recipe that has to be tried at least once. It's a 10 minute recipe that you need to have up your sleeve in case of emergency. Spaghetti tonno e burro is a simple mix of tinned tuna in oil, butter and spaghetti (or the pasta of your choice) that creates a tasty, easy weeknight meal or packed lunch. There's absolutely no need to get takeaway with a dish like this! This is a pushy recipe Dear Reader.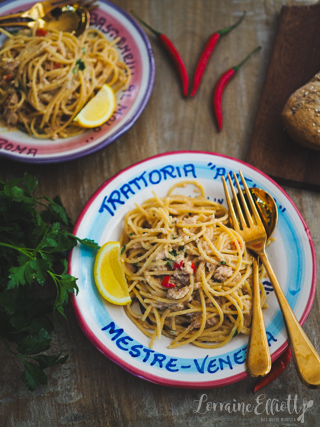 I saw this spaghetti tonno e burro or tuna butter spaghetti recipe on Bon Appetit where the writer Megan Litt details a tuna pasta that her Italian boyfriend's family make when short on time or groceries. I was intrigued by the idea that something delicious could be made with just three ingredients. I mean I know it's definitely possible but the bit that intrigued me was that it was a home-style Italian dish that you may not see in a restaurant but you'll find yourself making at home. All you do is cook some spaghetti in well salted boiling water and while it cooks, open a few tins of tuna in oil and cut up some butter. Then add the hot pasta to the tuna and butter and the pasta's heat along with the hot pasta cooking water and butter creates a gorgeous sauce that coats the spaghetti. It couldn't be easier!
As if to prove the point, Monica came over on the day that I had made it. She has been overseas in Italy and a couple of days after she touched down in Sydney she came over. She brought me so many delicious gifts from her travels and we sat down and caught up on everything. I told her that I was making this tuna pasta and when I described it to her her eyes lit up. She said that it sounded like something I'd make at home if you were sick or in need of comfort. And it's true - as this tuna pasta is just three pantry ingredients it's the sort of dish that you could whip up if you've had a day and want nothing better than a big plate of this pasta curled up on the couch with your favourite TV show.
Since I first made this, I've made it many more times and it's just so satisfying. I've used fancy tuna, I've used unfancy tuna and honestly it's always good. Just make sure to always use tinned tuna in oil. My favourite is the chilli tuna but feel free to make additions: capers are fantastic, olives too, some shaved parm on top is also a delight and a wedge of lemon is a necessity as is chilli. And be generous with the pasta water because it does soak it up.
The plates in these photos are also Monica's. In Italy you can buy hand painted plates from restaurants that show the restaurant's signature dish. She bought some from her favourite restaurants and carried these plates carefully home. She kindly loaned them to me for the photos and I swear the dish almost tasted better on them. Not that this tuna pasta needed it because even Mr NQN who usually eschews cooked tuna wolfed down this pasta!
So tell me Dear Reader, is there a dish that you make at home that's quick and tasty but you wouldn't see in a cookbook or restaurant? Would you like a dish like this tuna pasta?
Tuna Pasta