A whole day making Cypriot dishes? Yes please! When a lovely friend offered to show me how to make 9 Cypriot dishes at her house I jumped at the chance. Valentina would be showing me how to make Moussaka, Pastitsio, Flaounes (triangular cheese pies), Kololopites (pumpkin pies), Bamies okra, Louvi Fresko or black eyes beans, Sheftalia sausage, Koupepia or stuffed vine leaves and a halloumi, watermelon and mint salad-all in a day!
Valentina Jones hands me a bag of goodies. Even though I'm a guest in her house and she is going to show me how to make nine Cypriot dishes, she's the one giving me a goodie bag. In it are enormous house pickled olives, their own "Jones honey" from their beehives, Cyprus delight (like Turkish delight) and almond cookies dusted in icing sugar.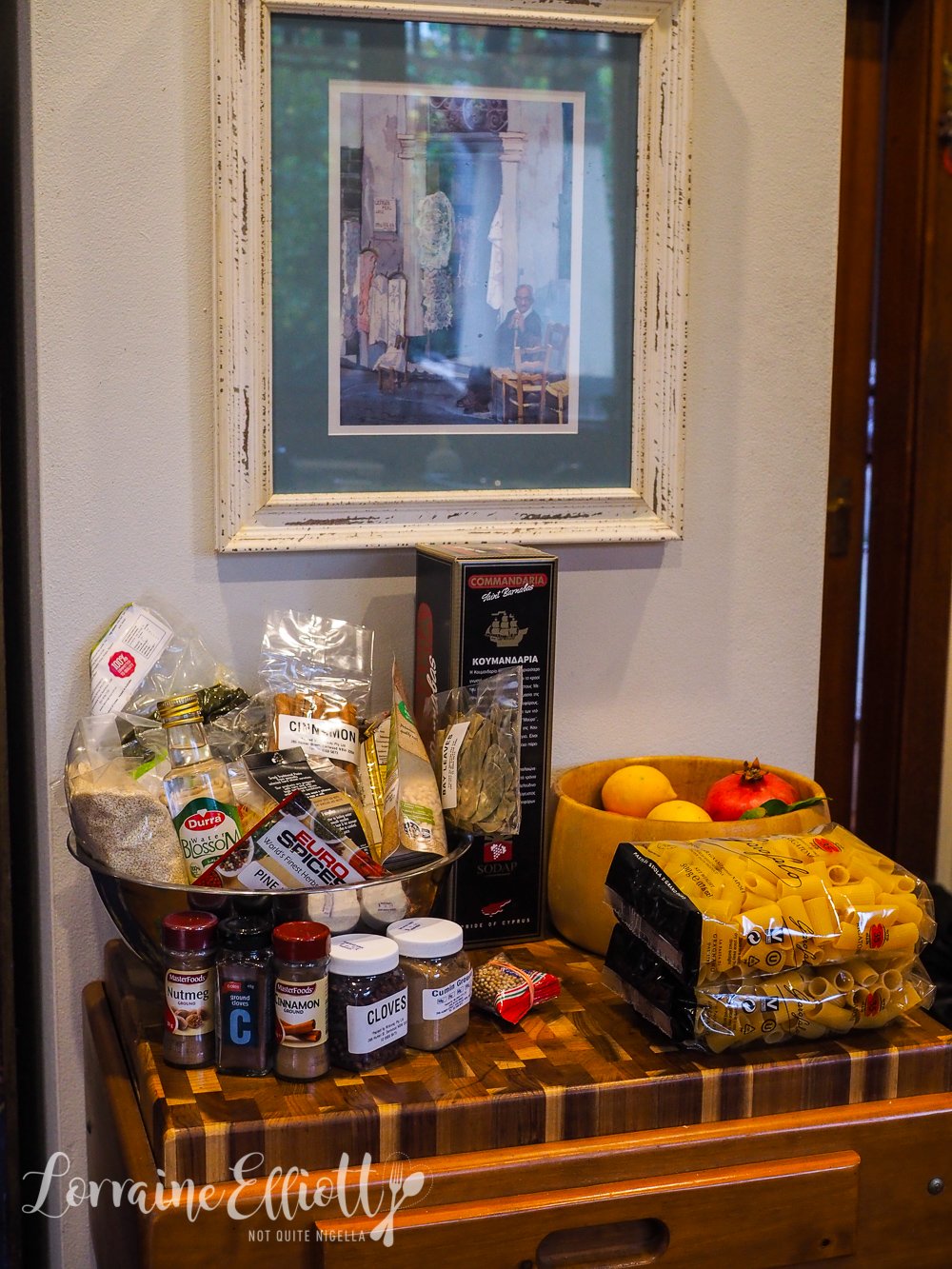 Valentina and her husband Peter live in Canterbury, in Sydney's inner West with their two grown kids Katie and Will. Her heritage is Cypriot Greek and her story in Australia starts with her parents, "My Grandparents had 5 daughters and sent each one to Australia 'for a better life'.
Valentina's parent's passport photos (she was 17, he was 21)
Valentina says, "My mother was the second of the daughters to arrive in Australia in 1951, on her own at the age of 17. She met my father on the ship 'Corsica' where he worked as a waiter in exchange for free travel to Australia. He promised his parent (my Yia Yia Baletou Pappou George) that he would only be gone for 2 years and he would return home." The couple married and settled in Sydney and had three children.
Her parents now
Food was always important. Growing up here Valentina explains, "I would stay at my Grandparents house (on mum's side) in the school holidays. Whilst my friends were eating McDonalds, I was eating the best food, although I didn't realise until years later.
1970 family portrait little Valentina (centre)
She adds, "My Grandpa Lefteri would grow everything from apples, zucchinis, tomatoes and figs. My Yiayia Angela would bake lots of sweets and make her own yoghurt, whilst also cooking large lamb dishes. I guess these were recipes she watched her mother make. On the weekend her five daughters and their husband's and Grandchildren would often gather at their house for a large Cypriot feast."
Cyprus is a separate country from Greece although the two are culturally intertwined. "Mum and dad are originally from the north where both Greek and Turkish Cypriots lived happily but when the war of 74 happened, my family had to flee to the Southern part and rebuild their lives," says Valentina.
2 Aunts on Valentina's father's side cooking 'Kleftiko' in an outside oven
"Greek Cypriots have a strong Orthodox faith and spend many days fasting which means no dairy or meat, thus this is why there is a lot of vegan cookery, such as bean dishes, pumpkin pies etc. Cypriot cuisine is closely related to Greek and Turkish cuisine and is said to be influenced by Byzantine, French and Italian. They also use a lot of spices such as cumin, cinnamon and coriander," explains Valentina.
Valentina's Auntie making halloumi, taken last year. She still makes a tray every day
Valentina explains that Cypriot cuisine features a lot of mince-moussaka and pastitsio are examples as are Gemista (stuffed tomatoes and capsicum). Items like a whole lamb would be eaten perhaps once a year for a celebration.
Other flavours in Cypriot cuisine are coriander (dried, not fresh) and rose water. Pork is a favoured meat. Halloumi cheese is also from Cyprus. "If anyone says Greek halloumi..." Valentina says laughing.
Aunty Mariyi and Valentina (1983) in her little kitchen "Where lots of brilliant meals were made."
It wasn't until 1983 when she visited Cyprus with her mother that she really appreciated Cypriot hospitality. "I watched my Aunt cook wonderful dishes where produce was either grown at home or bought from the weekly produce market. I noticed that a lot of swapping produce was common. Eg My Aunt would give my Uncle some home made haloumi and in return she would receive bags of mandarins," says Valentina. She adds, "Growing up I remember thinking there wasn't much in the pantry or fridge but that's because mum relied on the basics and fresh vegetables etc and from that amazing dishes were created."
Today Valentina is showing me all of her family recipes and even though we are starting at 1pm and eating at 7pm she has a steady, soft-spoken calm about her.
For her, making these recipes is easy as she makes them often. Her hands dance across okra for Bamies, folding vine leaves for Koupepia or rolling minced pork in pretty patterned caul fat for Sheftalia sausages.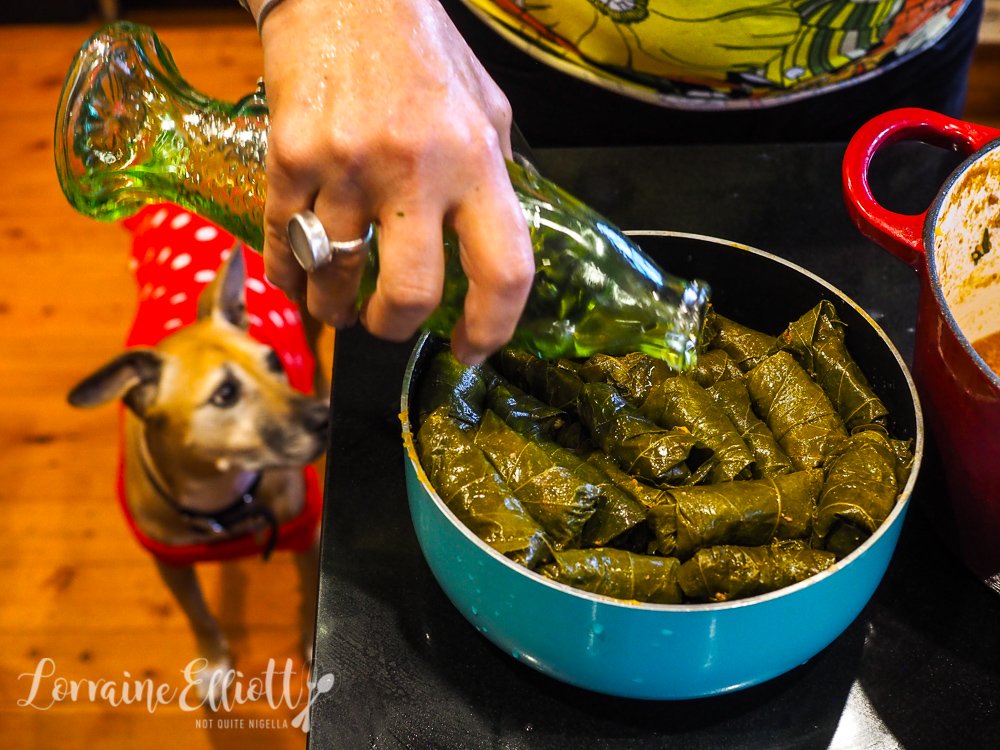 Cooper her rescue pupper waits patiently for her morsel
Her mum's touches are clever ones - filling in gaps of the Gemista by adding cut potatoes. Or adding slices of lemon on top of the vine leaves before the plate and steaming.
Her mum would strap on an apron and cook all day but Valentina cooks in a different way where she cooks quickly and creates 9 course meals in a day. Her tips are always makes Moussaka and Pastitsio together as they use the same mince mixture and the same with Gemista and Koupepia. She also makes use of a pasta maker to roll out pastry for the Kololopites pumpkin pie and Flaounes cheese pies. And by 7pm the dishes are made and plated up and guests have arrived.
"I think papou would be looking down on us smiling," Valentina says.
So tell me Dear Reader, what is your heritage and do you cook from it often? Do you have a favourite dish?
DID YOU MAKE THIS RECIPE? Share your creations by tagging @notquitenigella on Instagram with the hashtag #notquitenigella
Pumpkin Pie "Kolokopites"
Filling
3 cups diced pumpkin
1 cup bulgur wheat
1 cup sultanas
3 tablespoons olive oil
2 tablespoons sugar
1 tsp of ground cinnamon
½ tsp ground cloves
½ tsp salt
½ tsp pepper
Dough
4 cups plain flour
½ cup olive oil
¾ cup water
1 tablespoon lemon juice
1 tsp salt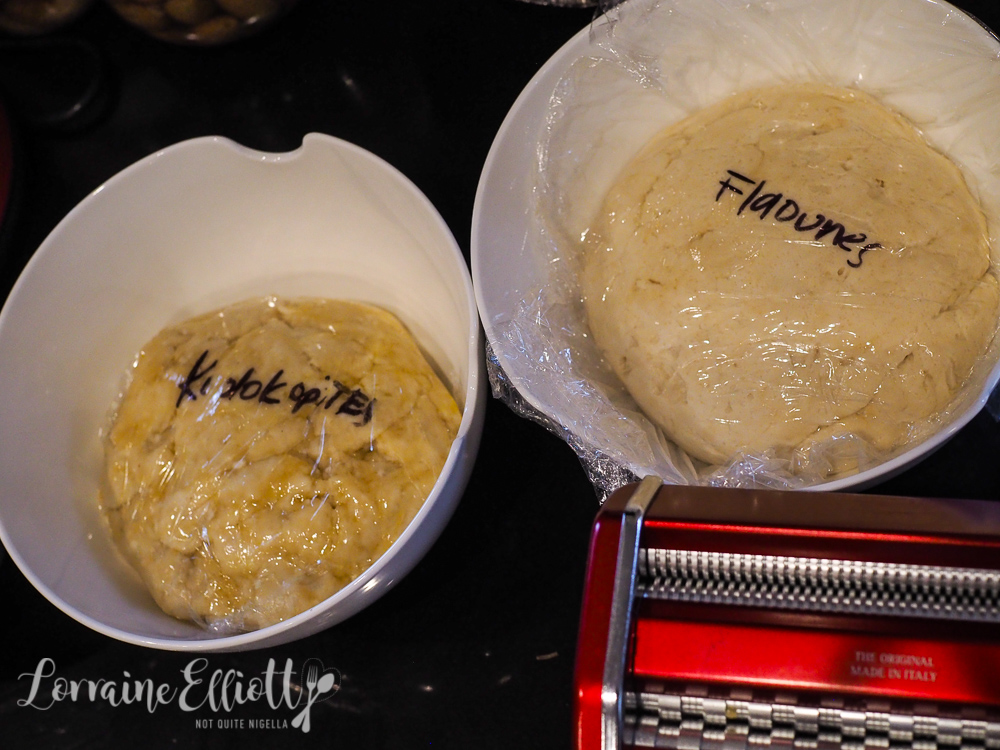 Step 1 - Combine all stuffing ingredients together & mix.
Step 2 - Combine flour, salt & olive oil with fingers until combined. Add lemon juice & water, in small increments at a time; knead dough until firm - cover with plastic & let rest for approximately 40 minutes. Knead dough & divide into 6 pieces.
Step 3 - Roll dough until 2-3mm thick & cut out circles approximately 14cm diameter & fill with filling. Fold over pastry, wrapping filling and seal the edges.
Step 4 - Place onto baking paper on a baking tray cook at 180 degrees for 25 minutes or until golden brown.
Cheese Pies or "Flaounes"
For The Dough
3 cups flour
60g/2ozs. olive oil
1 teaspoon instant yeast
1 1/2 cups water
Pinch salt
Filling
2 cups grated pecorino
1 cups grated haloumi
1 tablespoon dried mint
1 tbtablespoon mastic
1 tablespoon machlepi
1 tablespoon ground cinnamon
1 cup raisins
3 eggs
1/4 cup sugar
1/2 cup fine semolina
Top
1 egg beaten
Sesame seeds
Step 1 - Whisk yeast and water together. Mix all ingredients for the dough until it is soft & elastic. Cover & let rest for at least 1 hour. Divide dough into 3 parts.
Step 2 - Mix all the ingredients for the filling.
Step 3 - Roll out the dough, to about a 3 cm thickness. Cut in to 20 cm squares. Add the filling to the middle of each square. Add generous amount of filling. Fold all the edges in on themselves to make a triangular shape. Do not cover the filling completely. Fold the other sides in the same way. Bake for 25 minutes, until golden brown.
Dolmades or Koupepia(as said in Cyprus)
Note: this quantity of mince will fill the dolmades as well as fill the stuffed vegetables (Gemista) below
60 fresh or brined vine leaves
1/2 kg ground pork/lamb or beef
1/3 cup olive oil, divided
2 onions chopped
1 cup parsley
400g/14oz. tin tomatoes
½ cup rice (uncooked)
Salt / pepper
1½ cups water
Step 1 - Wash fresh vine leaves & blanch them for 5 minutes. Add cold water & drain. If using bought brined grape leaves, rinse & drain them.
Step 2 - Sauté the onion in oil. Add the ground meat & sauté until slightly brown. Add 1 can tomatoes & cook for approximately 15 minutes stirring. Mix in the remaining ingredients & set aside to cool (rice should be slightly undercooked).
Step 3 - Put a leaf on a plate, vein side facing up, remove stem & put about a tablespoon of the mixture near the stem. Neatly fold left edge & then right edge & then roll all the way. Repeat with the remaining grape leaves & filling.
Step 4 - Place neatly in the pot seam side facing down, starting from the edge, moving in a circle towards the centre. Second & third layers may be placed on top.
Step 5 - Add the remaining can of tomatoes, olive oil as well as lemon juice & then cover them with a plate (which must be about the size of the pot).
Step 6 - Finally add water to cover the plate & bring to a boil, Cover with the lid, reduce heat & simmer for about 30 – 35 minutes.
Halloumi, Watermelon & Mint Salad
250g/8.8ozs haloumi cheese
600g/21ozs. watermelon, cubed
Fresh mint
Olive oil
1/2 lemon
Step 1 - Slice the haloumi & place into a griddle pan over a high heat with a drizzle of olive oil. Cook for 2-3 minutes on each side.
Step 2 - Cube the watermelon & slice the mint, then add to a bowl together.
Step 3 - Tear up your griddled haloumi & add to the salad. Serve with lemon portions & squeeze over the juice to taste.
Sheftalia Sausage
500g/1.1lbs minced pork
2 onions, finely chopped
2 cloves of garlic, finely chopped
6 tablespoons parsley, finely chopped
1 slice soaked bread
1 teaspoon salt
1 teaspoon pepper
1 teaspoon ground cinnamon
Caul fat (panna)*
1 lemon juiced
Note: Caul fat is the thin, fatty & edible membrane surrounding the intestines of an animal. Upon heating, the membrane melts, while still keeping the sausage intact. After soaking in water, drain & soak in vinegar or white wine to remove the smell of blood.
Step 1 - Wash the caul fat well under running cold water & place it in a bowl, add the lemon juice & leave for 10-15 minutes. Rinse & let it drain.
Step 2 - In a medium sized bowl add the meat, onions, garlic, parsley, salt, pepper, cinnamon. Squeeze any excess water from the bread & add this to the rest of the ingredients. Mix thoroughly.
Step 3 - Lay out the caul fat flat & cut it into square pieces about 7x7cm. Put about a tablespoon of the meat mixture in every piece of caul fat, fold in the outside edges & roll.
Gemista
Note: Valentina usually makes a big batch of the mince with rice and spreads it across the gemista and the Koupepia or stuffed vine leaves above
1/2 batch of the mince from the dolmades above
10 tomatoes
5 capsicums
2 potatoes
Olive oil
Step 1 - Cut tops off tomatoes and capsicums. Fill with the mince filling and cut up potatoes and fill in any gaps with the potatoes. Drizzle generously with olive oil. Bake at 180C/350F until soft.
Moussaka
500g/1.1lbs of minced lamb or beef
2 tablespoons olive oil
1 onion finely chopped
3-4 garlic cloves crushed
2 large eggplants
3 large potatoes
400/14oz can tomatoes
3 tablespoons parsley chopped
Grated parmesan
1-2 tablespoons tomato paste
Bay leaf
Pinch nutmeg
Bechamel
50g/1.7ozs butter
1/2 cup flour
3-4 cups milk
Step 1 - Fry thinly sliced potatoes & then the eggplants in olive oil in pan until slightly brown. Remove & place on kitchen towel to soak up the oil.
Step 2 - In a large pot heat olive oil. Add chopped onion & crushed garlic. Mix in the minced meat with 1 glass water. Cook till brown. Add chopped tomatoes, tomato paste & cook further.
Same mince mix and bechamel but pastistio uses pasta and moussaka uses eggplant and potato
Step 3 - Using a large casserole dish, put 1 layer of potatoes then eggplant. Add meat mixture, making sure to cover all the vegetables. Again layer potatoes then eggplant & finish with the bechamel sauce.
Step 4 - Cook in the oven until the top has turned a lovely golden brown about 1 hour.
Step 5 - Make bechamel sauce. Melt 50g butter in a saucepan over medium heat. Add flour (1/2 cup) slowly stirring with a wooden spoon for 1-2 minutes. Gradually stir in milk.
Step 6 - Spread béchamel sauce & sprinkle nutmeg & parmesan on top. Bake in a preheated oven at 180C/350F for 45 min or until golden on top.
Pastitsio
500g/1.1lbs mince (lamb or beef)
1 onion finely chopped
2 tablespoons Olive Oil
Salt & black pepper
400ml/14oz can tomatoes
3 tablespoons parsley chopped
1 packet tube pasta
1 tablespoon salt
Bay leaf
Grated parmesan
Pinch nutmeg
Step 1 - In a sauce pan bring water to boil & add salt. Cook the pasta al dente. Remove from the heat, drain & mix in 1 tablespoon olive oil.
Step 2 - Heat the olive oil in a sautéing pan & sauté the onion until translucent. Add the ground meat & sauté for a few minutes. While mixing, add salt, pepper, & tomatoes & parsley.
Step 3 - Melt 50g butter in a saucepan over medium heat. Add flour (1/2 cup) slowly stirring with a wooden spoon for 1-2 minutes. Gradually stir in milk.
Step 4 - In a rectangular dish layer half pasta. Put the ground meat on top & add the remaining pasta on top.
Step 5 - Cover pasta with the béchamel sauce & sprinkle nutmeg & parmesan on top. Bake in a preheated 180C/350F oven on medium for 45 min or until golden on top.
Louvi Fresko - Black Eyed Beans
All Original Recipes by Valentina Jones
500g/1.1lbs black-eyed beans
3 zucchinis
2 lemons
Salt / pepper
Olive oil
Chopped spring onion
1/3 cup parsley
Step 1 - Rinse beans & boil until soft. Add the sliced zucchinis until soft. Add lots of olive oil, salt & lots of squeezed lemon, & stir. Top with the parsley & spring onion.
Note: spinach can also be added.
Okra or "Bamies"
1/2 kg of fresh okra
1/2 cup olive oil
1 onion chopped
400ml/14oz. can of tomatoes
Chopped parsley
Salt / pepper
Step 1 - Trim both ends of okra & saute with onion & garlic. Add the tomatoes, Salt / pepper, parsley. Bring all to a boil then allow to simmer for 20 mins.
Note: potatoes can also be added.