Port Stephens was the location for a girly weekend with one of my favourite humans. There was plenty of food, a water view apartment, seafood platters, cocktails, horse riding and spa. It was the perfect girls' weekend away!
"I've got a week off, where do you want to go?" says my sometime vegetarian friend Laura. I know exactly the place: Port Stephens, just three hours away from Sydney.
At 9am Laura picks me up in her MINI, the third character in our food adventures. "Sweet or savoury?" she says and in her car she has a chai latte for me as well as two almond croissants, two tomato and cheese puff pastries along with a blue Happy Birthday balloon. We pile yoga mats, suitcases and pillows into her car stuffed full to the brim. We start the drive and I feed her pieces of the croissant as she drives. Bonnie Tyler's raspy voice sings "Holding Out For A Hero," and Laura bemoans, "I'll never find a guy at this rate..." to which I tell her that she will because she is now blessed under her Patron Saint Bonnie Tyler.
Our first stop is halfway towards Port Stephens at Erina. There is a new café open at Distillery Botanica called Bar Botanica. The mud brick hut was formerly a dormant shell but has now been transformed. Chef and owner Dan Hughes has designed a short but sweet menu with morning tea and "elevenses". Also on sale is the Mr Goaty gelato which is the business that started this cafe.
There are plenty of seats outside the rotunda style building but as it is cold we take a seat inside. We order at the counter where we are tempted and then add a slice of "Dan's carrot cake" to our order.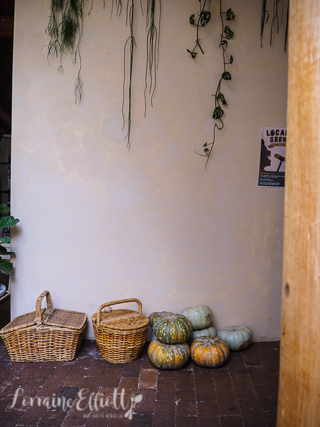 Roast Chicken and Garden Herb Sandwich $16
Okay so here's a conundrum for you Dearest Reader: the chicken sandwich is a crustless four piece chicken sandwich with garden herbs and mayonnaise. It is also $16 which is very expensive for a simple sandwich with simple ingredients and nothing on the side. But it's an excellent sandwich and we both enjoy it a lot. But yes it is $16 and when you compare it to other sandwiches like the iconic Bennelong cheese and truffle toastie at $22 and the Momofuku chicken burger at $18 the pricing looks askew.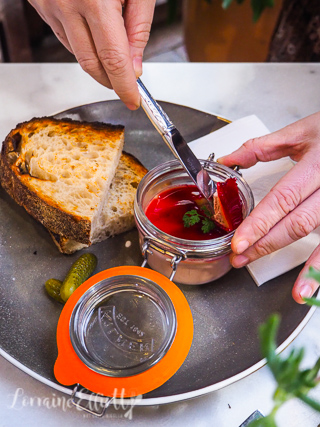 Chicken Liver Parfait $19
The chicken liver parfait comes in a pot with a layer of butter and then on top of a layer of Distillery Botanica blackcurrant liquor. We spread it on top of the thick sourdough toast and it is smooth and luscious.
Dan's Carrot cake $7
The carrot cake is a lightly spiced number with just carrots, no pineapple or walnuts with piped cream cheese frosting. It's cute but I like a bit more texture in carrot cake.
And just for good measure for our remaining 2 hour drive we try some of their gelato. We try a few of them including a toffee apple, a cumquat marmalade made using cumquats from the garden and a goat's milk lavender and honey gelato and end up with a cone of strawberry and vanilla.
We make our way to our accommodation. The Alloggio accommodation is located on a hill in the Le Vogue building. It is on the fourth floor of a block of apartments with water views below. We pull into the car park with space for two.
There are three bedrooms including one with four bunk beds. The main room has a king sized bed with an ensuite and a walk in robe. Wifi is fast and free.
The kitchen has an oven and cooking facilities. Alloggio apartments don't have basic supplies like soap and toiletries but instead we are given a "welcome pack" which is a bag with a few tiny soaps, 2 teabags, a sachet of instant coffee, a sachet or dishwashing liquid, a sachet of laundry liquid and 2 garbage bags which is quite odd. I think most people are used to staying at competitor apartments where all of these are just provided and it seems a bit weird given the $400 tariff. Also you have to request beds to be made or you make them yourself and the key pick up system is just plain odd.
We turn on both the heat and television and spend the afternoon sitting on the lounges soaking up the sun. Laura crochets while I write and we talk and make cups of tea and nibble on croissants and chocolate. The apartment is spacious and feels like we are living in two separate wings.
Feeling peckish for some seafood we head to the Shoal Bay Country Club. It's a gorgeous space with Northern Beaches and Eastern Suburbs vibe.
The room is bright and airy with picture window views of the water outside. There is also a verandah with tables outside which is perfect on a sunny day. We start with some Aperol spritzes and relax in the warming sunshine.
Our order was a no brainer after seeing it at another table: the seafood platter for 2 people has fresh prawns, oysters, crab, battered fish, fries and prawns wrapped in pastry. There is a seafood cocktail sauce and a mignonette dressing on the side and we make a feast out of this.
Hot and Cold Seafood Platter $119
On the side we try some mac and cheese bites which melt in the mouth and have a good amount of cheese sauce to them.
Mac and Cheese Balls $14
We spend the rest of the night crocheting, laughing, drinking Tattinger champagne and watching shows of a dubious nature before going to sleep and waking up after a leisurely lie in. Laura, who exists on 5 hours sleep a night gets up early to go for a walk and to grab coffees from The Little Nel for me who exists on 8-9 hours sleep. She returns and we go off for brunch.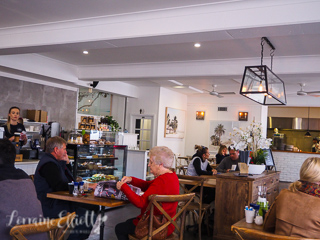 Our brunch spot is back in the main area of town where we do a spot of shopping. The Home Interior is a cafe and a homewares store.
We take a seat in the window after doing a quick browse of the cake selection. Laura orders a green juice because "my insides are screaming for it" and it's way too green for me. She swallows it trying to will herself healthy.
Lemon myrtle, coconut and chilli crusted avocado on sourdough with hummus $16 plus halloumi $4
My breakfast choice is a half an avocado rolled in a lemon myrtle, coconut and chilli flake crust. It comes with two slices of sourdough from a local bakery Two Bobs on a bed of lime and rosemary hummus. I added halloumi to it too just for extra saltiness. It's delicious and wholesome and my only issue is that there isn't quite enough hummus for the two pieces of sourdough.
Signature corn fritters $24 plus in house relish and hollandaise $3.50 each
But Laura's breakfast is the pick out of the two. It's four enormous football shaped fritters that are so light and fluffy. She gets them with romesco on the side (she's allergic to capsicum) and a side of relish and hollandaise and they both go well with the puffy fritters and perfectly poached eggs. "I'm covered in lunch," says Laura regarding her black top.
Our next stop is the spa at The Anchorage where we enjoy a massage and a facial before we are off to our next stop: horse riding with Sahara Trails. There are a couple of choices offered with Sahara: the first is a horse ride on the beach or a trail ride on their farm. As the conditions are blustery and cold on the beach we opt for a ride at their farm which is more protected.
Andy and Tuula
They've saddled up Andy and Tuula for us and Bronte and Amelia take us out on the 30 minute trail ride. Amelia leads in Dotty the horse while Bronte takes photos. Laura is a horse rider from way back so she takes Andy while I take the more sedate Tuula as I've only been horse riding once before.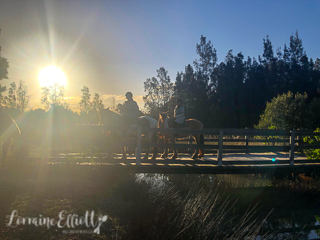 Tuula is a sweet, gentle and slow horse so she's perfect for skittish me. She also loves to graze on the salty bushes along the way so I feel a kinship with this food loving creature. We cross the bridge and see the farm property and before we know it, our ride is over and the horses are being fed treats and getting pats for being so good.
It's time to head back to Sydney after this and we load up our car with snacks and make our way home. But as it's a three hour drive home we stop for dinner in Gosford. The Bon Pavilion is a new restaurant located in Bonython Tower open in April this year. It's enormous seating 250 people in total and there's an espresso bar during the day with snacks and a bar as well as Bonfire, the main restaurant. It is backed by John Singleton and the Barrys from Bells at Killcare.
We slide into an enormous booth and order from the Bonfire menu. There's an enormous, dreamy Lisa King mural on one wall although most people seems to be ensconced in the deep booths.
Prawn Cocktail, Yamba prawns, tomato blush mayo $26
The prawn cocktail has four large and juicy Yamba prawns blanketed with tomato blush mayonnaise with chiffonaded lettuce and some baby cos lettuce leaves. It's good but a bit on the pricey side.
Bon Fried Chicken $28
The bon fried chicken is half a chicken in rather indiscernible pieces and isn't bad. It's fine and nice enough and comes with a vinegary purple cabbage slaw. We also use some of the hot sauce on the table.
Orgy of Mushrooms, ricotta gnocchi $27
I have to admit that we ordered it partly for the name. "It has to deliver with a name like that," says Laura. And it does. It's actually our favourite dish of the whole meal with Swiss browns, enoki, shiitake and king brown mushrooms with large pillows of ricotta filled gnocchi and a piquant beurre blanc sauce. You just cannot go wrong with this much butter and we both adore this dish.
King Crab Linguini, house pasta, lemon butter, chili, parsley, salmon caviar $33
I have strong opinions on pasta shapes and linguine is my least favourite long shape while Laura loves crab anything as it's her favourite seafood. Turns out the house made linguine here is more fettuccine which suits us both. There's a good amount of king crab meat in this and it is paired with a lemon beurre blanc style sauce with slices of red chilli and salmon roe. It too is delicious although we slightly prefer the orgy of mushrooms.
Lemon meringue ice cream donut $14
While we like the sound of the lemon meringue ice cream donut, we aren't in love with the execution of it as the whole thing is frozen. While it looks great the donut isn't cooked to order and the lemon curd sauce is frozen and I think a dessert like this needs to be made fresh rather than frozen for looks and ease.
Dropped softie ice cream $12
The dropped soft serve looks fun but also lacks a bit of oomph and flavour. The soft serve hasn't got much of a vanilla flavour at all - perhaps we were spoiled by Hartsyard's amazing soft serves but this also feels like it's for looks.
It's just over an hour's drive home and the roads are quiet on this Monday night. We drive home to the 80's power ballads singing our hearts out as Bonnie Tyler sings, "Total Eclipse of the Heart". "Patron Saint Bonnie Tyler is looking over us," I tell Laura.
So tell me Dear Reader, what would your ideal girls or boys weekend involve? And what is your opinion of the $16 chicken sandwich?
NQN and Laura were guests of Shoal Bay Country Club, Alloggio and Sahara Trails. All other meals and experiences were independently paid for.
Bar Botanica
25 Portsmouth Rd, Erina NSW 2250 Phone: 0405 655 100 Open Wednesday to Sunday, 10am to 4pm. Lunch served until 2pm
Alloggio
alloggio.com.au/port-stephens-accommodation
Shoal Bay Country Club
35-45 Shoal Bay Rd, Shoal Bay NSW 2315 Open 7 days 7am–2am (closed midnight on Sundays) Phone: (02) 4981 1555 shoalbaycountryclub.com.au
The Home Interior
41 Donald St, Nelson Bay NSW 2315 Open 7 days 9am–5pm Phone: (02) 4984 4888 thehomeinterior.com.au/
Sahara Trails
9 Port Stephens Drive, Anna Bay NSW 2316 Open 7 days 9am–3pm Phone: (02) 4981 9077
The Bon Pavilion
Open 7 days 6.30am-midnight 159 Mann Street, Gosford, NSW Tel: +61 (02) 4302 1593 thebonpavilion.com.au