Looking for a tasty way to serve up kabocha squash or pumpkin? These kabocha fries are crispy and full of spice and yet are baked, not fried! Served with a simple Sriracha and sour cream sauce, you'll fall for this tasty alternative to potato fries!
I was so excited to get a hold of kabocha squash or pumpkin. I'd been reading about it for a while on American blogs where they would talk about the flavour and sweetness of kabocha and how it has the texture of potato or sweet potato when baked.
Kabocha is a winter squash that is dark green on the outside with a slightly nubbly, dull skin and sometimes with white or yellow patterns. The skin is thin and can be eaten so you don't have to peel kabocha.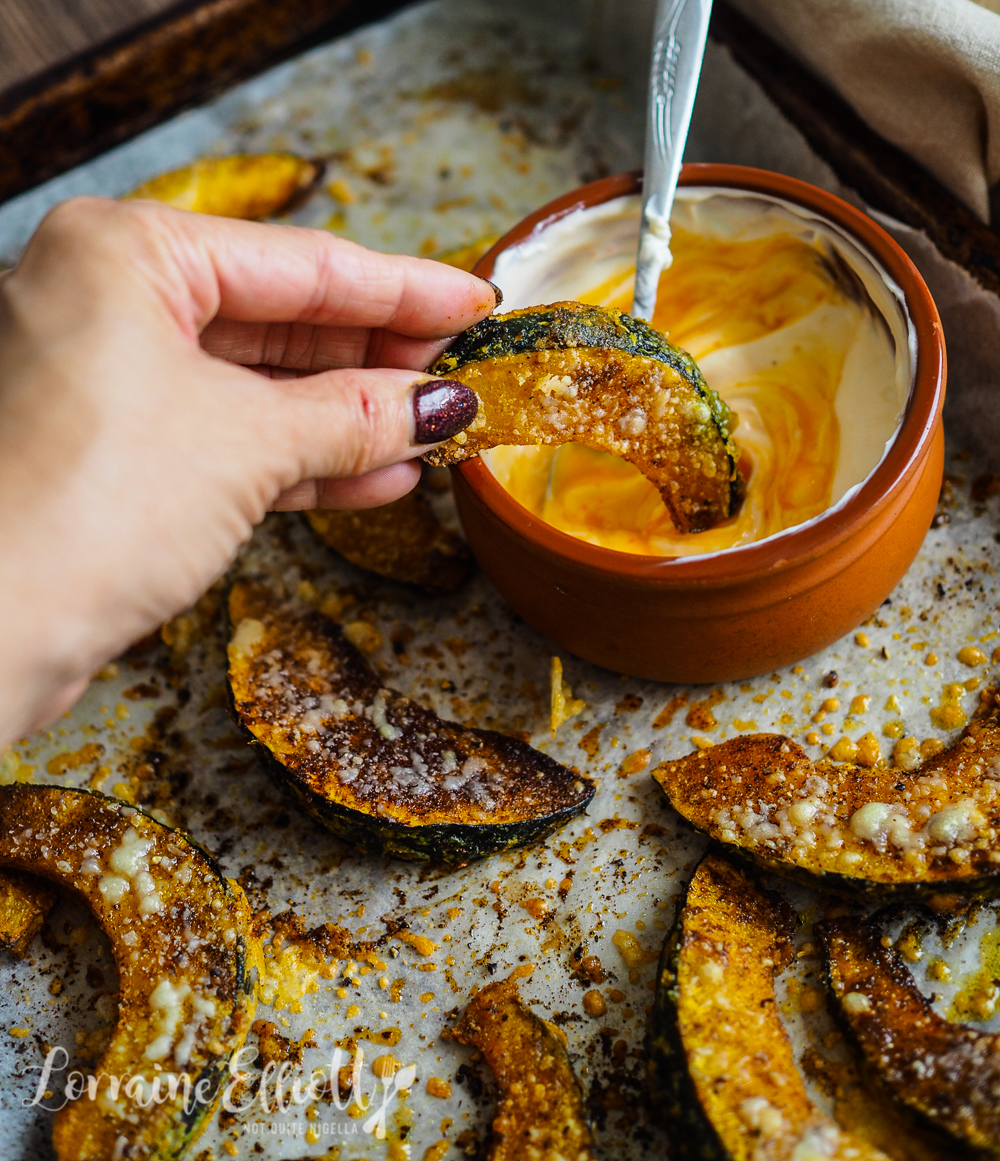 You can also get Japanese pumpkin or Jap pumpkin as it was called and is now being called Kent pumpkin because of the racist name. There are a lot of varieties of Japanese pumpkins though. Kabocha is smaller and drier than other pumpkin varieties (Kent pumpkins in stores tend to be huge) and when baked it really does resemble a baked potato or chestnut in texture. Especially when you compare it to the butternut squash which is very moist in texture when baked.
You may have eaten this in tempura where it is often served. I wanted to make a side dish so I decided to make some crispy fries in the shape of crescents, wedges really. But I wanted them crispy and spicy. I served these with a simple sour cream and Sriracha dipping sauce.
It's getting to be pumpkin season again and that means Halloween! I always marvel that we get pumpkins here in Australia when it is spring for us and they have them in America where it is Fall or Autumn. And I have some exciting news...this year for Halloween I'm actually going to be in America! It's a bucket list dream come true!
Like last year I'm planning on doing some trick or treating. Last year I went as a ghost and visited houses with a Dear Reader's kids (thanks Einna for a loan of your adorable kids!). This year my friend Laura and I will be there and I'm hoping to do the same. We're two small gals so hopefully we will pass as kids.
More than the candy (which I don't really eat much of apart from Butterfingers or Skor bars) I really want to soak up the atmosphere and live my own Stranger Things/E.T. fantasy. If you have any tips for Halloween trick or treating please let me know! Or any costume ideas where I can look like a kid!
So tell me Dear Reader, have you ever come across kabocha? Have you got any trick or treating tips?
DID YOU MAKE THIS RECIPE? Share your creations by tagging @notquitenigella on Instagram with the hashtag #notquitenigella
Crispy Roasted Kabocha Pumpkin Fries
An Original Recipe by Lorraine Elliott
Preparation time: 15 minutes plus 30 minutes soaking time
Cooking time: 25 minutes
1 small kabocha (around 900g/1kg)
3-4 tablespoons cornflour/fine cornstarch
2 tablespoons Old Bay seasoning
2 teaspoons smoked paprika
1 teaspoon cayenne pepper (or to taste)
Oil for drizzling
1/4 cup parmesan cheese
1/2 cup sour cream
3 tablespoons Marion's Kitchen coconut Sriracha sauce
Salt and pepper
Step 1 - Preheat oven to 200C/400F and line two baking trays with parchment. Wash the kabocha well (we'll be eating the skin too) and payt dry. Slice in half and scoop out seeds. Microwave half of the kabocha at a time for 2-3 minutes to soften it to make it easier to slice. Slice into thin crescents-the thinner they are the crispier they will be. Soak in water for 30 minutes.
Step 2 - Take a ziplock bag and place cornflour, Old Bay, paprika and cayenne pepper in the bag. Add the wedges and toss so that they are coated with the spiced flour mixture.
Step 3 - Lay out onto the two trays and drizzle with oil (I added a bit more cayenne and paprika on the pieces that didn't have enough). Roast for 10 minutes then turn them over and roast for another 10 minutes. Then sprinkle the parmesan over the wedges and bake for 2 minutes until parmesan has melted. Season with salt and pepper. While the wedges are baking mix the sour cream and Sriracha. Serve with the wedges.