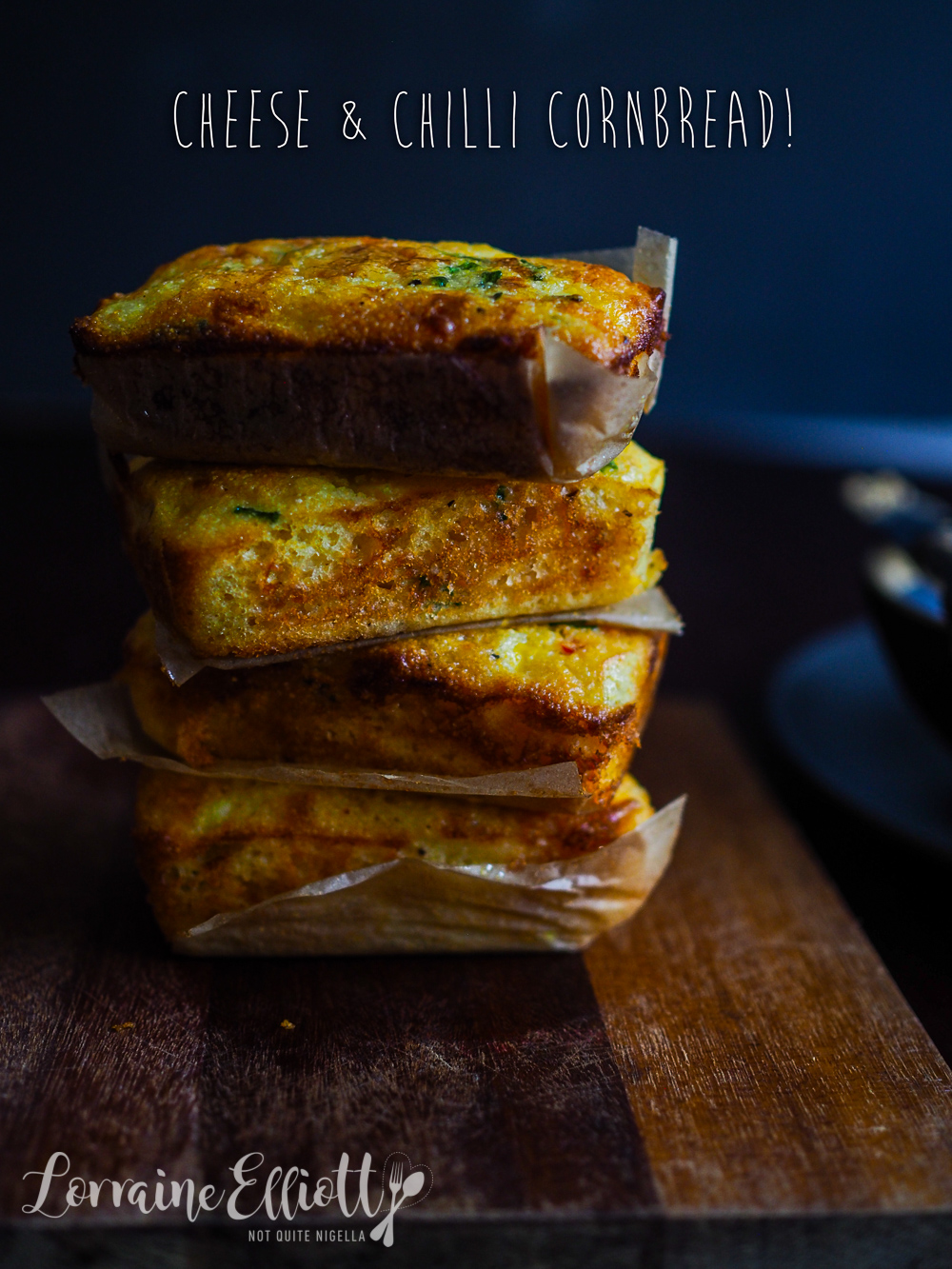 Want a super moist version of cornbread studded with delicious corn and cheese? These mini cheese and chilli cornbreads are an easy one-bowl mix. With plenty of cheese, a light kick from the chilli they also have a secret ingredient to make them light and fluffy! They also make a fantastic lunchbox item and can be baked in muffin tins!
Cornbread isn't really an Australian thing. It's an American thing and Southern American at that. The first time I tried it I found it a bit dry and sort of hard to swallow. Since then I've had really good cornbread and really dry cornbread. My favourite cornbread was my friend Ivy's cornbread that uses a box of Jiffy cornbread mixture.
As that isn't easy to find, I thought I'd make up a version using easier to find ingredients available here. I also promise that the dryness is not an issue at all thanks to one addition: soda water. In the case of this cornbread we use both baking powder and soda water. Soda water is used to lighten scones. The result is heavenly light cornbread that bears no resemblance to hard or dry cornbread. I came across this by accident. I only thought of it as I had run out of milk and for some reason there was a bottle of soda water in front of the kitchen drawers.
Mr NQN's version of putting groceries away is to simply take them out of the bag and put them in a place where they will annoy or obstruct me and I will then put it away. It drives me crazy but in this instance, I didn't roll my eyes but picked up the bottle and used it in this cornbread.
It turned out to be just the thing to make the corn bread super soft, light and fluffy. He devoured two mini loaves before searching for more. I didn't want to tell him that the reason they were so light was because he had left the soda water for me to pack up as I didn't want to encourage the behaviour so I just kept quiet! ;)
So tell me Dear Reader, who puts away the groceries in your household? Do you like cornbread?
DID YOU MAKE THIS RECIPE? Share your creations by tagging @notquitenigella on Instagram with the hashtag #notquitenigella
Chilli Cheese Cornbread
An Original Recipe by Lorraine Elliott
Preparation time: 15 minutes
Cooking time: 20 minutes
2/3 cup flour
1/2 cup cornmeal/polenta
1/3 cup sugar
1 tablespoon baking powder
1/2 teaspoon salt
3/4 cup soda water
1 egg, room temperature
2 tablespoons oil
1 cup grated cheese
1 cup corn kernels
1 tablespoon honey
2-3 chillies, finely chopped
2 tablespoons chives, chopped
Step 1 - Grease a large loaf container or a mini loaf container and line the base and sides with parchment. Preheat oven to 200C/400F. Whisk the flour, cornmeal, sugar, baking powder and salt together. In a jug whisk the egg and oil and then add the soda water. Pour into the dry ingredients and fold in cheese, corn, honey, chillies and chives until just mixed (make sure to get the flour at the bottom of the bowl).
I also tried them in this vintage corn mold
Step 2 - Pour the mixture back into the jug and use the jug to pour the mix into the tin filling 3/4 of the way up the sides. Bake for 20 minutes or until the tops are golden and the centre springs back when pressed. If you're using a large loaf tin it will take around 40 minutes to bake.