Ever tried making your own sausages from scratch? At a recent sausage making class at Argyle Meats we got to choose whichever sausage we wanted to make. I chose Boerewors, the South African sausage made with beef, pork, lamb and spices, traditionally curled around into a spiral shape. Apart from learning how to make these, I learned a whole lot about sausage making!
A sausage class among friends is always going to contain a whole lot of fun, jokes and sexual innuendo. This sausage making class started with a drink and then a warning that we were in an actual working kitchen with sharp knives, band saw and cutters. We could choose whichever sausage we wanted to make or we could try their classic Irish pork sausage which is also their best seller.
I decided to make a South African boerewor sausage, Monica was making a cheese and pork sausage, Marco was making a beer, apple and pork sausage and Georgia was making a spicy Italian sausage. My boerewor sausage recipe was adapted from South African MasterChef judge Benny Masekwameng. I ate it at a dinner in Sydney and it was so tasty that I asked for the recipe.
Mix of meat and fat
Argyle Meats chef Jonathan Glover is very familiar with the boerewor and knows how opinionated some can be about their boerewor sausage with no two recipes alike. This sausage is a farmers sausage - literally boer means farmer and wors means sausage in Dutch Afrikaans. It is usually made up of scraps or bits and mostly contains beef with some pork and a bit of lamb along with ground coriander, cumin, black pepper and salt.
We start with some sausage basics: there has to be a minimum of 20% fat to 80% beef for sausages (or more fat). Johnny also explains the use of pink salt or sodium nitrite to bind all of the filling ingredients together. If you don't want to use this (and be careful, don't breathe it in too deeply), you can also use brown rice flour to bind things. You also need a certain amount of salt in the sausages. Usually they hang to set them overnight in a process called "blooming" to set the fat and liquid but we will be cooking ours straight away.
After measuring out meat to pork fat ratio we cut the meat into smallish cubes that can fit into the grinder. Usually for boerewors you want a coarser grind. We want a good distribution of fat with every handful we push down with the tamp. Then we mix in the spices with the liquid-in the case of the boerewors it is a combination of vinegar and water until just mixed (don't overmix or it will become mealy). Adding vinegar changes the colour of the sausage mixture to a brown and when it cooks it becomes almost a dark red inside. Liquids are essential to tighten the bind in the sausage to keep it together and you can use anything from water, fruit juice, wine and cream.
Then we move the mix to the sausage press where we thread the casing and fill the sausage. That's the fun and challenging bit. With your left hand you press down on the sausage as the meat fills the casing while moving the lever to push out the meat with your thigh. The sausage press eliminates air pockets and helps to feed it through. I go first with my enormously heavy mix (for some reason I ended up with almost double the mix as that was the meat I was given haha).
It's harder than it looks and takes a little practice - you don't want the sausage too filled and if you can press down then it is just right. And that's when the giggles start. Everything that we talk about then Monica echoes with "That's what she said" from The Office while I counter with a line from Brooklyn Nine Nine "Title of your sex tape." While Marco and Johnny try to make his sausages seriously and say things like, "Take out your meat," "Slap it, squeeze it!" Monica and I can't stop laughing.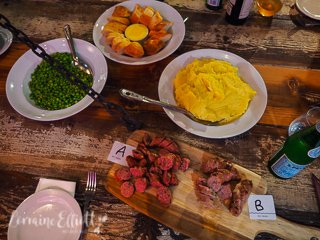 Johnny then shows us hot to tie the sausages. In the case of the boerewor you can of course leave it in its signature spiral state. Or you can twist them individually. He also shows us a way to tie a large number of sausages that is rather complicated and involves twisting sausages-we finally get the hang of it (I think!) and sit down to a delicious dinner with all of our sausages and creamy mash, peas, onion gravy and red wine gravy. The sausage class is $120 a person and we also leave with a kilo of sausages (or in my case, over 2 kilos!).
So tell me Dear Reader, what would be your sausage creation? Have you ever made sausages at home yourself?
Did you make this recipe?
Share your creations by tagging @notquitenigella on Instagram with the hashtag #notquitenigella
Boerewors Sausages
Adapted from Chef Benny Masekwameng
Preparation time: minutes
Cooking time:
1kg/2.2lbs beef
300g/10.6ozs. pork
150g/5ozs. lamb
300g/10,6ozs. pork back fat
1 tablespoon ground coriander
1 tablespoon ground cumin
2 teaspoons flat leaf parsley
1 teaspoon garlic
1 teaspoon prague powder or sodium nitrite
1/2 cup vinegar
1 1/4 cup water
5 teaspoons salt
Sausage casing
Step 1 - Chop up the three meats and pork fat and then feed through a grinder using a coarse grind attachment making sure to make the fat evenly distributed through the meat in each handful.
Sodium nitrate
Step 2 - Mix with the coriander, cumin, parsley, garlic, prague powder, vinegar, water and salt until just mixed (do not overmix).
Step 3 - Attach the sausage casing to the feeder and place the mix into a sausage press. Feed the meat through the casing pressing down with your left hand (if you're right handed) in a constant squeezing motion. Try to not overfill the sausages-you should be able to press down on the meat and make an indent that stays.
Step 4 - Twist the sausages to create links and then hang them for 1-2 days to bloom.
Step 5 - To cook, simmer them briefly in boiling water. Then quickly pan fry to brown and then place in a 200C/400F oven with some par boiled halved potatoes, 2 quartered onions and a handful of tomatoes. Drizzle a little oil over the potatoes, onions and tomatoes and roast for 40 minutes.