Were you lucky enough to get your hands on a haul of this season's shishito peppers? These mild and sweet green peppers are great roasted or used in kushiyaki but did you know they're also fabulous in a stir fry? Use them whole and add asparagus to this ridiculously easy beef stir fry and you'll have dinner ready in 15 minutes!
I love this stir fry because it is easy. Using scotch fillet means that the beef is very tender and needs barely any preparation plus you only need two sauces for this stir fry to come together and they're probably ones that you have in your fridge already (soy sauce and oyster sauce). I wanted to make something that included shishito peppers and asparagus.
Shishito peppers are fascinating. Gnarled and curled they resemble a witch's finger and they are given their name by the chilli tip's resemblance to a lion or shishi in Japanese. What is even more interesting is they are like playing chilli roulette as one in every eight shishitos are said to be spicy! Otherwise they're mild and relatively sweet. These peppers are usually picked while green and turn red when they ripen even further. I was given a big bag of them from my friend Monica when I went over to her house and I mulled over them for a week before I decided what I wanted to do with them.
It's also time for another installment of In My Kitchenhosted by Sherry from Sherry's Pickings where we tell you what we have in our kitchens. I have a few other things apart from these shishito peppers.
This is a haul of goodies that I bought from my recent food adventure to Merrylands. I gave Monica the saffron sugar sticks, the bitter orange distilled herbs and the date and sesame version of Nutella because I know she loves random things. I also bought the most beautiful green slivered pistachios and distilled borage that I will find something to do with (hopefully, does anyone have any suggestions for the borage?).
I'm so lucky to have such great friends. Valentina just came back from Japan and gave me a massive bag of things. In that bag was this cast iron takoyaki pan! Does anyone know if I can use this with an electric stove top?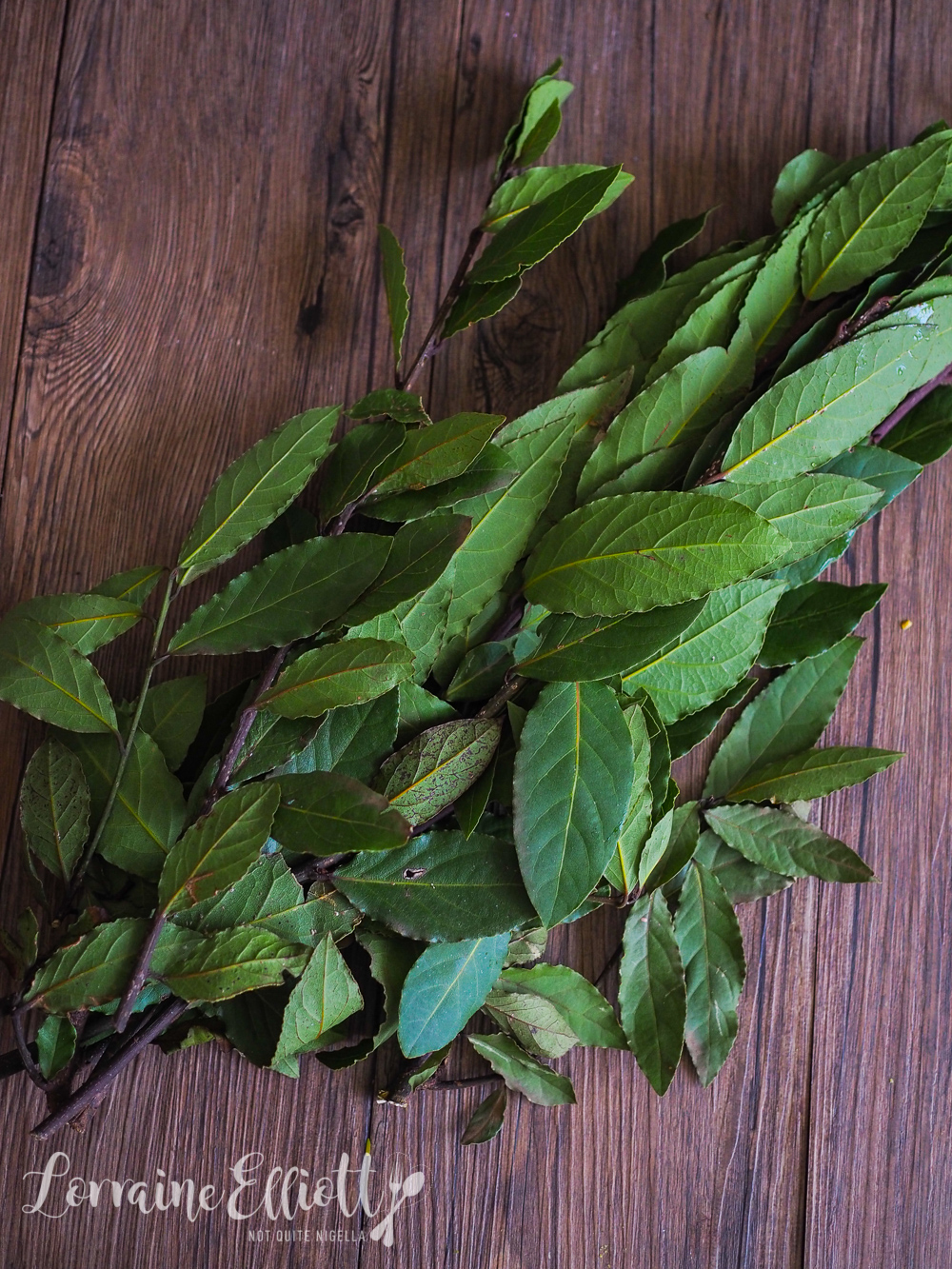 Ivy also gave me a big bushel of fresh bay leaves from her former colleagues' bay tree! Bay leaves are good to keep in the pantry to discourage weevils and pantry moths (if you've ever had an infestation, you'll do anything to prevent that happening ever again).
The bandanas were also from Monica. She has two cats that are like dogs but she is a great dog auntie and she bought these pizza and sushi bandanas for Teddy! And yes one of the pieces of packaging is missing because can you guess who saw these and immediately started chewing on the cardboard? I'll give you one guess and it wasn't Mr NQN ;).
So tell me Dear Reader, have you ever tried shishito peppers? Do you have any suggestions on what to do with the borage water?
DID YOU MAKE THIS RECIPE? Share your creations by tagging @notquitenigella on Instagram with the hashtag #notquitenigella
10 Minute Shishito Pepper, Beef & Asparagus Stir Fry
An Original Recipe by Lorraine Elliott
Preparation time: 8 minutes
Cooking time: 7 minutes
300g/10.6ozs. scotch fillet, cut into cubes
1 tablespoon cornflour/fine cornflour
1 teaspoon salt and pepper each
Peanut oil or grapeseed oil
1 onion, peeled and cut into 8ths
1 cup shishito peppers
2 bunches asparagus, snap the woody ends off and cut into 3 or 4 pieces per stem
3 tablespoons soy sauce
3 tablespoons oyster sauce
1 teaspoon black pepper
Step 1 - Mix the beef, cornflour, salt and pepper in a bowl and set aside. Mix the soy sauce, oyster sauce and black pepper together in another small bowl. Heat a frypan on high heat and add oil and add onion and fry for a minute.
Step 2 - Add more oil if needed and then add the beef. Sear the beef, stirring and making sure that the beef gets an even cooking. Add the shishitos and asparagus after a minute or two and then the sauce and stir through. Serve with rice. I made a turmeric and capsicum rice.
Turmeric and capsicum rice