One of the newest, most exclusive tables in Sydney is at Sokyo's bar. Accommodating just two people every Wednesday night, chef Sanghyeop Kim serves an omakase menu. Omakase is Japanese fine dining that is seasonal and chef driven. And although tables have only just been released, it is booked up until May 2020.
When JY asked me if I was interested in trying the new Omakase menu at Sokyo it took me all of 15 seconds to answer. 15 seconds is how it took me to check if I was free and to say "Yesss!". I am doubly excited as we are the first non family and friends to try the new menu.
JY and I are seated at the bar at Sokyo where chef Sanghyeop Kim is presenting the Omakase by Kim menu. The 32 year old chef from Seoul moved to Australia 9 years ago and this year Sokyo's executive chef Chase Kojima tapped him to do his own omakase.
Kim's omakase stands alongside chef Sano-san's omakase menu which is booked 15 months in advance and is so popular that they are no longer taking reservations.
Chef Kim introduces himself and shakes our hands and asks if there are any allergies. On our table in front of us is the menu detailing 20 courses, mostly bite sized and made and shaped to order by chef Kim.
We start with a bottle of wine as I'm paying with my Citibank Visa card that gives me a complimentary bottle of wine when each person orders a main course or in this case the Omakase menu suffices. It's a bottle of McW Tumbarumba Chardonnay 2018. Sokyo is one of the fine dining restaurants in Citibank's Dining Program but there are also casual restaurants too.
We start with the tataki, Sokyo's signature dish and one that they cannot take off the menu because customers love it so much. It's seared tuna with pickled shiitake mushrooms, bonito soy vinegar with ginger jelly.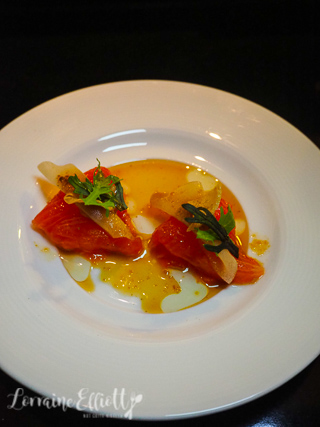 The ocean trout course is chef Kim's invention. It is two triangles of sashimi ocean trout with orange ponzu, pickled apple, onion jam and garlic chips. Each piece is best eaten in one bite and it is a well balanced dish.
The abalone is an 8 hour steamed abalone with sea grapes with a dark liver sauce that is intense and pungent while the abalone is wonderfully tender.
Then comes the sushi. We watch Kim intently as he precisely slices off pieces off the fish, marinates it in green shiso soy sauce and rolls some sushi rice in his hand. Our first bite is the snapper nigiri which melts in the mouth. I follow this with a piece of pickled ginger.
The raw scampi comes on a ball of sushi rice and is burnished and then topped with freshly grated fine lime zest.
The ocean trout sushi is topped with a condiment made with sugar and kombu salt that seasons it perfectly.
The blue mackerel is torched and then wrapped in a crisp nori square and handed over the counter.
Like a perfectly timed orchestra a chef comes out from the back and brings our next course. It's two pieces of the crunchiest tempura eggplant with piece of fried shiitake. This dish is done Sokyo Nanbanzuke style which is deep fried eggplant pieces in tempura batter with a sauce poured on the tempura.
The next course is the akami, the big eye tuna. This is a classic nirigi - simple but lovely.
The imperador is another exquisite nigiri and the skin torching giving this sought-after fish another dimension. Chef Kim tells us that it is more expensive than tuna and as it is a deep sea snapper it is always expensive.
One of my favourite courses is the Chu Toro tuna is from the belly of the tuna and sits between the Akami (above) and the Otoro (the fattiest part of the belly). The Chu Toro is paired with a generous amount of chives hidden underneath the fish. He explains that the chu toro is cured for 10 days which produces a result similar to beef ageing where the water evaporates and fat and flavour remain. It is sublime and as soon as I finish I wonder if we can order another.
There are two types of scampi on the menu and the second one is a scampi ravioli with yuzu foam in a scampi bisque sauce. The pasta is also house made and this dish was created by one of Sokyo's Italian chefs.
I have to admit I don't mind kingfish but it's not usually my favourite sashimi or sushi because it is leaner than fattier fish which I prefer. However kingfish belly is a delight. The kingfish is marinated in a "very, very secret sauce". So secret that chef Kim tells us it would take all day to tell us how to make it. It is torched and then topped with a Japanese salsa which is like a Mexican but with soy sauce and it is full of flavour and one of my favourites. I'm not sure what is in the sauce but I did taste truffle in amongst it all.
Next is the big daddy or otoro, the most premium cut of tuna. The texture is unlike any other sushi. It tastes melting and warm, like the fat renders on your tongue as it's so sensitive and quivering with fat.
The scallop is torched and then draped over a square of sushi rice and served with crispy nori, nori paste and togarashi. The raw scallop melts and this is one of the only pieces of sushi you can really bite in half.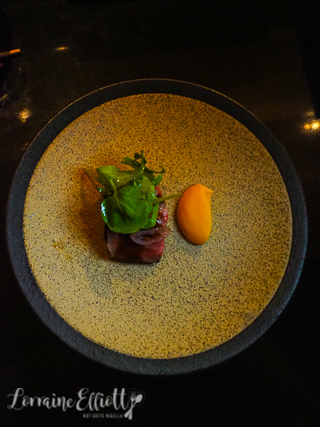 The wagyu course comes out from the main kitchen and is two slices of perfectly cooked wagyu with mustard salad, teriyaki sauce and a super light and smooth pumpkin purée. I like the order in which the food comes and alternates between cold and hot dishes.
We watch Chef Kim massaging the prawns and shaping them and he tells us that prawns are one of the hardest to make. This prawn is marinated in yuzu and topped with crumbled egg yolk. It's cut in half, one half without the yolk and one half with.
The temaki or hand roll is made with chu toro, chives and yellow radish or takuan all rolled up in nori and handed to us across the counter.
The egg sushi is usually a rolled sweet egg omelette but in this case it is something quite different. It's based on the notoriously difficult to make Japanese Castella cake. It has the flavour of the egg omelette but with that ethereally light and airy castella cake texture. This is one of my favourite courses too.
JY and I had been whispering to each other about how much it would cost to order another Chutoro nigiri. But then after we finish the tamago pieces chef Kim asks us if there are any others that we'd like seconds of. "How much is the chutoro per piece?" I ask because things like chutoro and otoro should perhaps be price checked in fine establishments. He smiles and it is complimentary - as long as they have some you can have an extra piece. There's something so satisfying about the second piece. Admittedly I rushed the first piece so this time I savour it slowly and quietly. "Any others?" he asks and I ask for another piece of kingfish belly and JY asks for another hand roll.
Dessert-wise, you can either share a dessert platter that gives you smaller versions of four Sokyo desserts or have one individual full sized dessert per person. Naturally we try the platter for maximum sampling. There's "Goma Street" or caramelised white chocolate with sesame ice cream or the "Nikka Caramel Macchiato" which is coffee ice cream, cacao nibs, whisky foam. Then there is the Sokyo "Mochi Ice Cream" which is Yatsuhashi Kyoto mochi, filled with balls of frozen strawberry milk shake and lastly the light tofu cheesecake with kinako or toasted soybean crisp, yogurt and raspberry sorbet and hibiscus.
I love all of these desserts, especially the contrast in textures of the Nikka Caramel macchiato coffee ice cream-dig in deep to the cup to get all of the layers. My favourite dessert however is always the Goma Street with caramelised white chocolate and sesame ice cream.
So tell me Dear Reader, have you ever tried an omakase menu? What do you think about this way of eating? Do you have a favourite type of sushi?
This meal was independently paid for.
Sokyo Omakase
To book the omakase, DM chef @sanghyeopkim through his Instagram account. At the moment it is booked out until the end of April and he will open up for May and June at the beginning of March 2020.