Haco is the newest Omakase restaurant in Sydney. Located down Alberta Street, tucked away at the end of a laneway, it seats just 12 people during two seatings every evening. On the menu is an 20 course menu with an emphasis on tempura.
So what is omakase? It's a Japanese style of eating that originated in sushi restaurants in the 1990s that involves the chef selecting what you'll eat. The word Omakase is derived from the word "Entrust" and translates to "I'll leave it up to you." Diners are served a range of dishes according to what is in season rather than selecting the food that they want from a menu.
Omakase is becoming increasingly popular in Sydney with more omakase restaurants opening in the last few years. The price is usually quite high and there is an emphasis on quality and the experience is often compared to a degustation or tasting menu in Western restaurants.
To procure a seat at Haco you have to pre-book and pre-pay for your meal which is $185 per person for food for 20 courses. Drinks are extra and paid for on the night.
Haco is located down the end of the little laneway next to 21 Alberta Street, the black Noren curtains giving its location away (the sign has been removed this evening for repair).
There's an anteroom where people wait for their tables and you can order drinks while you wait. My phone beeps. Kat is running late. "I've just jumped in an Uber, I'll be there in 10 minutes," she says.
Yuzu Punch $7
When I relay this to the staff, our waitress gasps. Eeek! We're already in trouble. The 5:30pm session is not a full session, there were six of us, but they tell us it isn't a problem, they'll slot us into the 6pm session. While waiting for Kat I have a look at the drinks menu. There is a range of sake by the glass or bottle and some beer, wine and soft drinks. I try the yuzu punch which is a non-alcholic sweet yuzu soda.
At 6pm we are led into the main restaurant area. It's a small U shaped dining area with sushi bar style seating around the open kitchen allowing diners to watch the chefs ply their trade. Perspex partitions separate each group of people. It's a dark restaurant but drop lights spotlight each diner's table and a single menu sits between two detailing the 18 savoury and 2 sweet courses we will be having tonight.
Lobster
The first bite to come out is the kombu cured lobster with lobster hot sauce and lime zest. The lobster is very tender while the lime lifts it nicely along with the hot sauce.
Scallop
While this is billed as a tempura omakase meal there are lots of other types of courses including this chawammushi steamed egg custard with finely diced raw scallop and button mushroom sauce. This is silky and luxurious each bite punctuated with the raw scallops and aromatic sauce.
Abalone
The abalone course comes out on the pretty pearlescent abalone shells. It is Tasmanian abalone roasted with butter, salt and parsley and a abalone liver sauce. The abalone has a slight chew to it and I really enjoy aromatic browned butter sauce with an intensity from the liver.
Pickles are also provided as they help to cleanse the palate between courses, particularly the deep fried ones. They're crunchy and savoury with a touch of sweetness.
Amaebi
The amaebi or red prawns sit on a rectangle of fried tofu skin with grated freeze dried yuzu. The yuzu perfumes the succulent prawns nicely while the fried tofu has a satisfying crunch.
Blue Swimmer Crab
The blue swimmer crab course is a delicately flavoured course that comes on a stick inside a crab shell. On the stick is a piece of lotus root tempura, blue swimmer crab meat, green curry mayonnaise and sour dashi jelly on top. While it is 20 bite sized courses, these courses are still rich and substantial enough when part of a multi-course menu.
Bonito
The next course is two slices of hay smoked bonito with ponzu, chives and dried garlic. I felt like the dried garlic overwhelmed the fish a bit too much.
Prawn
This is a simple prawn tempura with a dashi based tempura dipping sauce. The tempura batter is light and crunchy with no soggy or soft bits. The courses come out quite swiftly - they need to to serve 20 courses in 2 hours. At times Kat has to rush to catch up (I suffer no such fate as I'm a fast eater).
Whiting
Admittedly I expected to like the simple prawn tempura the most but it's the tempura whiting that I really adore. The whiting is butterflied and so light in texture and wonderfully crisp.
Caviar
There are some super luxe touches like the soy marinated quail egg dipped in tempura batter and deep fried and then topped with caviar just before serving.
Ikura
The next course is their version of a sushi course. It is soy marinated sushi rice on a flame roasted nori square and ikura roe on top. We are instructed to roll it up and eat it like sushi. The balls of ikura pop in my mouth while others roll all over my table.
Eel
The next course is a bite size piece of "live" tempura Tasmanian eel and sansho pepper with a salsify sauce on top. The eel has a bouncy texture which I always associate with fresh eel.
Oz Wagyu
My favourite course of the whole night is the Rangers Valley wagyu with corn and mascarpone sauce and curry salt. The wagyu is so succulent it melts in the mouth while the creamy sauce balances well against the crunchy katsu crumbs. I immediately want another.
Oyster
Another favourite course is the oyster katsu with shibazuke or pickled cucumber sauce made of the purple Japanese pickles. This is another well balanced dish full of flavour with an interesting flavour combination.
Yuzu
The next course is a palate cleanser of yuzu, ginger and rum granita that melts like snow on the tongue.
Pork
We're getting to the last of the savoury courses and this is a juicy pork loin katsu topped with shishito pepper and anchovy sauce. The sauce is on the savoury side with a slight bitterness to it.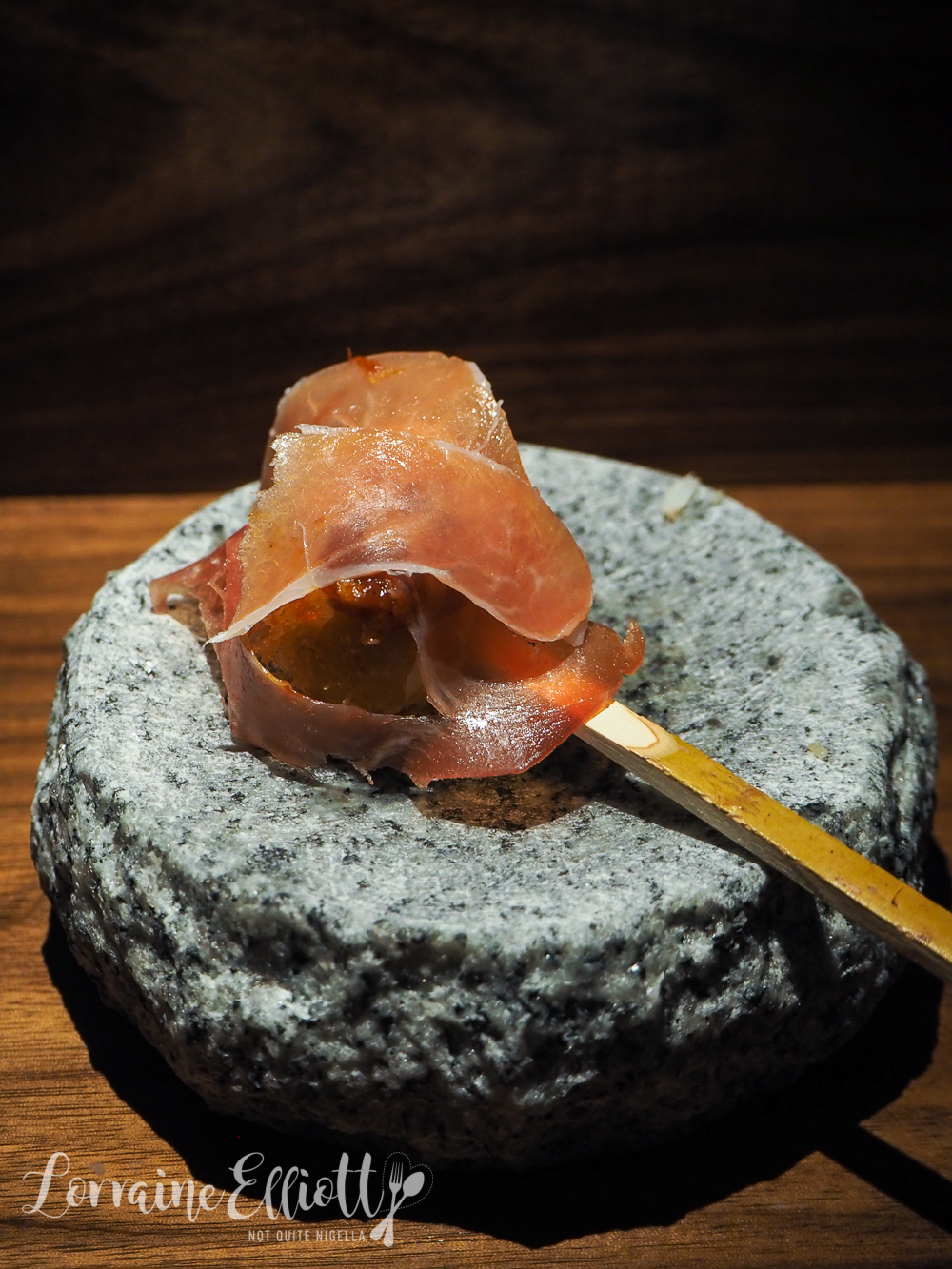 Jamon Serrano
The Jamon Serrano is leaves of the Spanish ham encasing a blue cheese croquette and sweet tomato chutney. It's a slightly jarring course, taking you out of the depths of Japanese flavours with its punchy sweet and creamy Western flavours.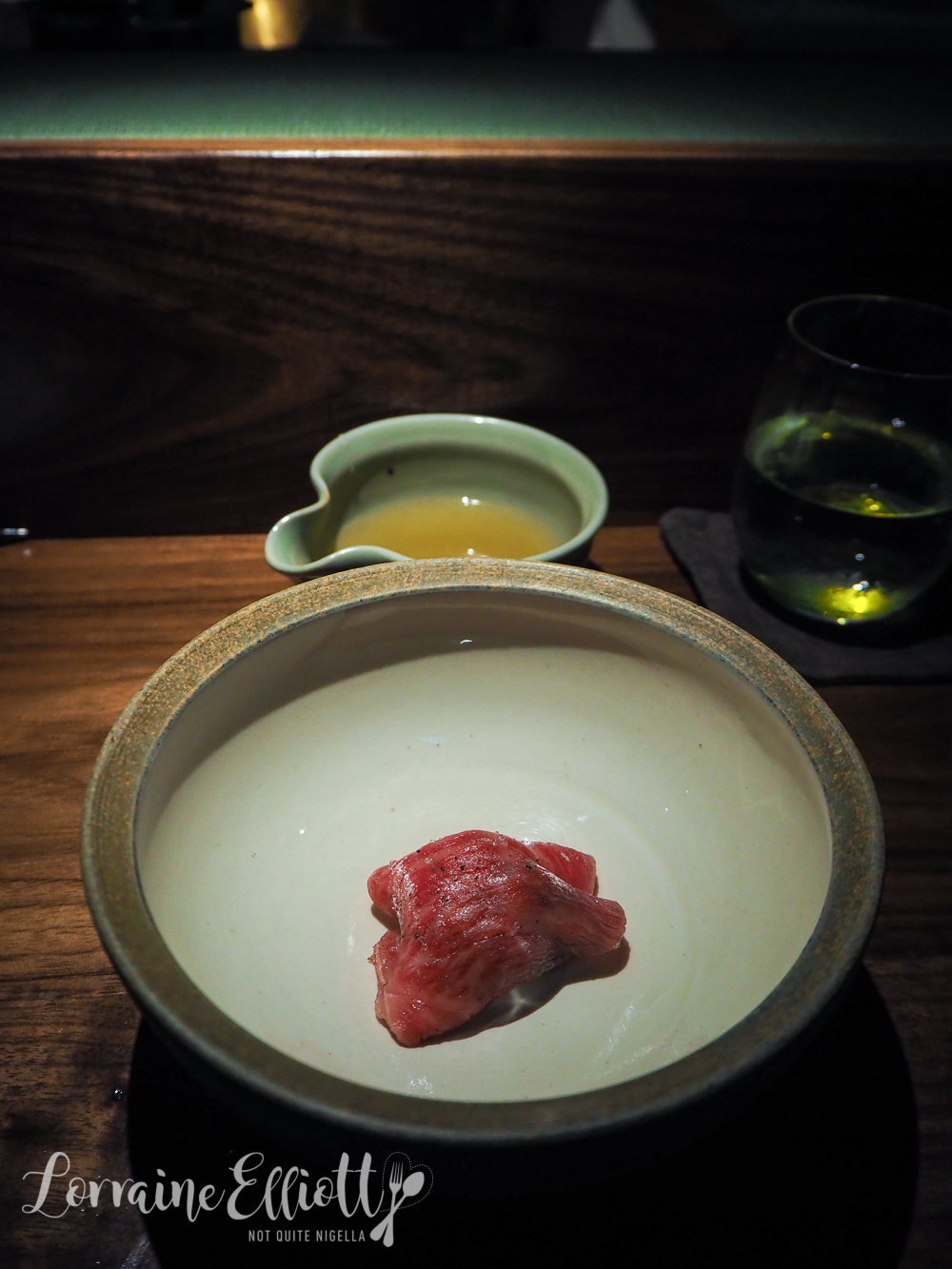 Kagoshima Wagyu
The next course features round Kagoshima wagyu slices blanched in oil to soften them. They are then folded over a centre of sea urchin and egg yolk marinated in miso for a luscious, creamy bite. They pour some wasabi broth over it and it's creamy with a piquant accent.
Kingfish
The last course is the soup and rice course, designed to fill guests up if they aren't full already. There are slices of kingfish brushed with sesame with koshihikari rice, hoji tea and dashi with an accompanying trio of seasonings: wasabi, nori squares and puffed rice. This is also one of my favourite courses and reminds me of wonderful meals had in Japan with subtle but flavoursome dishes.
Banana
It's time for dessert and the first dessert is a tempura battered slice of banana, honey caramelised macadamias, chai ice cream and milk cream on top. It's an interesting mix of flavours the chai ice cream the most dominant along with the bananas although I found that this had a few too many flavours.
Sweet Potato
The very last course is the sweet potato dessert that comes out on a rice wafer shaped like a spoon so that you eat it spoon and all. It's filled with roasted red beans and sweet potato mousse which is slightly grainy in texture.
And despite how much I've eaten, I finish it all.
So tell me Dear Reader, have you ever tried Omakase? Do you like this style of eating? And are you a slow or fast eater?
This meal was independently paid for.
Haco
21 Alberta St, Sydney NSW 2000
Tuesday to Saturday 5:30–11pm
Closed Sunday & Monday
Phone: 0408 866 285
hacosydney.com.au