Everyone's favourite Thai curry gets a makeover with this chicken meatball curry recipe! I used minced chicken thighs and jasmine rice to make these gorgeously tender meatballs flavoured with green curry and then served in a coconut green curry sauce with green beans and bamboo shoots for an all in one meal. This is a pushy recipe Dear Reader!
I can't express how much I loved these chicken meatballs. I only intended to have a small sample of this because I was going out for dinner but I ended up eating a whole bowl of this.
The meatballs have so much flavour and I think using the chicken thigh meat added such a wonderful juiciness to it. Plus adding rice instead of breadcrumbs makes this gluten free too-not that I am but I think I prefer it to breadcrumbs in a lot of ways. It certainly fits the Thai theme better too. If you like green curry I hope you'll make this. Tag me if you do! :)
I used up some of our precious stash of rice for this recipe. We are practising social distancing and going into self isolation for week or two although we are both healthy. There are really mixed messages and we know we can't rely on the government to give us any real insight or guidance so we are looking at measures that countries like Singapore, Taiwan and Hong Kong have taken to contain the virus successfully.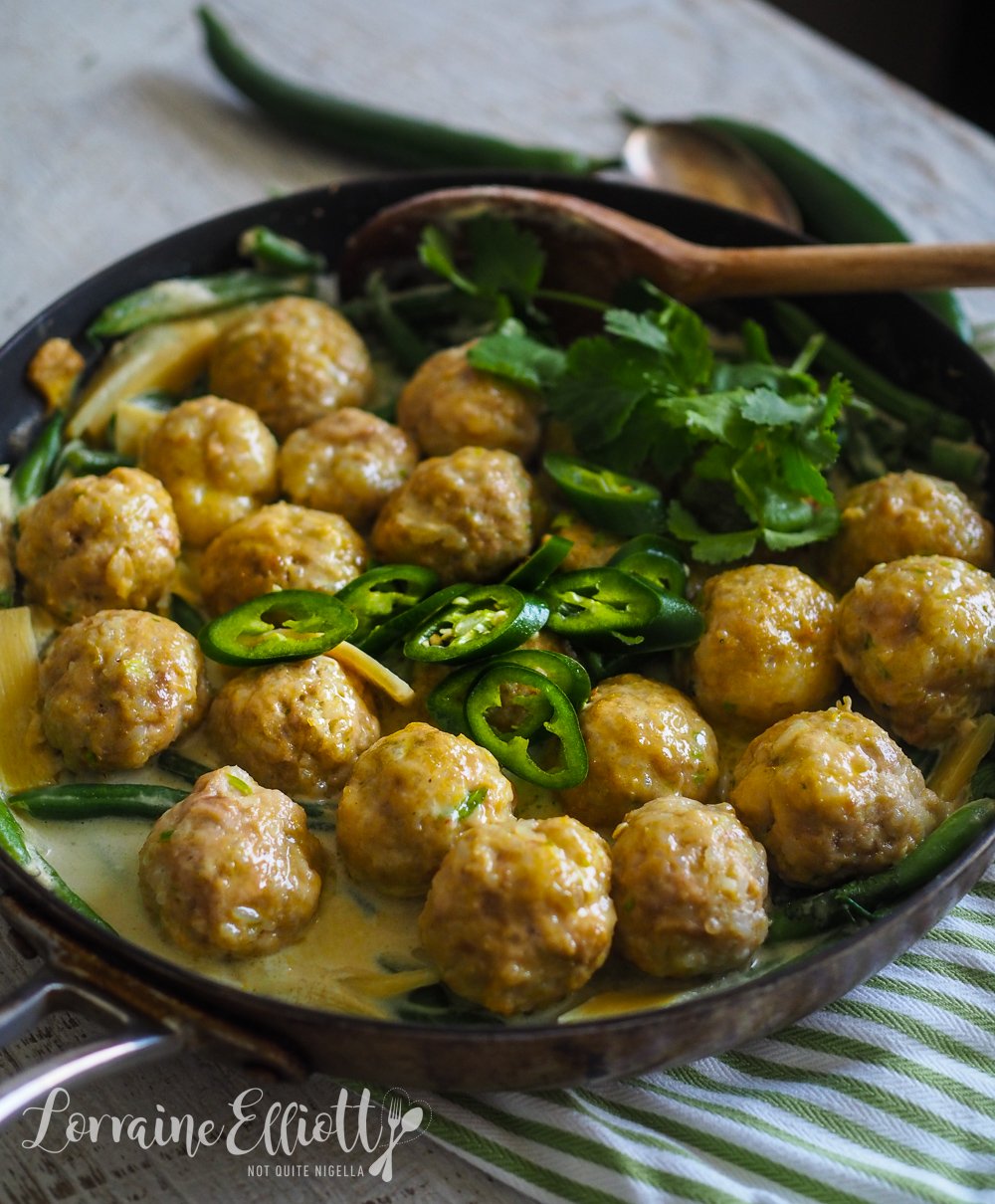 It's a really strange time for the world with information and protocols changing day by day. If you're doing the same and need a bit of a lift in spirits, here are some tv recommendations:
Love Is Blind: even if you hate reality tv and dating shows, Love is Blind may just sneak into your rotation. The premise is that 15 women and men "date" in pods without being able to see each other so their attraction is based on personality rather than appearance. From there they get engaged and married if they want. And like the rest of the world I loved Lauren and Cameron!
Jo Koy: I think Netflix has realised that with the world needs more laughs so they have lots of great stand up comedy. One of my favourite comedians is Jo Koy. Watch his Hawaii special "Comin' in Hot" and I promise you'll crack a smile at the very least.
Taylor Tomlinson: Her Quarter Life Crisis special just dropped on Netflix and it's smart and funny.
Miss Americana: I wasn't a huge Taylor Swift fan before this-I didn't really have any strong feelings towards her TBH. However I really loved this documentary because she has so much insight and wisdom about the role of women in music, longevity and specific pressures on women.
Failing all that, watching reruns of The Office, helps too!
So tell me Dear Reader, have you been stockpiling? Have you watched any of these or do you have any recommendations? What is your strategy? What is it like in your country/city/town?
DID YOU MAKE THIS RECIPE? Share your creations by tagging @notquitenigella on Instagram with the hashtag #notquitenigella
Green Curry Chicken Meatballs
Rated 5.0 out of 5 by 2 readers
An Original Recipe by Lorraine Elliott
Preparation time: 30 minutes
Cooking time: 30 minutes
Serves 4-6 with rice
550g/1.lbs. chicken thigh mince
3 coriander roots, rinsed well and finely chopped or blended
3/4 cup steamed jasmine rice
3 tablespoons green curry paste
2 tablespoons fish sauce
1 egg, beaten
1 teaspoon sugar
Non stick olive oil spray
2 tablespoons oil
1.5 tablespoons green curry paste
200ml/7flozs. coconut cream
1 cup water
2 tablespoons fish sauce
200g/7ozs. green beans, cut in half
225g/8ozs. bamboo shoots, drained
1 green chilli, sliced thinly
1/4 bunch coriander leaves, rinsed well
Rice to serve
Coriander roots (they don't sell the roots in some countries, in which case, use the stem)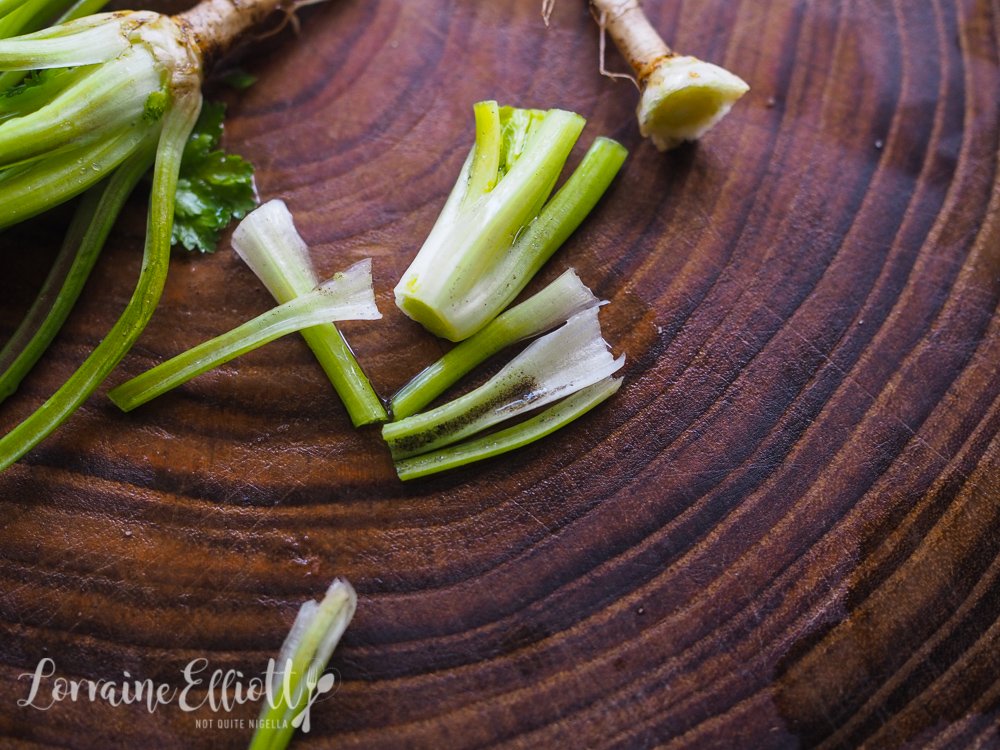 Rinse coriander roots well as there is hidden dirt
Step 1 - Line a large baking tray with parchment. Mix the chicken mince, coriander root, jasmine rice, green curry paste, fish sauce, beaten egg and sugar in a large bowl well. Shape into balls and place on the tray-I got 24 balls out of this mixture. Chill for 30 minutes to firm up.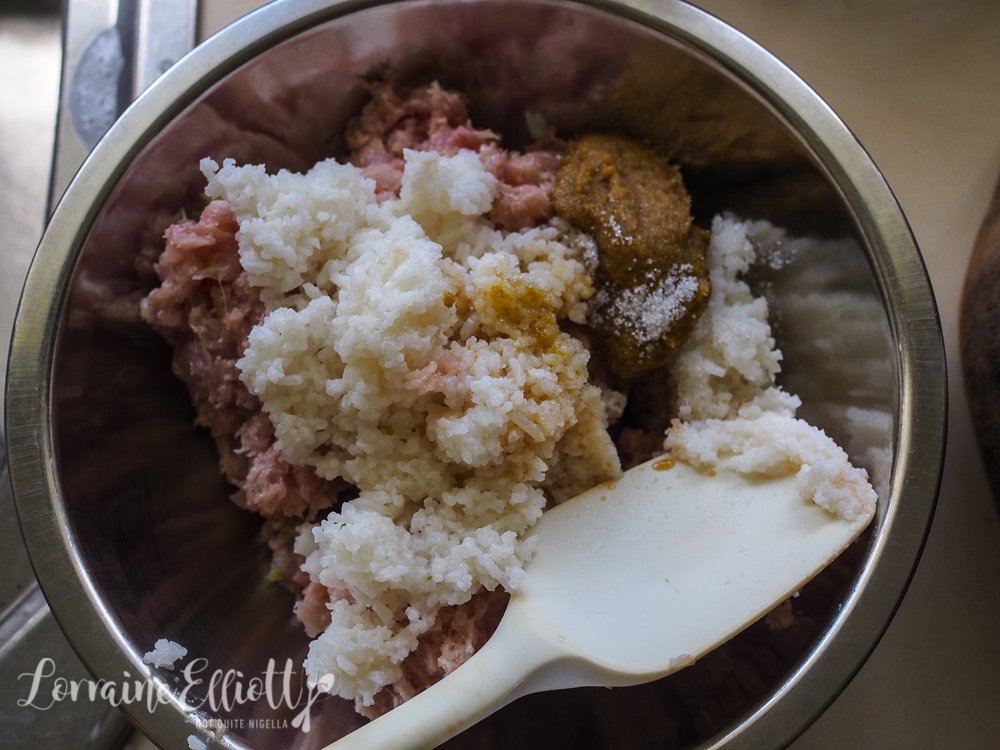 Step 2 - Preheat oven to 210C/410F. I rerolled the meatballs to give them a more spherical shape before baking them. Spray them with oil spray and bake for 20 minutes.
Step 3 - Meanwhile heat the oil in a large frying pan and saute the green curry paste until fragrant. Add the coconut cream and cook for a minute. Add water and fish sauce and bring to a boil. Add the beans and bamboo shoots and cook for 4-5 minutes. Take off the heat. Add the meatballs once finished in the oven and spoon the sauce over the meatballs. Scatter coriander leaves and green chillies over the curry and serve with rice.
Baked meatballs