I'm not normally a fiery tempered person. Don't mind Mr NQN laughing in the corner, but I promise that don't lose my temper often but when I do, well, it's not pretty. This usually happens when dealing long term with exasperating companies that give customers the run around along with poor service or when said companies try and bully customers. But mostly, I'm painfully polite unless repeatedly prodded.
A couple of years ago, Mr NQN had signed a two year contract with an electricity company and they were nothing short of awful. After two years they automatically rolled us over into another two year contract, unbeknownst to us until we received a letter knowing that we were locked in again. I tried calling them but was only met with scorn and attitude and was told "We won't tell you anything because you didn't sign the contract with us yourself" even though the property is in both of our names. I would hazard a guess that she wanted to say "ner-ner ner ner-ner" at the end of each sentence such was her sour attitude. And because Mr NQN works in an office and has barely enough time for lunch, we tried emailing them instead and were met with silence both times.
Having had enough we signed up to another supplier, slightly worried that we'd get hit with a "dishonour" fee for getting out of our new contract early as the scornful woman warned me about on the phone. Nevertheless, I forgot about it and last week I was on Hayman Island in the Whitsundays on a conference and feeling terribly relaxed. Swans had just glided past my room when my mobile phone rang.
I'm serious, swans really did glide past my room. You can't make stuff like this up.
"Hello, it's from . I hear that you're going to be leaving us. Can I ask why?"
I cocked my head and I thought about it. My relaxed state egged me on to release the demons. So I did.
I cleared my throat before answering. "Well...please know that I'm not directing this at your personally, but we cannot stand your company!" I said giggling at how good it felt to be telling them this. "You guys are the most expensive, you increase our rates by an enormous amount, your service is atrocious, you fine us for paying our bills just a few days late and you tried to roll us into an illegal contract for another two years! You are one of the worst companies we have ever dealt with!" By now I couldn't stop giggling, I felt almost drunk and it felt so good to be able to tell them this and even he was laughing at my unexpected gush of candour.
"Hehe no problems, well I'm sorry and I hope that we can do better next time!" he said laughing.
"Oh there will be no next time but thank you for finally apologising! Have a great day! Bye" I said before hanging up.
I told Mr NQN how good it felt to replace the fiery demons with happy demons. But if you like things on the spicy side of life, I have something for you. Earlier I made my own green curry paste using fresh green chillies. I was so enamoured of it that I decided to try making a red curry paste. Did you know that red curry paste is made from rehydrated dried red chillies and not fresh ones? It's just as easy and the only thing I would suggest is making it and allowing the flavours to age and develop. When I first tried it, it was really good but when I tried it a few weeks later it was absolutely perfect.
With the paste I decided to make one of my favourite Thai red curries-roast duck and lychee. The roast duck has so much aromatic flavour to it and the star anise complements the red curry spices well and the lychees sweeten it beautifully. If you buy the roast duck as I did, reserve half for eating with pancakes and with the other half you simply carve it up. I even used the carcass to make a duck soup in the pressure cooker. The rest is really so simple that you could make the curry within about ten to fifteen minutes. It is creamy, aromatic and bursting with flavour and every drop was gone.
So tell me Dear Reader, what makes you cross? And is there a company that you'd like to part ways with or one that you find infuriating?
Did you make this recipe?
Share your creations by tagging @notquitenigella on Instagram with the hashtag #notquitenigella
Red Curry Paste
20 large dried chillies

1 tablespoon shrimp paste

1 tablespoon black peppercorns

1 tablespoon coriander seeds

1 teaspoon cumin seeds or ground cumin

2 shallots, peeled and chopped

1 long stick of lemongrass

3 cloves garlic, peeled

1 coriander root, washed

zest of half a kaffir lime (I've used regular lime in a pinch)

1 teaspoon salt
You can use a large mortar and pestle or a mini food processor for this. If you use the mini food processor, it is best to use ground black pepper and ground coriander as they don't process well.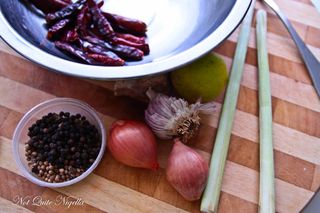 Step 1 - Soak the chillies in hot water for 30 minutes.
Step 2 - Meanwhile, in a dry frypan on medium heat, add the shrimp paste, peppercorns, coriander seeds and cumin and toast until aromatic-about 5 minutes. Remove from heat.
Step 3 - In a large mortar add all of the ingredients and pound until combined and smooth.
Duck & Lychee Red Curry
Serves 2 as a single main or 4 as part of a banquet
2 teaspoons oil

1 tablespoon red curry paste (above)

400ml/14oz. tin of coconut cream

1/2 a roast duck, cut into pieces, the meat sliced but I keep the legs whole

1/2 of a 567g tin of lychees

100g/3.5ozs green beans, topped and tailed and chopped into inch long pieces

100g/3.5ozs cherry tomatoes

2 tablespoons fish sauce

1.5 tablespoons palm sugar

1-2 teaspoons lime juice

small bunch Thai basil leaves

2 fresh kaffir lime leaves, finely chopped

Rice to serve
Step 1 - Heat the oil in a frypan on medium to high heat and cook the curry paste until fragrant-one or two minutes. Add the coconut cream, duck, lychees, green beans and tomatoes. Season with the fish sauce, palm sugar and lime juice until well balanced-play with the proportions if you need to and taste it for balance.
Step 2 - Add the Thai basil leaves and kaffir lime leaves and serve with rice.