Looking to stave of the chill with a warming soup? This soup packs a few punches. It's a chicken soup base but it also packs a hit with chilli, another thing that I'm convinced keeps you warm. There's no need to buy a pre-made soup when soup making is this easy!
The other day I went to the supermarket to buy groceries. The only thing I felt like eating was soup and I wandered the aisles and almost picked up a packet of ready-made curry coconut soup before deciding to try my hand at making my own. That way I could use the chicken I liked, the flavours that I wanted and the vegetables that I liked. It was such a hit with Mr NQN that I made an extra batch for him the week after when I went away.
Mr NQN has found himself a new hobby to keep himself entertained. It's a augmented reality game called Ingress and it's a multiplayer location game where you are on one of two teams. You go all across Sydney/Australia/The World and you capture and "blow up" portals from the other team. There is no actual blowing up or violence involved though, you hit a button on the app and that blows the other team's portal up. It's kind of like being on a team and socialising for introverts because he doesn't ever meet or talk to anyone else while on these quests. I'm thinking these guys that play this game are really smart but perhaps a bit shy socially.
So knowing that he had to go out in the cold, I made sure that my introverted husband had at least something warm to eat after he had gone out for a day of blowing up things, even figuratively speaking!
So tell me Dear Reader, do you play any video or online games and have you ever tried Ingress? What is your latest hobby? Do you change hobbies often like Mr NQN?
Did you make this recipe?
Share your creations by tagging @notquitenigella on Instagram with the hashtag #notquitenigella
Red Curry Coconut Chicken Soup
An Origianl Recipe by Lorraine Elliott
Serves 4
Preparation time: 5 minutes
Cooking time: 15 minutes
2 chicken breasts
3 cups chicken stock
3 teaspoons red curry paste
2 sticks lemongrass, bashed with the end of a knife to release flavours
2 carrots, sliced diagonally
1 cup corn kernels
150g/5ozs. snow peas
1 bunch enoki mushrooms, trim off the ends
1 cup coconut milk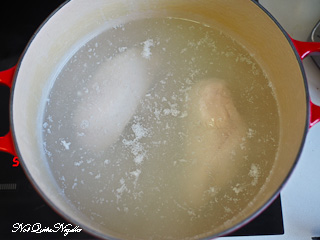 Possibly one of the most boring pics on the blog. The food equivalent of watching paint dry, watching chicken poach
Step 1 - Gently poach the chicken in the stock for 15 minutes until cooked through. Remove the chicken from the stock and reserve the stock. Place the curry paste and lemongrass in the saucepan and fry until fragrant (a few minutes). Add the reserved stock and carrots back into the pot and heat to a simmer. Shred the chicken and add this back into the pot along with the snow peas, corn and enoki mushrooms (separate these with your hands) and coconut cream. Heat until the vegetables are cooked (it won't take long) and serve.