Forget garlic bread that you know, this incredible garlic and cheese bread is one of the most delicious breads you can ever serve up! It uses an easy no knead overnight dough that puffs up beautifully and it is flavoured with delicious garlic butter and mozzarella. This is a pushy recipe Dear Reader!
The key to this bread's appeal is how crispy it is on the outside but spongey soft on the inside. If you bake this fresh, eat it when it comes out of the oven. That 10 minutes you wait around this aromatic bread is going to be tough (but I don't want you burning your mouth!).
Green or young garlic
Fresh, green, young or spring garlic: I started off making this with fresh green garlic as there was some in my vege box. So what is fresh or green garlic? Having never used this ingredient before or come across it I found it fascinating. It is garlic before it is dried and forms cloves (the garlic that we get in is dried for several weeks). It's something that becomes available when garlic farmers thin their crop.
Base of the green garlic bulb
Green garlic looks a little like a green onion although the green stalks are flatter and larger than green onions. Inside the bulb it resembles a leek with lots of layers and it hadn't started to separate into cloves. Its resemblance to leek is no coincidence because green garlic has a milder flavour that also tastes like leek or the white base of spring onion.
Inside the green garlic bulb
As young garlic dries, the flavour becomes much more intensely garlicky and it loses the onion flavour and you get garlic as you more commonly see it. But green garlic makes for WONDERFUL garlic bread and two bulbs can make an entire loaf of this delicious garlic and cheese bread with a well rounded but not acrid heart-burning garlic flavour. To use, trim the tops off the garlic and them trim the garlic of its base with the tendrils (treat it like a leek) and peel off any discoloured layers and use.
Don't have fresh garlic? No problems! You can make the same flavour by using 40g/1.4oz of the white base of spring onions (trim off the tendrils from the very base) and 3 cloves of regular garlic.
Onion powder and garlic powder: I know it may seem like anathema to use powders when we have fresh ingredients but these add a lot of flavour in just a small amount but I like using them because they are easy to distribute through the dough. I use onion and garlic powder both a lot and I got started on using it through American recipes but found myself rebuying both. You can substitute onion powder with 3 teaspoons dehydrated onion or 1 finely diced onion and the garlic powder with 2 crushed garlic cloves.
Can you use sourdough starter instead of yeast? Yes replace the instant dried yeast with 50g/1.7ozs. of sourdough starter in summer or 100g/3.5ozs. starter in winter.
We took this garlic and cheese bread over to Ivy and Ryan's house one Saturday night along with a lasagne. We were originally supposed to have them over to our place but their dog Thor was having seizures and I thought that they might want to keep him in a familiar environment. Mr NQN was all for this plan because he was not looking forward to cleaning up for our guests.
Lately I've been watching reruns of one of my favourite shows The Office and there's a scene that I love with my favourite character from the show Erin. She's having an awkward lunch with her boss Michael Scott and she's asking him strange questions and one of them was, "How many pillows do you sleep on at night?". He is bored with the conversation and sighs but I love how random a question it is because I have random thoughts and questions that I want to ask people all the time but I mostly keep them to myself.
I also love the awkwardness of the situation and adore awkward humour. I have friends that can't take awkward humour and will refuse to watch shows like The Office because of that but awkward and dark humour are my favourite types of humour. I can imagine being on a date or a lunch where you aren't clicking and throwing out strange questions like that. I also decided to ask everyone I know that question from now on.
"So how many pillows do you sleep on at night?" I asked Ivy and Ryan over lasagne and garlic bread. Of course they are used to random questions from me so they answered without a beat or without sighing or thinking that I am weird. So Dear Reader, hang onto friends that answer your random questions without hesitating or rolling their eyes. And hang on to this garlic bread recipe too. It's a keeper!
So tell me Dear Reader, what sort of humour do you like the best (awkward, slapstick, dad jokes, dark)? And how many pillows do you sleep on at night? Do you make garlic bread often?
DID YOU MAKE THIS RECIPE? Share your creations by tagging @notquitenigella on Instagram with the hashtag #notquitenigella
INCREDIBLE Garlic and Cheese Bread
Rated 4.875 out of 5 by 8 readers
An Original Recipe by Lorraine Elliott
Preparation time: 15 minutes plus overnight resting
Cooking time: 30 minutes
270ml/9.5flozs. water, warm
1.5 teaspoons salt
320g/11.3ozs. flour
1 teaspoon instant dried yeast
1 teaspoon garlic powder
1 teaspoon onion powder
45g/1.6ozs. fresh garlic (or 40g spring onion white base and 3 cloves garlic)
70g/2.5ozs. butter, melted but cooled for 5 minutes
160g/5.7ozs. mozzarella or bocconcini
2 tablespoons finely chopped parsley
Step 1 - Dissolve the salt in the water. Mix the flour, yeast, garlic powder and onion powder together in a large bowl and then add the salt water and mix with a spatula to combine making sure there are no lumps of flour or powder. Cover and allow to rise for 12-18 hours overnight.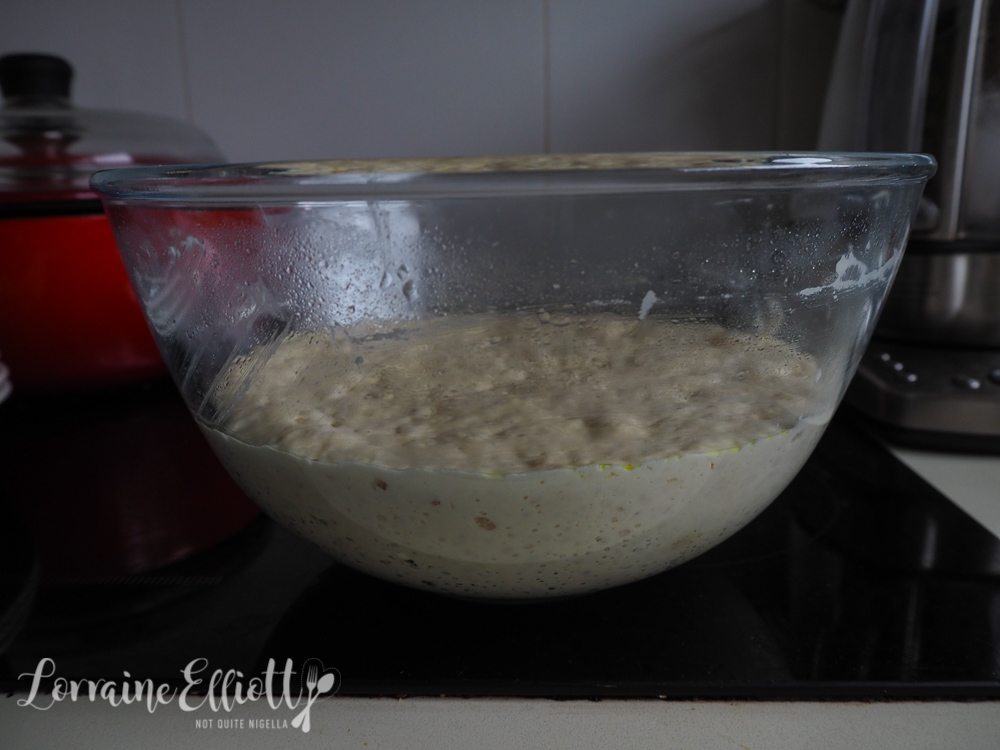 Step 2 - The next day deflate the dough and mix with an oiled spatula. Line a baking tray with parchment and spread it out - I made this an ovalish rectangle, it doesn't really matter. As always, if the dough is proving stubborn or hard to spread out, give it a rest for 5 minutes and let the gluten in the dough relax and then reshape.
Step - Add the fresh garlic (or garlic and spring onions) to a small food processor and blend. Mix with the melted butter and pour over the dough. Split the bocconcini balls in half and dot over the bread. Sprinkle with parsley and allow to rise for 1 hour until puffy at the edges.
Step 4 - Preheat oven to 200C/400F and bake for 30 minutes. Cool for 10 minutes before eating (it will be hard to resist I know but I've burnt my tongue on it!). If there is butter around the bread it will soak back up within the 10 minutes while it is cooling.