These 60 minute baguettes are INCREDIBLE! I make them all the time when I've got guests coming over and they produce a pitch perfect baguette every time. The outside is crisp while the inside is soft. You will not believe how easy these baguettes are to make from scratch with very little effort. This is a pushy recipe Dear Reader!
In the culinary world's equivalent of an excuse I knew I had a doozy. "I'm sorry I'm late but I was busy talking to Nigella Lawson" was kind of like proffering up the excuse of "My pet ate my home work". It didn't sound quite real and would probably be met with a disbelieving or suspicious look. So when I arrived at Melbourne's Campari House fifteen minutes late to the hot salmon smoking workshop I just apologised for being late and joined the class already in progress. I was paired up with a partner and insofar as partnering goes for a smoked salmon workshop it was a good one. I was paired with Tom Cooper, the smoking aficionado who supplies smoked items to the top restaurants in Melbourne.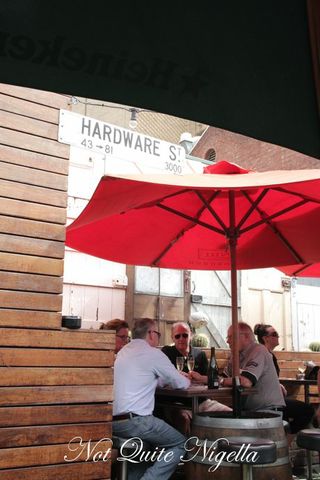 In the class instructor Danny was showing us how to hot smoke our own salmon as well as made quick French baguettes and our own garlic mayonnaise so that we would end up with a smoked salmon baguette with the fruits of our labour. Smoking the salmon was surprisingly easy. It simply involved heating a tray lined with a bed of uncooked rice, tea, brown sugar, herbs and cinnamon quills onto the gas until it started to smoke "aggressively" and then placing a side of salmon (or you could do fillets if they are easier to access) on top and covering it tightly with two blankets of foil and turning the heat down and smoking it for 20-30 minutes. Yep that is it as far as the hot smoking process goes!
But what I really went for was the quick as a wink Campari House baguettes. Usually with bread, there is an hour long proving process and then a 20 minute proving process after the bread is shaped. With their recipe, the bread sits in a warm under area a chux cloth (or an oven heated to 100C  and then knocked back down to 35-40C door ajar for a few minutes) for 20 minutes and then it is shaped and then proved for another 20 minutes and then baked. I realise that a slow, overnight rise is ideal and nothing quite beats that but this recipe is for times when you don't have time to pfaff about and wait for things. This is for when you want a great roll but not at the expense of the patience fairy. And there are no excuses to not bake with this recipe as you don't need a mixer or any special equipment.
The bread is given its crunchy crust from a light spray from a bottle or the gentle flicking of water as I did when I experimented. It's a lovely long, fresh baguette and one recipe makes two baguettes. It smells divine coming out of the oven and if you've got everything ready the whole shebang can be done in about 60 minutes!
So tell me Dear Reader, what's the best excuse for being late that you've given or heard?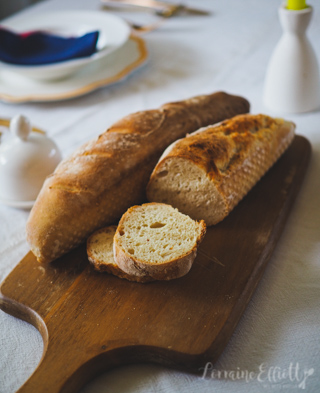 60 Minute Baguettes
Adapted from a recipe by Campari House
Recipe and images edited 22/5/23
400g/14ozs plain or bread flour plus a little extra to sprinkle (I have made batches of wholemeal and regular flour ones)

4g/0.14oz dried yeast

280g/ 1 1/4 cups room temperature water

2 teaspoons/10g/0.3oz fine salt

1 tablespoon semolina (optional but gives it a crust)

water in a spray mist bottle
Step 1 - Preheat the oven 10 100C/212F. Dissolve the salt well in the water. Mix the flour and yeast in a bowl of a mixer fitted with a dough hook. Mix the two together and then pour salt water in and knead for about 4  minutes with the electric mixer or 6-7 minutes by hand on a clean surface using extra flour to prevent sticking -just until it becomes elastic.
My what lovely buns you have!
Step 2 - Open the oven door for a few minutes to cool slightly and then set the oven to 40C/104C. Dust the inside of a bowl lightly with flour and divide the dough in half. Cover with a clean teatowel or chux and place in oven to prove for 15 minutes.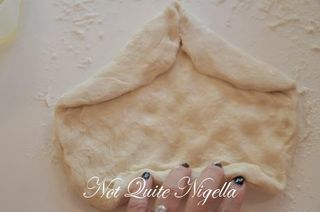 Step 3 - Lightly dust the bench again with flour and using the tips of your fingers press down to make a flat circle of dough. Fold the top into a triangle as shown and then roll the baguette up from the bottom so that you finish with the triangle. Place on a flour dusted baguette tray and make deepish slashes into the top. Cover again with the teatowel or chux and allow to prove for another 15 minutes.
Step 4 - Remove from the oven and turn up the heat to 200C/400F. When the oven is ready spritz the bread with water and sprinkle over with semolina. Bake for  18-20 minutes until you tap on the bread and you get a hollow sound.