Winter is celeriac season and celeriac rémoulade is one of the tastiest recipes for with this knobbly root vegetable. Celeriac rémoulade is a wonderfully delicious side salad to accompany meat or to fill sandwiches or add to salads!
There was only one option for me when I saw that there was a celeriac in my vege box. I adore celeriac remoulade as I love mayonnaise and aioli and if you adore salads like potato salad, then you might also love this celeriac remoulade!
Sauce rémoulade is a base of mayonnaise, herbs, capers and cornichons. It's similar to aioli and is like a seasoned mayonnaise or a cousin of tartare sauce.
Tips for making the best celeriac rémoulade:
The best celeriac rémoulade is a balance of creamy and tangy so lemon juice, cornichons or pickles, mustard and chives are essential
Cutting up the celeriac into matchstick pieces is time consuming but the mayonnaise is super easy! You can also use a carrot shredder too.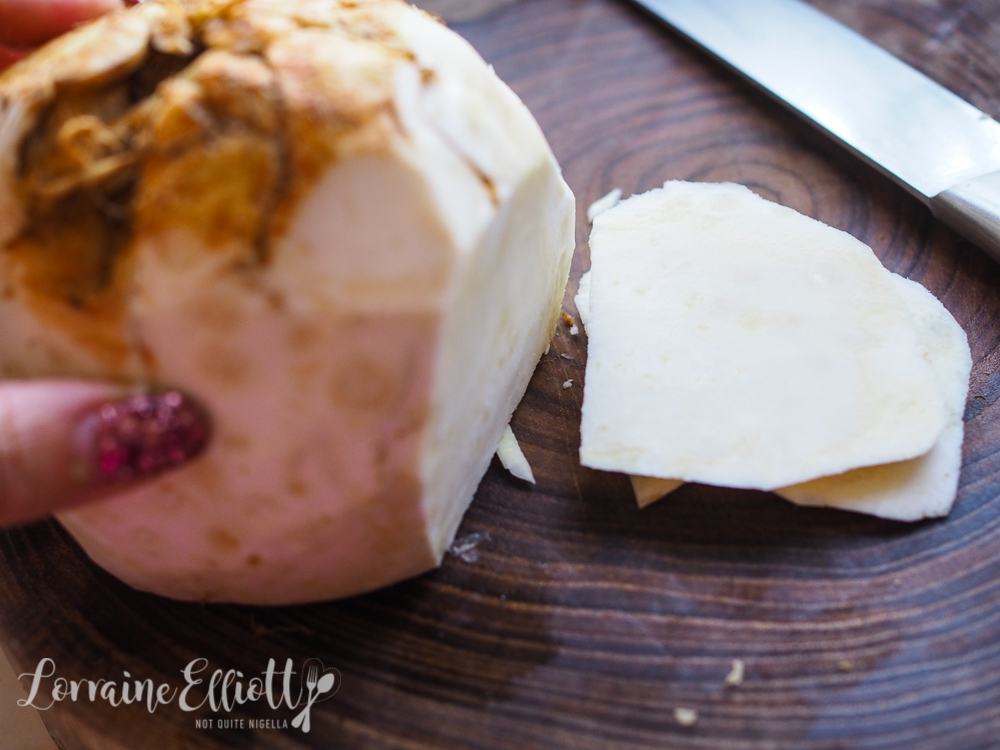 Stable, flat base for slicing
Please be careful when you chop. Cut off the edge from one side of the celeriac so that you have a stable base to cut from (see pic above).
Make celeriac remoulade ahead of time. It needs time to soften so this is a great dinner party side dish that doesn't need any attention before serving.
It is really easy to make a vegan sauce remoulade. There's no need to drizzle in oil or anything time consuming. All you need to make a vegan version of sauce remoulade is a stick blender, oil and aquafaba (tinned chickpea water)
This makes a large amount of remoulade but remoulade is great the next day too.
Serve this celeriac remoulade with: a steak, roast chicken, roast pork, as part of a crudite platter, smoked salmon or cold charcuterie plate. It is also wonderful as part of a salad and is incredible in sandwiches-think an alternative to coleslaw!
Celeriac not in season? If you're in summer and can't get celeriac, make the sauce rémoulade and then use crunchy vegetables like baby carrots, cucumber and radish for a crudité dipping platter.
I always talk about how I'm not a winter person apart from the food and right now we're just into the second month of winter. Normally we'd be heading somewhere warm for our winter holiday but that isn't possible this year.
I don't go out as much as I do when the weather is warm and so every afternoon I have a little ritual during winter. At around 4:30pm when the sun dips low I light the candles in our lounge room and turn on the lights.
It has gotten to be that I look forward to it every day as it signals the impending end of the work day. At this time Teddy comes out from sitting in his bed under Mr NQN's desk and then I start making dinner.
It's good for me because it signifies that I should stop working. I then put on my favourite tv show (I'm re-watching all the seasons of Monk) and skip the news. I still read the news during the day but at night I need a break and it helps me sleep better. The only downside is that I have now got a crazy candle addiction going on so if there any candle brands that you recommend please send them through!
So tell me Dear Reader, do you like celeriac remoulade? Do you have a favourite celeriac recipe? And do you have any daily rituals that you look forward to?
DID YOU MAKE THIS RECIPE? Share your creations by tagging @notquitenigella on Instagram with the hashtag #notquitenigella
Celeriac Rémoulade (Vegan version too)
Rated 5.0 out of 5 by 1 readers
An Original Recipe by Lorraine Elliott
Preparation time: 30 minutes
Cooking time: 0 minutes
Serves: 6 as a side
1 celeriac
Juice of 1 lemon
1 cup/250ml/8.8flozs. oil
1/4 cup/60ml/2flozs. egg white or aquafaba*
2 tablespoons/40ml/1.4flozs. lemon juice
2 teaspoons Dijon mustard
1.5 garlic cloves, peeled
2 cornichons
1/2 teaspoon salt or to taste
10g/1 bunch fresh chives, finely chopped
A few sprigs of fresh dill
Step 1 - Fill a large bowl three quarters of the way with water and add the juice of a lemon to it. Trim the top off the celeriac and peel the celeriac well. Slice it thinly or use a mandolin or carrot grater into matchsticks or shreds. This will take a bit of time and the lemon juice will help the celeriac browning.
Step 2 - Add the oil, egg white or aquafaba, lemon juice, mustard, garlic, cornichons and salt into a jug and then use a stick or immersion blender and blend moving the head in circles. It should turn from oily to white. If for some reason it doesn't you haven't added enough egg white or aquafaba so add a little more but it definitely should in this quantity.
Step 3 - Drain the celeriac matchsticks and mix with the mayonnaise. Add chives and dill and then make sure to allow to sit for 2 hours or so to soften the celeriac. This can be made a day ahead and stored in an airtight container in the fridge.