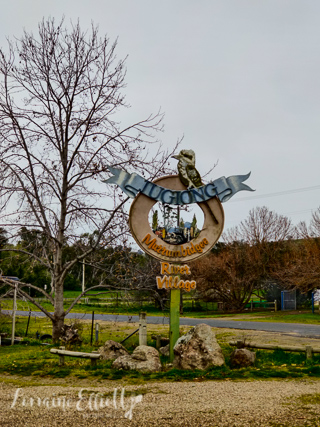 Something often happens to towns when a highway blazes through the landscape, effectively eliminating a reason to stop in a town for travellers and tourists. Some go quiet, dormant even, others keep carrying on. And some become a destination in themselves like Jugiong in the Hilltops of regional NSW.
The historic township of Jugiong was one of those towns that was sidelined when the Hume Highway was built in 1995. Located on the banks of the Murrumbidgee River Jugiong is 3.5 hours from Sydney, 90 minutes from Canberra, 40 minutes from Yass or 30 minutes from Gundagai. It is roughly halfway between Sydney and Melbourne (although closer to Sydney).
Jugiong is an indigenous word meaning "Valley of the crows" and while its population is around just 200, there are several reasons to stop. There is a pub called the Sir George that also sells wonderful sourdough bread and has accommodation, a shop that sells quality take home meals and preserves. Travellers use it as a first stop on their visit to the Riverina or Snowy Mountains. Or really, if you want to go for a long distance day trip, it is an option too.
If you're looking to load up on supplies, pop into the Long Pantry. There's a range of ready made refrigerated and frozen meals on offer as well as a range of dressings, jams, chutneys and home made cakes to either eat there or take away. Their balsamic vinegar is very popular.
However if you are looking for a meal you're best off to arrive at the Sir George Tavern with a booking, especially during these social distancing times. While there are many areas to sit and eat inside and outside, it's also very popular place to go with both locals and out of towners.
The Sir George's revival was a project that combined the forces of mother and daughter team Liz Prater and Kate Hufton with Liz's partner Kim Gamble. They started the extensive renovation process in 2015 and the result is a pub with equal parts country pub and glamour.
Many of the rooms have fireplaces and we take a seat at one and select the chef's set menu for $65 per person for 3 courses. There is also an a la carte menu available.
While waiting for our food I do some pre-Christmas shopping at the shop within the Sir George called the Curator's Collective.
The entrees arrive and there are organic local olives along with fantastically luscious fatty hoisin lamb ribs with pickled sesame cabbage.
We also love the house smoked trout rillettes and the free range chicken terrine with pickled pink shallots on top. And we pair this with slices of their wonderful sourdough. Kim's background in bakeries and restaurants ensured that the sourdough was just right.
The on site Sir George's bakery churns out hundreds of these loaves a day and they are eagerly snapped up. The high hydration sourdough is springy and moist inside - a combination of several factors from the wild yeast culture procured from Adjunbilly in the high country by an Italian chef, a high protein flour from Gunnedah and a stone floor oven.
Add in a few trade secrets and several equipment changes to get it just right and you get their sourdough, so good that I eat three slices with a fat smear of butter.
With the mains, the local Black Angus fillet with horseradish is more medium well done than medium rare but perhaps we should have asked for this as the lamb cutlets are cooked through too and we like it pink.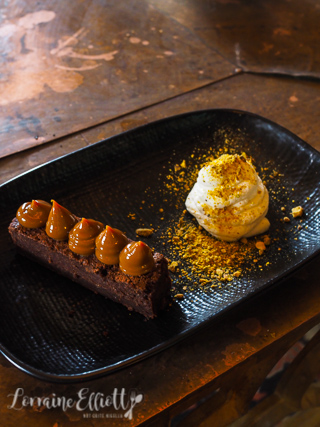 The desserts are a choice of a sweet tooth lovers delight with a Callebaut chocolate tart with dulce de leche and local pistachio with a cloud of cream.
I'm smitten by the cheese plate with an organic brie, a wonderful Shadows of Blue cheese with a sturdy wedge of quince paste and thinly sliced sourdough.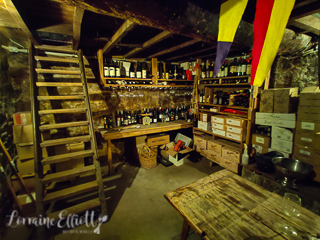 Before we leave Kim gives us a tour of the underground wine cellar. We follow him to the Ladies Lounge which is one of the main dining rooms and he lifts up a latch in the floor and we descend into the wine cellar. "This is the original cellar built in 1852," he says.
They have now converted it to become a wine and cheese room for either guests at their accommodation or those that book ahead of time and can accommodate from 8-12 people. With the Hilltops wine region just nearby it was a natural and guests can taste local wines, cheeses and balsamic vinegars in the atmospheric setting. "It's simple no bullshit, like us," says Kim.
So tell me Dear Reader, have you ever visited Jugiong? How long will you drive for a day trip? Do you plan and book where you'll eat ahead of time or do you wing it?
NQN and Mr NQN travelled as guests of Destination NSW but all opinions remain her own.
The Sir George
320 Riverside Dr, Jugiong NSW 2726 Open Tuesday - Sunday 10 until late