Nimbo Fork Lodge is a country retreat set on the fork of the Tumut River and Nimbo Creek at the Northern end of Kosciuszko National Park. From here you can explore the Riverina region or the Snowy Mountains in NSW or you can retreat from all the madness of the world and hunker down and get close to nature. Another added draw is that of this month the food offering at Nimbo Fork Lodge is by Three Blue Ducks and chef Edmee Driez!
It's a stand off of sorts. A brown and white cow stands on the side of the road underneath a tree and regards us. "I wonder if she'll let us through?" I say as our car edges slowly closer. After a few seconds she moves aside half a metre allowing us passage through. "Security is tight," I laugh.
After a short drive we arrive at the mist shrouded Nimbo Fork Lodge, our home for the next two nights. This is where we base ourselves when exploring Tumut, Tumbarumba and Yass after arriving in Jugiong.
There are two types of accommodation available at Nimbo Fork Lodge. The first are rooms in the main homestead while there are also half a dozen cottages set apart from the homestead available.
The rooms in the main homestead are more for a single night stay. They're smaller and while nice, the cottages with the additional space are the definite pick as they afford more privacy and space. The staff at Nimbo Fork Lodge are Pete and Lucy who look after guests with gracious enthusiasm.
Our cottage is #6 right at the end with endless views of the Tumut River and lush green hills. There is a four poster queen sized bed and a sitting room with fireplace which is where I plant myself for much of the time wrapped up in one of their soft robes.
The outdoor balcony is spacious and where you want to be on a warm afternoon watching the sun's afternoon rays reach over the trees. There's free parking and wifi although this is stronger in the main house and doesn't quite reach to our cottage.
The bathroom is enormous with double sinks and amenities from The Aromatherapy Company New Zealand. There's a separate shower and a bathtub facing that transportive view.
I run the bath adding the bath salts and bath gel provided and lie back and relax. Sun sets and it turns dark and it's soon time for dinner. It's Happy Hour and we start with some signature cocktails, a warming hot cider and a delightful Hot Nimbo Drop.
The restaurant is as much a reason to visit as the accommodation. Chef Edmee Driez has been cooking at Nimbo Fork Lodge throughout the COVID-19 lockdown and was cooking at the time of our visit although it all becomes official on the 25th of November, 2020.
Edmee makes many of the ingredients in-house from the cheese that features in the pumpkin risotto to the bread baked daily for breakfast and dinner. And if you're feeling like making this a real retreat where you just want to stay in your cottage, they can deliver your dinner to your room.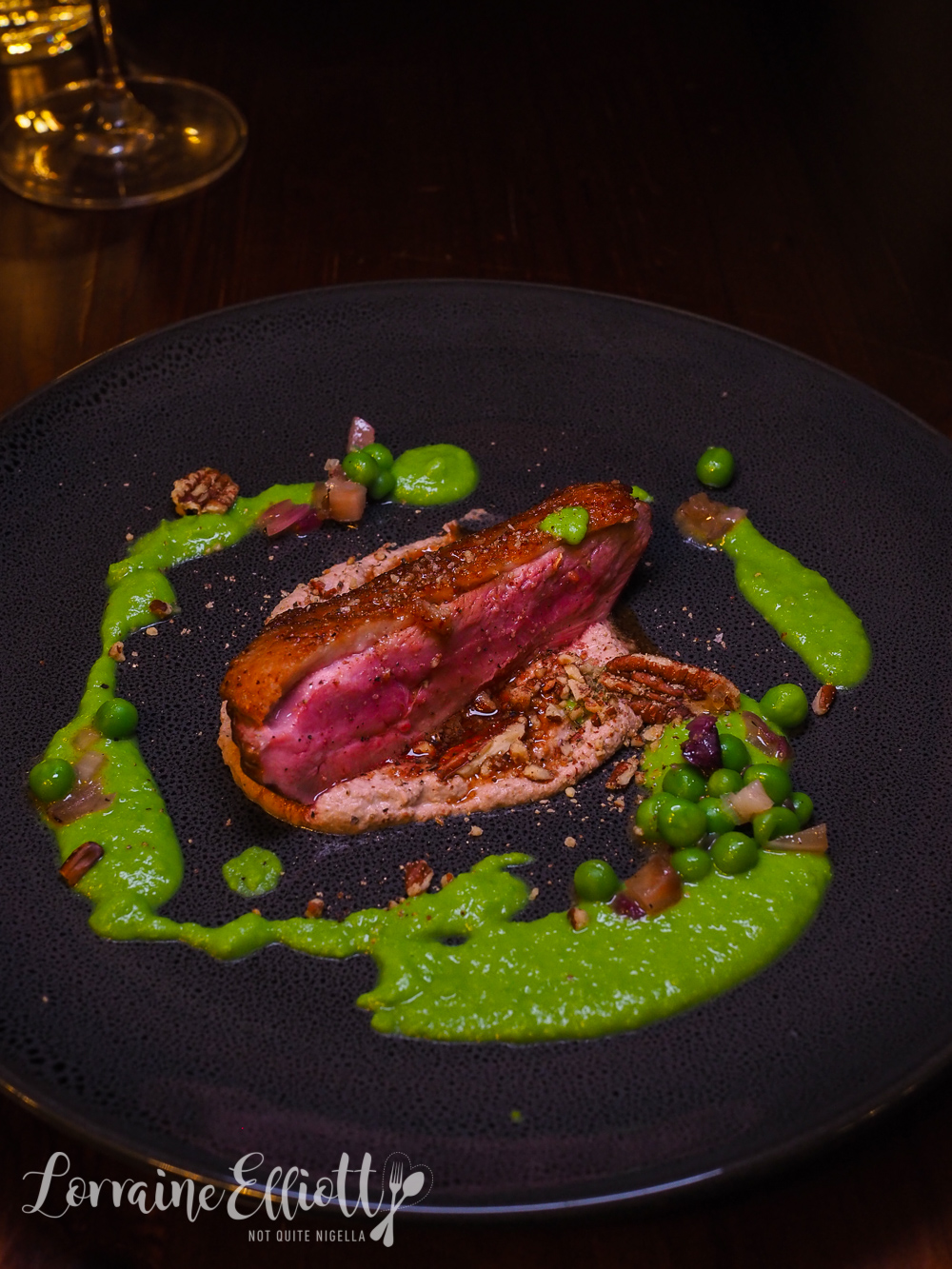 Duck Breast $18
The duck breast with pecan puree is a delight. Sometimes duck breast can have a chewy texture when they try and get the crispy skin but this is wonderfully tender. It's paired with pecan puree, peas and red onion.
House made Malloredus $16
The malloreddus pasta has an appealingly chewy texture with a sweet and spicy agrodolce tomato sauce to it. I could happily eat a large bowl of this by the fire.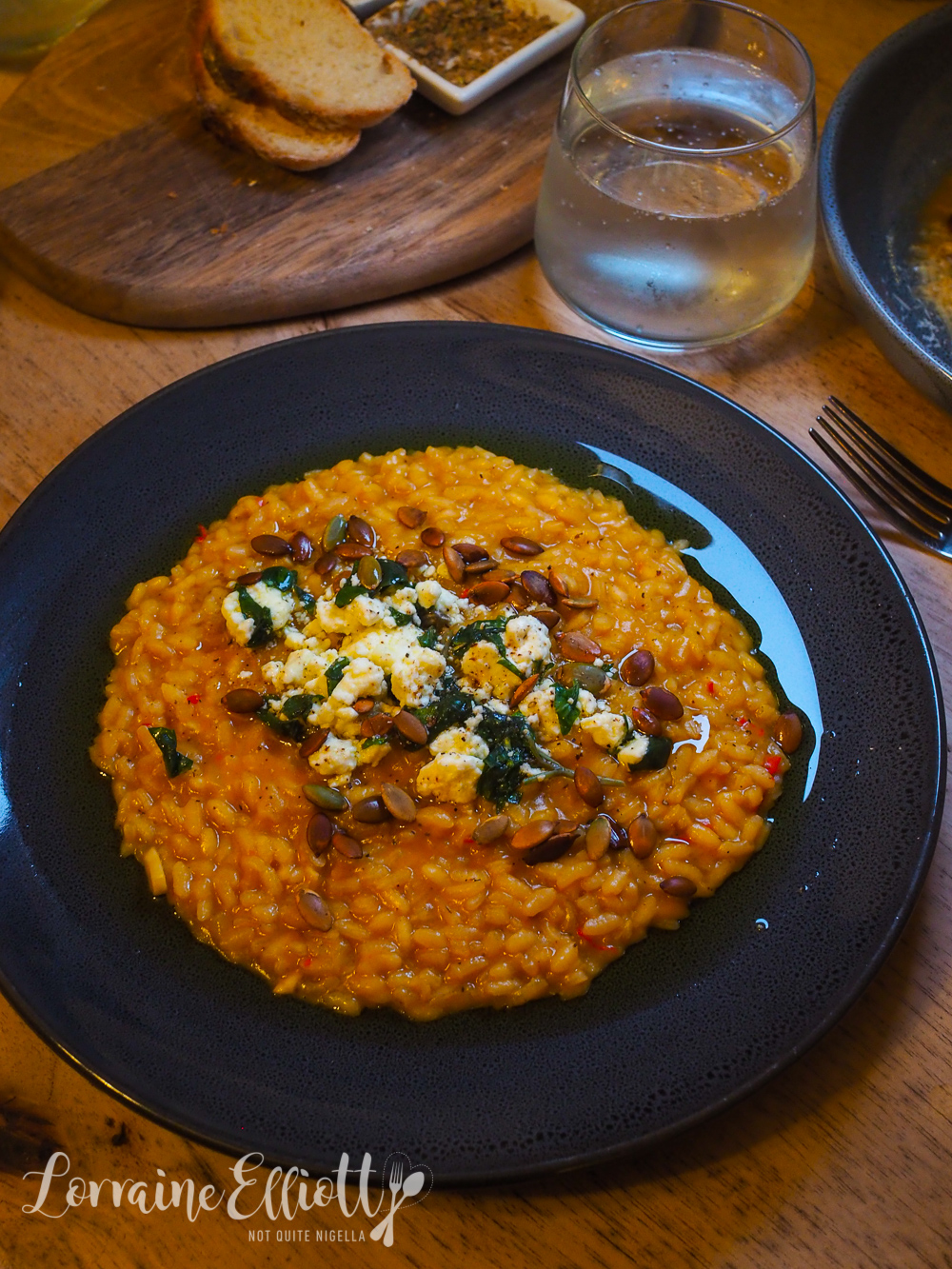 Pumpkin Risotto $28
Mains-wise, if the pumpkin risotto is available, do try it. The house made cheese is like a firmer version of ricotta but never reaches the salty depths and firmness of ricotta salata. It's finished with pepitas and a drizzle of oil.
Baked Snowy Mountain Trout $36
The restaurant's signature dish is the baked Snowy Mountains trout which is a whole baked rainbow trout with parsley, potatoes, confit capers and eschallots. It can be tricky to extricate the fine bones but if you pursue, you will be rewarded with a feast of perfectly cooked trout, and a local one to boot too.
200g Scotch Fillet $42
If you feel like steak there is also a scotch fillet from Rennylea in the Murray Valley with Southern NSW carrots, red wine jus and purple mustard. The fantastic purple mustard accompaniment is made with red wine and port and is also made in-house too and gives the dish the fruity element.
Candied Mandarin, white chocolate gaanche , almond crumb and sherbet $18
Our pick for dessert is the candied mandarin, cooked so that you can eat the skin and all. It comes with a sweep of white chocolate ganache and a buttery almond crumb and sherbet. It's sweet, citrusy, buttery and creamy and immensely satisfying.
In the morning, I am awoken by the gentle occasional bleating of sheep. I open the blinds and a large flock of sheep and lambs are grazing right outside our window. We get dressed and go up to the main lodge house for breakfast.
Avocado toast
The country sized breakfast of avocado toast (with the addition of bacon) has three slices of bread, mashed avocado with plenty of seasoning and spices and a tumble of bacon curls as well as a poached egg on the side.
French Toast
The French toast with berries and yogurt is four pieces of soft, spongy bread and a pot of maple syrup on the side.
On weekdays, breakfasts run slightly differently. There is a choice of a sweet or savoury bowl. I pick the savoury choice which is sourdough toast, avocado, sausage, tomato, mushrooms, chutney, cheese and boiled eggs which is substantial and enjoyable.
Sweet toothed Mr NQN loves the sweet bowl with yogurt, marmalade, fruit, warm croissant and cinnamon scroll.
We don our thickest coats for a walk down along the river for this chilly day. Cows graze and we make plans to order our dinner in that evening so we can make the most of the solitude and fireplace.
So tell me Dear Reader, how often do you order room service when you are staying at a hotel? Do you always use the bath if available?
NQN and Mr NQN visited Nimbo Fork Lodge as guests of Destination NSW but all opinions remain her own.
Nimbo Fork Lodge
330 Nimbo Rd, Killimicat NSW 2720
Phone: (02) 6944 9099
nimbofork.com.au