Exploring the Snowy Villages and the areas of Tumut, Tumbarumba, Gundagai and Yass? Stop by the Tumut River Brewing Company for lunch and a beer, settle in by the fireplace at Courabyra Winery with a glass of their sparkling rose and a sticky date pudding, visit a local's secret waterfall or go antiquing in some unique, eccentric antique stores!
Tumut
Tim Martin is a busy man. It's a Sunday and he is busy making two batches of beer ands showing us behind the scenes of the popular brewery. Occasionally he will jump up, turn on or off and alarm and adjust a batch and then sit back down.
Tumut River Brewing Company was yet to turn a profit in the 7 years that they were in operation. This comes as somewhat of a surprise because from the outside it appears thriving. 2019 saw them take out a $100,000 loan from the bank and the bushfires also badly affected their business. It was a hard time.
And now? Post Covid-19 lockdown, people cannot get enough of their food or beer. It's a constant juggle between filling the tanks with product, getting it canned and they are now looking for bigger premises. All of the beer is brewed on site and either sold here or mostly within NSW and Victoria.
The best selling product is their ginger beer called the Ginga Ninja, a delightful concoction made with local Batlow apple juice and ginger. It strikes a fine balance between cider and ginger beer - it doesn't have that fiery hit that some ginger beers have, it's much smoother than that. After we try some we buy two four packs.
Bounty beer (left) and Ginga Ninja
Their beer is made from malt from the Riverina. Using local is important. "It's kind of the point of our existence," says Tim. They use a combination of base malts and flavour malts depending on the beer they are making and each beer can have anything from 1-9 malts in it.
Their flavoured beers like the Bounty have coconut oil, cocoa, chocolate extract and chocolate malt and the beer is also lactose free.
Snowy Mountains Smoked Trout Pizza $26
The kitchen is local too. The menu is made up of pizzas and burgers and we try a fantastic trout pizza with cream cheese, onions, dill and local trout that is delivered to them every day. Their trout supplier's farms are located at the base of a dam on the Tumut River so that the trout swim in fresh water giving them a lovely clear flavour.
Amazeballs $12
The Amazeballs are mac and cheese balls with garlic and bacon and coated in a panko and Aussie Ale crumb. I chose the Canadian BBQ sauce but I think the tomato chilli jam might have given these a bit more pep.
Full Grunt Beef Burger $17.50
All of their beef patties are infused with TRBC beer and this one is paired with lettuce, onion, tomato, Swiss cheese, bacon, egg and their Bad Mofo sauce which is their version of Big Mac sauce. It's enormous and satisfying.
Tumbarumba
After the Tumut River Brewing company we hop in the car and make the drive to Tumbarumba. The burnt snowy gums have a coat of light green leaves. This was one of the most badly affected areas in NSW with the recent bushfires.
In fact our next stop at Courabyra Winery lost around 15% of their vines as fires tore through the area. Thankfully the cellar door was spared.
Courabyra Vineyard was established in 1993 and their vines and the property has a western facing slopes at an altitude of 730 metres. There is both indoor and outdoor seating here and we are here to do some wine tasting and have dessert. Courabyra is an indigenous word meaning "pleasant place or family gathering."
We start with glasses of their sparkling rosé which is what they are known for. It's a lovely dry sparkling in a pretty pale pink hue.
We try some of the sticky date pudding with a generous amount of butterscotch sauce and a big scoop of vanilla ice cream. We also try their Courabubbles Frizzante sparkling, sweeter than the sparkling rosé and the 2017 Gruner Veltliner. We could quite conceivably stay all day sitting by the fireplace but we have places to explore.
Before we head back to our accommodation we have one last stop, around 20 minutes' drive from Courabyra. Paddy's River Falls is a local's favourite spot.
These 18 metre or 59 feet falls are a short walk of around 150 metres from the car park and you can follow the steps to walk under the waterfall itself. In summer it's a popular swimming hole.
Gundagai
One of the most well known stops in the Snowy Villages is the famous Dog on the Tuckerbox statue located at Snake Gully. This was erected in 1932 and was inspired by the poem "Bullocky Bill" by Bowyang Yorke in 1857. The bullock drivers and pioneers were instrumental in constructing the highways. In the poem, it ends with the bullocky driver Bill's dog sitting on his tuckerbox or food box.
Nearby is Train Stop Antiques which is an enormous space with a range of antiques. The train carriages hold the book collection and on this rainy day I enjoy browsing the collections.
Yass
It's still pouring when we stop by the town of Yass for lunch at Kaffeine 2582, a café that serves up fresh juices, coffee and breakfast burgers. We take a seat outside under the heaters and I go in and order breakfast.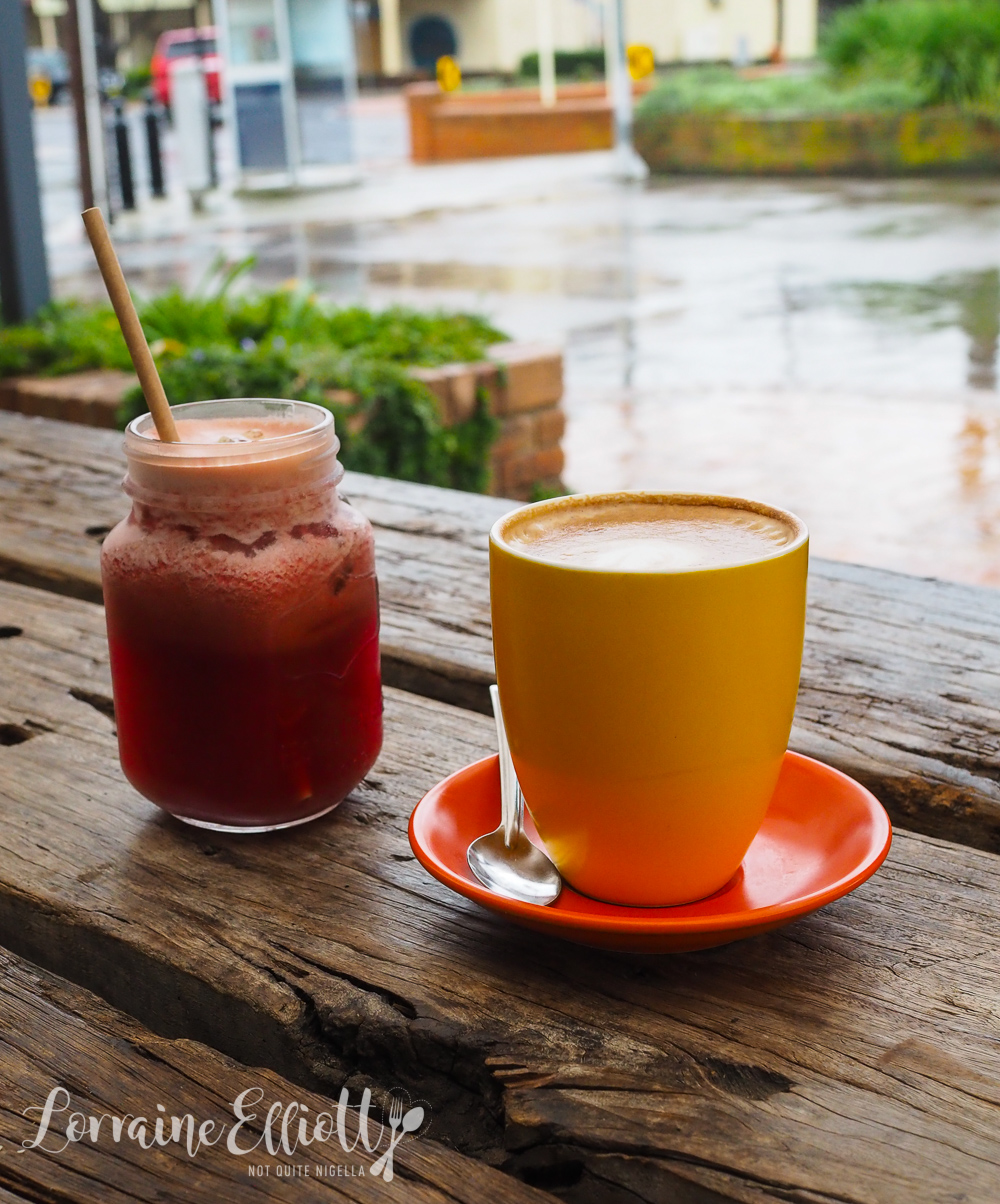 Latte $4.50 and Juice $7.50
I ask for my juice with no ice and it arrives with ice but it's refreshing with apple, a little bit of beetroot and ginger.
Breakfast Burger $14
Our breakfast burger is delicious - with just the right balance of flavours. There's baby spinach, potato rosti, bacon, aioli and a fried egg on a toasted bun.
Breakfast Burrito $16
The breakfast burrito is filled with eggs, spinach, corn relish, chorizo and chipotle cream. It's a little drippy but tasty although the pick is the breakfast burger.
Our final stop is Ross's Relics also on Comur street. The antique store has been here for 14 years and while it may not look like much from the outside, inside it is a labyrinthian treasure cave. Room after room are packed with antiques and retro finds.
If you're into antiques you'll need around an hour to go through it all. I buy some gorgeous bone handled knives and tiny forks and wander around listening to the sound of the rain hitting the tin roof.
So tell me Dear Reader, do you enjoy antiquing? When you travel do you like walks or are you more interested in places to eat?
NQN visited as a guest of Destination NSW but her meal at Kaffeine 2582 was independently paid for.
Tumut River Brewing Company
1/5 Capper St, Tumut NSW 2720
Sunday to Thursday 8am–8:30pm
Friday & Saturday 8am–9pm
trbc.com.au
Phone: 1300 042 337
Courabyra Wines Tumbarumba
805 Courabyra Rd, Tumbarumba NSW 2653 Thursday To Monday 11am–5pm
Tuesday & Wednesday closed
Phone: (02) 6948 2462
Train Stop Antiques
50 Annie Pyers Dr Gundagai, New South Wales 2722
"Dog on the Tuckerbox" precinct
Monday to Saturday 8am-5pm
Sunday 9am-5pm
Kaffeine 2582
1/175 Comur St, Yass NSW 2582
Monday to Friday 7am–4pm
Saturday & Sunday 8am–3pm
Phone: (02) 6226 1263
Ross's Relics
55 Comur St, Yass NSW 2582 Monday to Saturday 9:30am–5pm
Sunday closed
Phone: 0412 591 824