Toastie Smith is a new sandwich eatery at Chatswood Interchange. There's a range of photogenic fat, toasted sandwiches filled with scrambled eggs and other fillings inside. But are they as delicious as they look?
"Where's shop 13?" asks Laura looking at her phone. Chatswood Interchange is a bit confusing for both of us and we wander around looking for Toastie Smith. We find it opposite the Chatswood train station entrance on the bottom station level. There's a queue outside at lunchtime.
Toastie Smith is a small shop with only five people allowed inside at any one time although it doesn't stop the five people waiting inside for their orders which makes things a bit awkward! There are 10 toastie varieties and 3 sides like fried chicken, French toast and garlic toast and we want to order the fried chicken but that's not available.
We take our lunch to the small park nearby and unwrap it. They've packaged them well and everything still looks good and not smooshed in the bag.
The green smoothie is pleasant but it doesn't taste like much apart from yogurt and we can't really discern the avocado, pineapple, baby spinach or chia in it. The lychee and rose soda however is delightful and sweet. It takes us straight back to the Middle East with its intense sweetness.
The basic egg sandwich is the Eggsmith and at $8 it's actually good value for a lunchtime sandwich. The base for all of the sandwiches are scrambled eggs and a roasted sesame slaw with cheese in a lightly toasted bread that is split partway down. This one has scrambled eggs, cheese, roasted sesame flavoured slaw, spicy tomato relish, sweet corn, fish roe, chives and chipotle. The first thing I think when I take a bite is a) I should not have worn red lipstick on today's lady lunch date and b) why is it so sweet? Having said that it is tasty but it is a surprisingly sweet sandwich. It's a bit messy and wet at the bottom but I like the soft, slightly sweet toasted bread and the texture of the scrambled egg.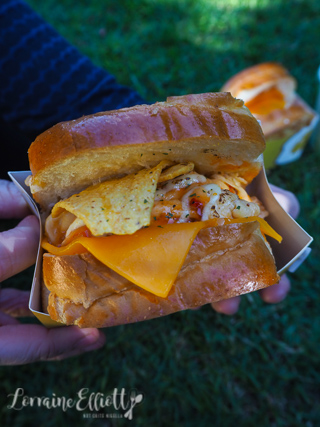 The shrimp in the egg is both of our favourite and at $12.95 it is the most expensive item on the menu. It has scrambled egg, cheese, roasted sesame slaw, grilled prawns, corn chips and sweet chilli sauce. The corn chips really work in this and while messy it's satisfying.
Laura doesn't eat beef so I have the wagyu beef toastie to myself and I also really enjoy this one. The wagyu one has scrambled egg, cheese, roasted sesame slaw, Japanese style simmered wagyu beef, onion, truffle mayo and seaweed. The only thing? I wish was that the cheese in all of these sandwiches was melted.
The taro breeze toastie is a bit unusual. It's like a taro paste with pork floss and rose petals and is mostly sweet with a bit of salty from the pork floss. The menu says osmanthus but they have replaced it with rose petals. It's an undeniably Asian flavoured toastie and although we both like all the flavours, it's probably one to just try once to tick off the list but perhaps not order every time. It is very pretty though!
So tell me Dear Reader, which toastie would you pick? Do you like taro?
This meal was independently paid for.
Toastie Smith
12B/436 Victoria Ave, Chatswood NSW 2067
Open 7 days 9am–5pm
Phone: 0421 852 105