Mexico Latte is a café on Mandible Street in Alexandria owned by a couple originally from Mexico City. There are classic Australian cafe breakfast and lunch options but if you look closer there are also authentic Mexican items to take away like Cochinita Torta, Chilaquiles and Divorced Eggs plus an absolutely delicious Good Morning burrito too!
The couple behind Mexico Latte are Cin and Ben Mondragón from Mexico City who emigrated to Australia 7 years ago in 2014 after a friend did the same. Once they arrived they found Mexican brunch offerings scarce in Sydney. "It was something we missed a lot, mainly those weekends with family and friends. That is how the idea of Mexico Latte was born. We picked that name because phonetically, it is a wordplay. "Late" in Spanish means "heartbeat", so it is a way of saying "Mexico is living in here", says Cin.
They first opened Mexico Latte in April 2020 during the first lockdown but they quickly adapted to takeaway. "This year's restrictions represent a more significant challenge as many of our customers live in the LGA's of concern, limiting their mobility. We believe that now is the time to innovate and find different ways of sharing a small piece of one of the biggest culinary cultures in the world," explains Cin. Their clientele also varies, "Sydney people have been very enthusiastic about trying Mexican food. It is common to hear people saying they love burritos (Tex-Mex version). However, when they try ours, they discover that Mexican burritos do not include rice and beans," says Cin.
Ben creates the dishes while Cin takes care of everything else, "We are a two people army!" she says. You can order online 15 minutes before you want to pick it up or you can also call to make an order (although they don't always pick up the phone if Ben is cooking). Everything is ready in recyclable cardboard containers with foil and cling film on the saucier items. Because some items are quite saucy you do want to make sure that you get these home within about 20-30 minutes.
Good Morning Burrito $12
We both love the good morning burrito with scrambled eggs, bacon and chorizo, avocado, tasty cheese in a tortilla wrap. It's so moreish and a perfect breakfast meal in one. Everything is quite mild in chilli so I recommend asking for some hot sauce. "One of the most common requests is for hot sauce, for which we have what we call the "macho muchacho" sauce (homemade)," says Cin.
Cochinita Torta $12
"The pulled pork, also known as "cochinita" was created in southern Mexico," explains Cin. I find pulled pork in Australia is quite saucy (although this is probably the adapted version). This one is quite different and doesn't rely on sauce for flavour. The key to the pulled pork here is "achiote" that gives it the characteristic cochinita flavour and colour. It's full of flavour and soft, pulled pork roll with refried beans, avocado and pickled Spanish onion on a roll. The bread top is quite thick but it's soft and warm and super fresh.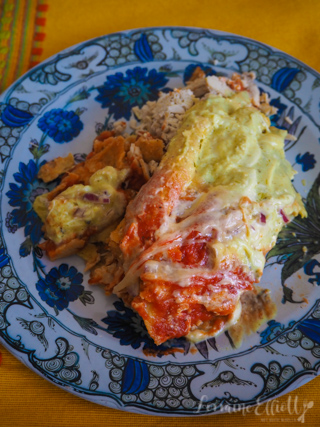 Swiss Enchiladas $19
I love the Swiss Enchiladas. They didn't travel as well but the looks belie the taste. It's three corn tortillas filled with shredded chicken breast and a creamy green "tomatillo salsa" and a tomato based sauce. It's finished with tasty cheese and baked. Cin tells me about the story behind these, "The Swiss Enchiladas is a dish created in a small coffee shop in Mexico City's town hall around 1865. They are corn tortillas rolled and filled with chicken, covered with a creamy sauce and melted cheese. Traditionally, the creamy sauce is all green, made of tomatillos. We prepare ours with red and green creamy sauces to resemble the colours of the Mexican flag."
Divorced Eggs $15
Whenever I see divorced eggs I always smile at the name that comes from the contrasting colours of the salsa roja and salsa verde. It's two fried eggs on a bed of refried beans on a corn tortilla with salsa roja on one side and salsa verde on the other. "In Mexico, it is pretty common to play with the meaning of words and phrases. The Divorced Eggs are a good example of this. They are a variant of "Huevos rancheros", which are served with red sauce only. We call them divorced as they started together but are now separated by different sauces," says Cin.
Chilaquiles $16
The chilaquiles (pronounced chee-lah-KEE-lays) are fried corn tortilla pieces simmered with salsa roja topped with a fried egg, sour cream, feta and chopped raw onion. Cin explains, "The name Chilaquiles comes from Nahuatl "chil" which means chilli, and "aquili" which means inside something. Therefore, Chilaquiles is a dish prepared with corn chips immersed in chilli sauce. Nowadays, chilaquiles are an everyday breakfast served with fried egg or chicken, topped with cream, onion and crumb cheese. Nothing better to start the day!".
So tell me Dear Reader, have you tried many Mexican brunch dishes? What is your favourite brunch dish?
This meal was independently paid for.
Mexico Latte
2A Mandible St, Alexandria NSW 2015
Open: Tuesday to Friday 7am-4pm
Saturday and Sunday 8am-2pm
Closed Mondays
0459 355 309