Haidilao is a Chinese Hot pot restaurant and an unique dining experience. While waiting for your table you can get a complimentary manicure and there are dancers, robots trolling the aisles and noodle twirlers!
The Haidilao chain originated in 1994 in Jianyang, Sichuan and now boasts 935 stores around the world. Although they've been open in Sydney since June 2020 they don't have much of a social media presence and we had only heard about them when Laura's sister in law dined there and enjoyed it.
Robot
"I don't think I've ever had hot pot," whispers Laura. We've just picked her up on Saturday night and our non-sexual throuple are on our way to Haidilao at the Westfield Chatswood. It's located adjacent to the Hoyts cinema on the 6th floor and there's already a large crowd outside waiting for a table.
The sign at the front tells us that there are exactly 43 tables ahead while another television lets people know of the upcoming availability for small, medium and large groups and the number of parties in line ahead of them. Luckily when we first planned this dinner a few weeks ago I booked online so we don't have to wait for a table. However we're a little bit disappointed that the manicure room is only available from Monday to Fridays. Oh and if you can't be bothered lining up they deliver to your home and set it up for you.
Manicure room
They show us to a booth and we are introduced to our lovely waitress Leila. Service at Haidilao is a big feature. Everyone talks about how good the service is and it is indeed excellent. While Chinese restaurant service can be brusque, the service here is like Japanese style service crossed with your favourite Chinese auntie. Leila helps us place an order on the tablet and we choose the soups and then she leaves us to pick the ingredients only gently prompting us once when we are slow.
And when she sees that my sleeves might be dragging in drips on the table she brings me "shower caps" for my sleeves which she places on my arms. She also brings aprons and refills our cups before they're empty and nothing is too much trouble, even our odd request for a selfie with "Tommy tomato" the giant plush tomato soup mascot (we gave him that name as we couldn't find out his name).
Happy Birthday singing
Even the bathrooms (which are actually quite nice with mouth wash, toothbrushes, L'Occitane toiletries and a tiny sink for kids) have signs letting patrons know to let staff know if they have any sanitary item needs.
The Haidilao menu has everything from the tofu, beef and vegetables to pork aorta, fresh brains and marinated chitterlings although it isn't as enormous as some that we've encountered. There's also even a "comment" section where you can send the staff a message (either a praise, criticise or personal advice!), order more, or get a queue number for the manicure.
Mr NQN has a plum juice while Laura has a watermelon juice and I stick with water. Immediately we're being distracted by everything going on around us. One minute, it's a man coming out doing a noodle hand pulling display in front of a table, the next a masked performer in a Sichuan opera costume comes out and performs a dance interacting with the crowd changing masks as he goes.
Then there's the many Happy Birthdays sung to groups complete with bilingual LCD sign held up by staff and a chorus of singing. The convivial atmosphere is contagious and we almost forget that while all of this is going on, they're laying food out on the table for us and on the shelves at the end of the table.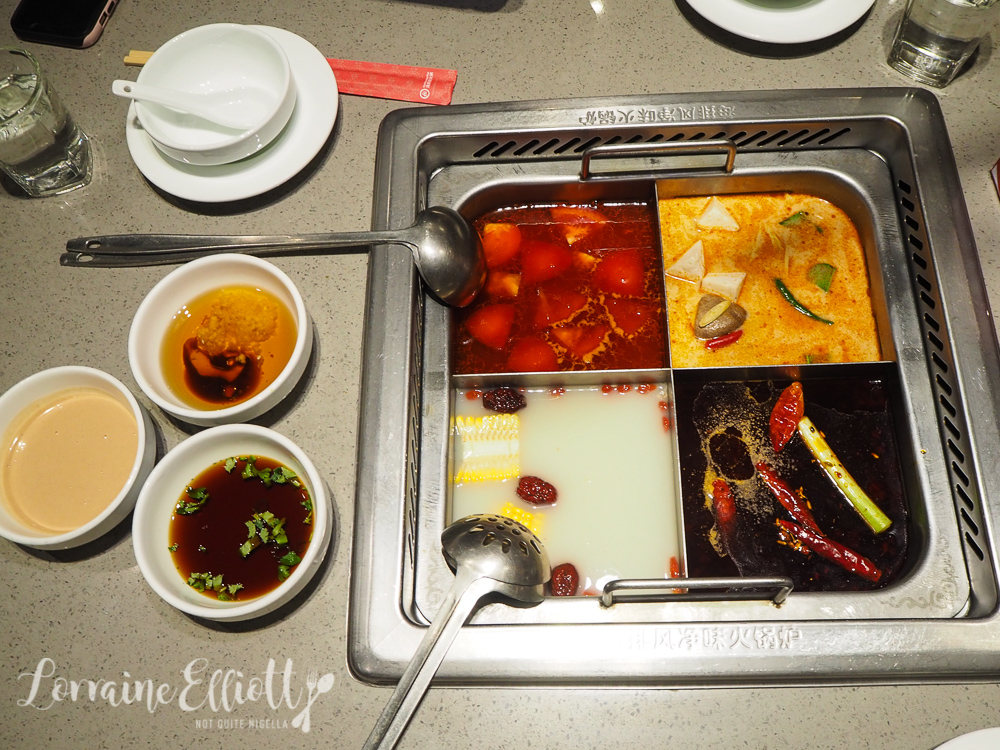 Bases $48.60 for 4
Which brings me to the food. We tried four soup bases: chicken, tomato, classic spicy beef and tom yum and I'd recommend these four for both variety and flavour. Even the chicken which is usually the blandest option has plenty of flavour to it. I adore the signature tomato one for its spiciness and richness while the spicy mala soup is nicely numbing and full of flavour having being simmered for 4 hours and the tom yum is perfect for seafood choices.
They also come out with three sauces: a home made soy sauce with shallot and coriander, a home made sesame paste and my favourite, a house made sesame oil with garlic and oyster sauce.
Signature Shrimp Paste $18.90
The signature shrimp paste is shaped like a leaf and Leila offers to help us with it and considering how distracted we are, we are very grateful for the assistance. She asks us which soup we'd like the shrimp paste in and we tell her to distribute between the four (pssts it's best in the tom yum).
She scoops it up into small balls and tells us that they take 3 minutes to cook. The prawn meat absorbs the soup flavour and we make sure to scoop out the balls before they overcook and become rubbery.
Ox Tongue $11.90 half portion
I love ox tongue but thinly sliced beef is quite prone to overcooking so I probably wouldn't order it again. It only need about 15 seconds of cooking.
Dancing Noodles $5.90
We also ordered the dancing noodles just for a bit of spectacle. These are pulled at the table by a man who dances a little and twirls these around like a low key rhythmic gymnast.
These noodles actually cook up well in the soups too as they have a thicker, slightly chewier texture.
Laopau Marinated Beef $16.90
The marinated beef was probably my favourite item along with the scallops and shrimp paste. It's incredibly luscious and tender and just the right thickness for the soup so that it rarely overcooks.
Left to right: Quail Eggs $8.90, Sweet Potato Vermicelli $6.90 and Fish Roe Balls $9.90
One of Laura's favourite items are the quail eggs and they're very tasty and versatile and because they're already cooked you don't have to cook them very long and yet you can't really overcook them too so that's a win-win.
This sweet potato vermicelli is a thick noodle with a thickness like pappardelle. It's stiff when uncooked but once added to the broth it becomes slippery and chewy and rather addictive.
There are a few types of balls and they're always good to add to soups. These teardrop shaped ones have a liquidy roe inside them that we love.
Plain Noodles $3.90
One always needs plain noodles and the advantage to these is that you can cook them as al dente as you want. I would love a little ladle basket for the noodles that you can cook them in the broth or you do end up losing some to over cooking.
Deep fried coconut roll $9.90
You often see these as noodle wrapped prawns but inside is a rich, creamy texture coconut filling inside the crunchy noodle outer. These are very rich and sweet but it's nice to have something with a crunchy texture with hot pot.
Seafood Platter $32.90
The seafood platter is good value and comes out on ice so it stays fresh especially near the bubbling cauldrons of soup. The roe on scallops are everyone's favourite especially in the tom yum broth and the fish is also delicious. We managed to overcook the mussels and prawns due to inattentiveness. I also think the prawns would be better already peeled because I hate getting my hands dirty with saucy, hot prawns.
Assorted Vegetables $13.90
The assorted vegetables are a mix of mushrooms, watercress, vermicelli, cabbage, bok choy, lettuce and corn cobs. The best items are the cabbage and corn cobs in the soups. The watercress isn't a great vegetable to add to the broth as it cooks down to almost nothing but thin strands. Usually Chinese hot pots have sturdier greens like Tong Ho or garland chrysanthemum which are fantastic and perfect for soup cooking.
Egg Dumpling $9.90
The egg wrapper dumplings aren't filled with egg, rather it references the egg in the wrappers. Inside is a mix of minced pork and chunky diced vegetables including water chestnut. They're good and taste fresh and house made (we've been to some hot pots where it's all frozen dumplings).
Mantou buns $5.90
A little recommendation: get these mantou buns if you have the spicy soup because they're handy to dampen the fire on your tongue if it gets too much. They're also perfect for dunking on the soup. These come with sweetened condensed milk.
Black Gold Egg Custard Bun $6.90
A little warning about these charcoal buns. They're tasty but salted egg custard filling is very drippy and liquid!
Ice Jelly Dessert (complimentary)
Although our booking did say that we would be limited to 1.5 hours by 2 hours nobody seems particularly bothered. When it looks like we've finished up Leila brings us a complimentary dessert - osmanthus jelly with small watermelon cubes, goji berries and sesame seeds and orange slices.
Some tips for Haidilao Sydney
1 - Book online. On busy nights you can wait for over 2 hours (it's not a particularly large restaurant). Or get it delivered to your home.
2 - If you want the complimentary manicure visit between Monday to Friday. Other times they will give you a voucher but you have to ask for these, they won't automatically offer it.
3 - You have a choice of four soups from a list of about eight. We had the mala spicy, tomato, chicken and tom yum and we loved them all.
Watermelon Juice $5.90
4 - Soft drinks-wise there are two interesting options: unlimited plum drink for $2 per person or if you're going for the spicy mala soup the watermelon juice is very cooling. A jug of watermelon juice is also a good option although a pricey commitment at $28.
Sauce station (no longer help yourself
5 - The special seasonings are automatically added to your bill. Pre-COVID a fee of $4.50 per person gets you access to a comprehensive buffet of sauces. Nowadays that is gone and you have to ask for yours but make sure to ask for them or you won't get your sauces apart from three sauces and you will have paid for them.
6 - The soup here is fantastic and worth slurping on its own (at some places it is purely a vehicle to cook). Order some fried mantou buns. These come with sweetened condensed milk but they're also fantastic to dip in the soups (watch for spicy oil on top of the Mala soup!).
7 - The spicy classic soup goes best with the crushed garlic and sesame oil dip. The tom yum soup base is best suited to seafood. They recommend the tomato to go with seafood although I found this very versatile along with the chicken soup base.
8 - Super random tip but you'll thank me later: if you get the vegetable selection put the corn in first and eat it last. The corn won't overcook even over a period of 2 hours and the corn that you end up at the end is perfectly juicy and the flavour will penetrate right through the kernels.
9 - There is a complimentary dessert of osmanthus jelly and watermelon and sesame soup as well as orange slices.
As for the bill, it's not the cheapest hot pot, it's on the pricier side but not by a large margin. For the extra service and entertainment, it's worth it.
So tell me Dear Reader, do you like hot pot? Do you have a favourite ingredient or soup base?
This meal was independently paid for.
Haidilao
Westfield Chatswood, Level 6, Shop 607 / 8/1 Anderson St, Chatswood
Open 7 days 11am–10pm
Phone: (02) 9411 2006