Spicy, delicious and thin, this Lahmacun pizza is amazing! If you want to make a delicious spicy mince pizza that is low in stress but high in reward you HAVE to try this! Traditionally this lahmacune pizza is topped with lamb mince but works equally as well with beef mince. This thin based cheese-less pizza has a good amount of topping so that it is delicious but not dry at all. After one bite of this, it instantly became a pushy recipe Dear Reader (aka a recipe I urge you all to make!).
Lahm bi'ajin, lamadjo, lahmacune, lahmajun and lahmajoon (all meaning "meat with dough") are just some of the names for this delicious mince meat topped pizza. It is a dish common across some countries in the Ottoman Empire eg Turkey, Armenian, Syria, Lebanon and Iraq. I'm not qualified to tell you who invented this but I have to tell you that you must make it. If you were intimidated by making pizza dough from scratch give this a go.
I was actually prompted to try this recipe by a Dear Reader, Gihan Touma who used my tomato pizza base to make Manoosh. I made both this and a manoosh and it was fantastic. I love making the bread using the overnight rise because it is just mixing in a bowl with a spatula rather than using a dough hook in a mixer. Overnight fermentation is better for anyone with gluten intolerances too (although this is obviously not suitable for coeliacs).
Don't have time to wait overnight? Knead this dough mixture in a mixer with a dough hook until smooth in texture (around 5 minutes) or by hand (around 10 minutes). Leave this in warm place to rise to double in size for 1-1.5 hours.
The spice mix list may look long but trust me, it's worth it. I have tried this a few times and have never quite hit that food orgasm stage until I arrived at this particular spice mix. Also if you don't want to make the base, the filling is delicious on ready made flatbreads. Just top and bake in the oven.
Sourdough version: replace the instant dried yeast with 100g/3.5ozs. of sourdough starter in summer or 200g/7ozs. starter in winter.
Cheese or no cheese? A lahmacun has no cheese on it and I tried adding mozzarella cheese and do you know what? It isn't as good (and I thought cheese solved all of life's issues)! Feta works better than mozzarella but really it's best as it is and cheese-less.
There should be a category of food. Food that you enjoy standing up. It includes food eaten at the kitchen bench or sink. Like food you cannot stop eating. Remember that book "French women never get fat?" It advocated setting a nice table, using nice plates and making a ceremony out of eating. That's great but there should be a follow up called, "I ate it while standing up and didn't care cos it's 2020."
I recently gave Ivy some strawberry cinnamon buns and she messaged me, "I ate TWO strawberry cinnamon scrolls standing up. So eff you. I'm now FAT."
This Lahmacun is similarly addictive. I had just finished eating lunch which was a salad and a mini pizza and then I ate one slice and then another slice. I could not stop, nor did I care to. So I give this to you with a modified warning, share this around or eat it all by yourself, just enjoy every bite!
So tell me Dear Reader, do you sometimes just eat food while standing up because it's so good you can't move or stop? Have you ever tried lahmacun?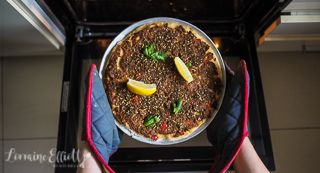 Did you make this recipe?
Share your creations by tagging @notquitenigella on Instagram with the hashtag #notquitenigella
Lahmacun Turkish Spicy Mince Pizzas
An Original Recipe by Lorraine Elliott
Preparation time: 30 minutes plus overnight or 1.5 hours resting time
Cooking time: 15 minutes per pizza
Makes 4 pizzas
Start this recipe the day before if you can
For dough
600g/21.2ozs. flour
2 teaspoons instant dried yeast
2 teaspoons garlic powder
450ml/15flozs. water
3 teaspoons salt
1 tablespoon oil
For topping
2 onions, peeled
4 cloves garlic, peeled
5 cherry tomatoes or 1 tomato
4 tablespoons/80g/3ozs tomato paste
20g/1 cup parsley leaves
2 large red chillies
500g/1.1lbs minced lamb or beef (lamb is traditional)
2 tablespoons pomegranate molasses
3 teaspoons of salt (or to taste)
2 teaspoons smoked paprika
2 teaspoons Turkish Aleppo chilli or cayenne chilli powder
2 teaspoons cumin seeds
1 teaspoon sumac
1 teaspoon black pepper
1/4 teaspoon ground cinnamon
To serve:
Fresh parsley and lemon wedges
After overnight rise
Step 1 - Make the dough first by whisking the flour, yeast and garlic powder together in a very large bowl. Dissolve the salt into the water and then mix into the flour mixture and make sure that there isn't any dry flour bits. With a silicon spatula shape into a ballish shape (it won't be overly stiff) and drizzle with oil and cover and leave to rise overnight. See above for quicker method if you don't have time to wait overnight.
Step 2 - Make the filling. Place the onions, garlic, tomatoes, tomato paste, parsley and chillies in a food processor and chop until fine. Add the mince, pomegranate molasses, salt, smoked paprika, chilli, cumin seeds, sumac, black pepper and cinnamon and process until smooth in texture. I always try the mixture by heating it up and tasting it because you need to check it for seasoning.
Step 3 - Preheat oven to 230C/460F and have a few 30cm/11.8inch pizza trays ready (you can also do this on parchment, the pizza trays just help to keep it in a round shape). Have a bowl of flour for sprinkling ready. Oil your hands and section the dough into quarters. Take a round pizza tray and sprinkle with flour. Shape dough into a ball and press out. You may need to rest it for 5 minutes or so while stretching it out. The dough should be thin and even (unlike say a Neapolitan pizza where the edges are puffy). Spread the beef mixture over the top reaching to the edge. Bake for 15 minutes. Serve with fresh lemon and parsley.