These amazing strawberry cinnamon buns come with a softness guarantee! These buns are so light and fluffy, with a wonderful jammy strawberry filling made of fresh strawberries and a cream cheese, vanilla and lemon glaze on top! They're a pushy recipe Dear Reader!
Spring is here and first comes the strawberries and then comes the rest of the fruit parade. I had to buy some extra punnets of strawberries when I saw them and then I realised I didn't have anything in mind for them apart from admiring their perfection. Enter these strawberry cinnamon morning buns!
I can't lie to you my lovelies. These involve a lot of steps and aren't the sort of thing you whip up in 10 minutes. But if you want a distractingly delicious kitchen project that results in something wonderful to eat in the end (and more than a dozen of these plump, soft babies), these strawberry cinnamon buns are it!
Let's talk shortcuts: Okay there isn't a huge shortcut with the dough and for this recipe we use the secret weapon for soft bread called tangzhong. It's a simple water roux and takes less than 5 minutes but it makes such a difference with making your bread a) softer and b) last longer.
You can sub the strawberry filling with strawberry jam but I'd recommend using a lower sugar jam or one that is naturally sweetened or they will be very sweet, especially with the glaze.
You can skip the glaze too but this cream cheese glaze is simple and gorgeous so I never tend to skip it unless I've run out of cream cheese.
Sometimes I am very clumsy in the kitchen and when I made this batch was one of those days. This often happens when I experiment with recipes. Today I was bending down and putting away some plates and banged my head on one of the shelves above. Mr NQN winced as he saw me do it. "Put some ice on it," he said. I put a big ice cube in a ziplock bag and applied it to my head in between cooking. Unfortunately I hadn't zipped the bag up properly and water leaked out on the floor and I almost slipped on it.
Still, my day in the kitchen wasn't nearly as terrifying as last Sunday! I promised to share the story of it because I put it on my Instagram stories and a few people asked if I would share the story of what happened.
My friend Monica picked me up from my house and we were off to an outdoor market for lunch. Her phone pinged that someone was at her door and then her neighbour rang. She put it through to voicemail as she was driving. Then a few moments later her neighbour rang again.
"Your smoke alarm is going off!" she said. "There's smoke coming out of your house! I'm ringing the fire department!" she said before hanging up.
Monica has two beloved Devon Rex cats, Cacio and Pepe (cheese and pepper) at home. Her partner Marco was at work and we were about 15 minutes away. Monica swung into action. "If someone stops me asks me 'Where is the fire?' I'm going to answer, 'At my house!'," she said.
Now Monica is the least pushy person I know, but she leaned on her horn and manoeuvred her car expertly through the snarl of inner west traffic past cruisy Sunday drivers. I felt like I was simultaneously in a movie but I also felt safe too as she fell into full Italian race car driver mode. Marco shut the shop he was working at and rushed home to try and save the cats and the house.
As we rounded the corner to her street Monica said, "I can smell smoke!". There were two fire trucks and billows of smoke. The whole neighourhood had came out to watch the spectacle while firemen ran in and out of the house and down the side.
Marco emerged from the front door, soot covering his face and hands. He had rushed in before the fire brigade arrived to a wall of smoke. It turned out that the cause was a malfunction of a radiator in the back bathroom that was heating up a home brew and the plastic had caught on fire. Plastic gives off a lot of smoke and that had set off the alarm - thankfully before anything could seriously burn. It was small mercies like this and that it was the back tiled bathroom that helped contain it.
And the cats? They were hiding upstairs safe and sound but understandably a bit skittish. Poor Monica burst into tears when she saw Cheese's tiny pink nose with soot on it and she gently wet a tea towel and cleaned it for her while Pepper stayed upstairs. And Monica being Monica was busy thanking me (I did nothing, she was amazing!). "I'm fine, I was quite happy watching the firemen!" I added.
So tell me Dear Reader, have you ever had a scary experience like this? Do you like kitchen cooking projects like this that take a bit more time?
DID YOU MAKE THIS RECIPE? Share your creations by tagging @notquitenigella on Instagram with the hashtag #notquitenigella
Strawberry Cinnamon Buns
Rated 4.8 out of 5 by 5 readers
An Original Recipe by Lorraine Elliott
Preparation time: 45 minutes plus 1 hour 20 minutes rising time
Cooking time: 30 minutes
For the bread:
525g/18.5ozs. bread or plain flour
125ml/4flozs. water
50g/1.7ozs butter, softened
190ml/6.4flozs. milk
65g/2.3ozs. sugar
2 large eggs, at room temperature
1 teaspoon vanilla
1 teaspoon salt
1 tablespoon/8.5g yeast
For the filling:
50g/1.7ozs butter, melted and slightly cooled
250g/8.8ozs. strawberries, hulled and halved
90g/3.2ozs. sugar
1 teaspoon ground cinnamon
2 teaspoons cornflour mixed with 1 tablespoon cold water
For the glaze:
40g/1.4ozs. butter, melted
65g/2.3ozs. cream cheese, softened
75g/2.6 oz icing or powdered sugar
1/4 cup/60ml/2flozs. milk
1 teaspoon vanilla extract
Finely grated zest of 1/2 lemon
Step 1 - First make the tangzhong roux. Take out 20g/0.7ozs of flour from the total weight of flour and mix with the 1/2 cup of water. Heat in a small saucepan until it reaches 65C/149F and the whisk in the butter, then the milk, sugar, eggs, vanilla and salt until smooth.
Step 2 - Place the remaining flour and the yeast in the bowl of a stand mixer and then stir in the tangzhong roux. Then knead for around 10 minutes or so or until you get the window pane effect where you can gently pull apart the dough so that you can see through it without the dough breaking.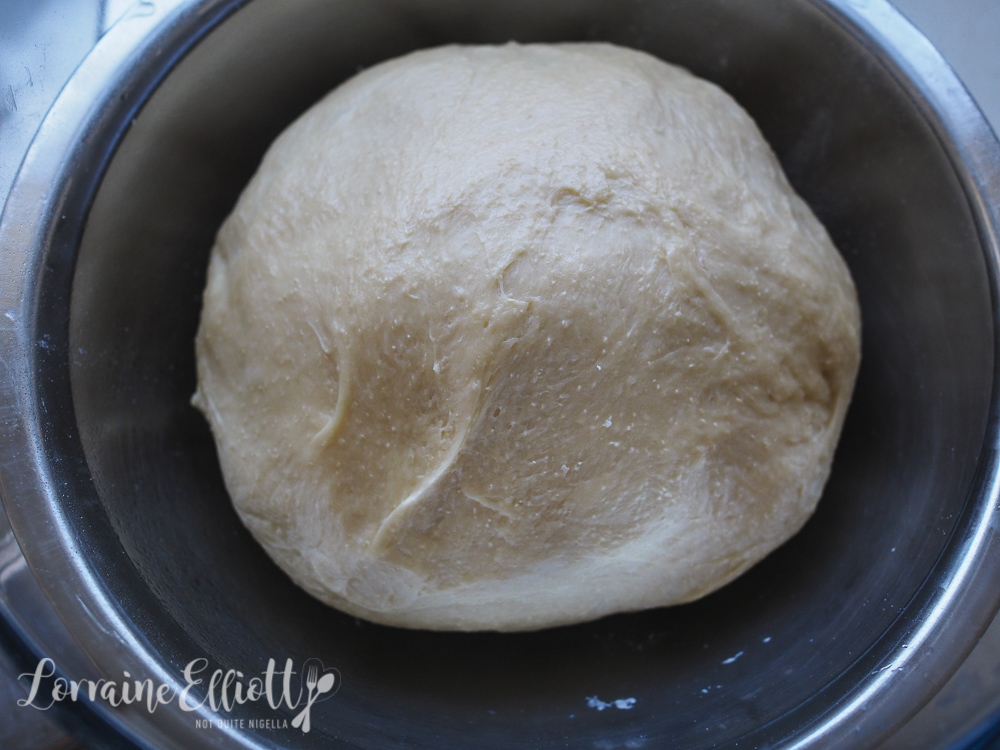 Step 3 - Place in a large oiled bowl and cover and allow to rise until 2-3 times the size (around 1 hour).
Step 4 - In the meantime while it is rising make the strawberry filling as it will need to cool completely before using it. Blend the strawberries, sugar and cinnamon together and then place in a small saucepan on medium high heat and cook for 5-7 minutes or so and allow the berries to soften and release all the juices. Take the saucepan off the heat and add the cornflour slurry mix and allow to thicken and become jammy. Place in a shallow bowl and cool completely (I pop it in the fridge after about 20 minutes).
Rolled out dough brushed with butter
Step 5 - Line a 22x30cm/8.6x12inch baking tin with parchment and flour a large surface. Punch the dough down and then roll it out to become around 50x40cms or 20x16inch rectangle. I find it easiest to stop halfway and rest the dough for 5 minutes once I stretch it out to a certain size as the gluten won't allow you to stretch it further.
Then spread with strawberry filling
Step 6 - Brush the dough with the melted butter and then spread with 3/4 of the strawberry filling. You won't use it all. Roll the dough up from the longest side (the 50cm/20inch side) to form a log. The dough and filling will be quite soft but that's ok.
Slightly misshapen but we will fix this!
Step 7 - Using a serrated knife, cut the ends off (cook's treat!) and then cut the rest into 12 slices. Place in the prepared tin. Now the rolls will look a bit misshapen at this stage because the strawberry filling is soft so I reshape them back into the round shape using my hands and use the reserved strawberry filling to refill the layers. Allow to rise for a second time for 20-30 minutes. Bake in a 180C/350F oven for 25 minutes or until lightly golden.
After reshaping and refilling
After 25 minute rise and before baking
Step 8 - To make the glaze, blend the butter, cream cheese, icing sugar, milk, vanilla and lemon zest. Pour the glaze over the warm buns and serve. These buns also freeze well for 3 months. Store the buns in the fridge as the cream cheese icing requires refrigeration.
After baking