These spicy Asian any mince noodles were inspired by a Dear Reader who asked me for recipes to use up items that they had stockpiled in quarantine. One item was freezer mince and the other was tinned beans. And that's how I came up with my spicy any mince noodles!
This recipe uses turkey mince which I fished from the depths of my freezer. I only bought it because that was the only mince left. You can really use any mince for this whether it be pork, chicken, beef or even meat substitute minces. The spices and flavours in it really take over the mince flavour.
Same goes with the noodles. I used fresh noodles from Iikokmazesoba who delivered them but fresh or dried noodles work.
I almost wasn't going to blog this except it was so delicious once I tasted it that I decided to write up the recipe. Also this is an infinitely adaptable recipe.
I am loving this warmer spring weather as winter has felt so long this year and COVID made winter feel even longer. I feel somewhat safer using up some of the stuff that we accumulated during the midst of COVID and numbers seem low (for now) and well done to Victoria! A while ago Teddy went to his birthday dog birthday party. His friend Teddy Roo was turning 1 and his mum Sammie had arranged a big party for him including 28 of his closest puppy friends.
Teddy E and Teddy Roo in Hawaiian shirts just because
Mr NQN said to me, "I was thinking of giving Teddy a bath tonight and then I can fluff him up for tomorrow," which made me smile because he knows how much I love a floofy Teddy. The invite asked each dog to come as their favourite "T" thing or as themselves. Teddy is Teddy so that was easy (and he also has a T stripe on his head and back). We put on a sushi bandanna that his auntie Monica had given him and he was fluffed up and ready.
There was a canopy set up with one table of dog treats and one with human treats. Teddy is a very sociable dog but as we are quite strict with his diet he got very excited about the treats on offer and basically spent most of the time procuring or eating treats. It was only once he was full that he started playing with the other dogs.
It was a gorgeous day for everyone. It was sunny and the dogs were happy and they got plenty of attention as the owners had dressed them up so adorably. Teddy Elliott made some new friends too.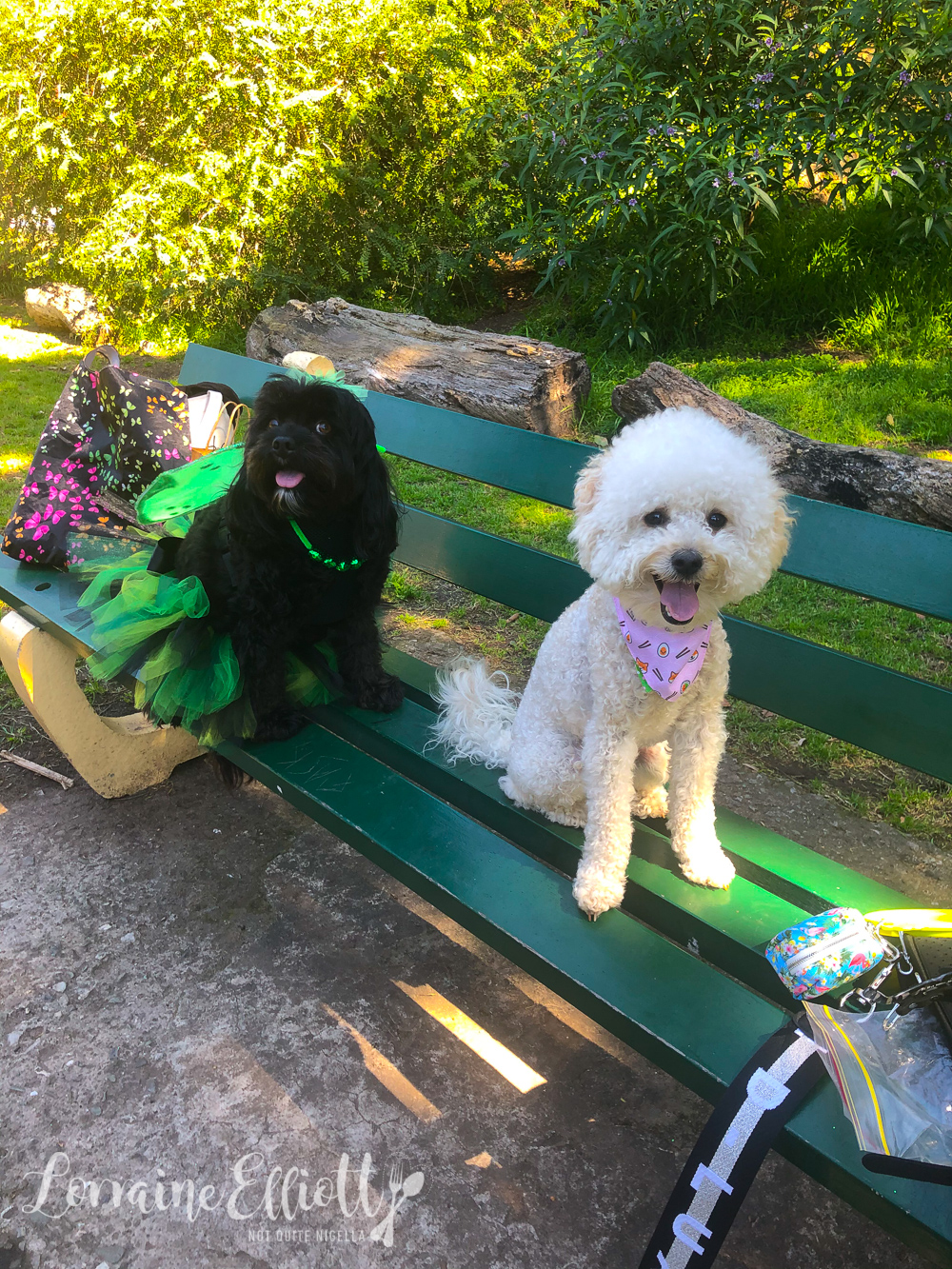 Teddy and Pepperpot
However it was time to go when naughty party guest Teddy Elliott humped the birthday boy Teddy Roo. Then I held up a cookie, they both trotted over and Teddy E stole the cookie and ran off with it (all's fair in love and cookies and I guess he didn't know it was Teddy Roo's birthday). Then when we got home Teddy ran into the bedroom and threw up on the bed!
So all in all, a successful if mildly dramatic first dog birthday party!
So tell me Dear Reader, is there anything that you've stockpiled a lot of? What sort of mince do you buy most often?
DID YOU MAKE THIS RECIPE? Share your creations by tagging @notquitenigella on Instagram with the hashtag #notquitenigella
Spicy Any Mince Noodles
Rated 5.0 out of 5 by 3 readers
An Original Recipe by Lorraine Elliott
Preparation time: 10 minutes
Cooking time: 20 minutes
Serves 6
2-3 tablespoons oil
4 cloves garlic, peeled and chopped
4 green shallots, sliced (or 1 onion)
400g/14ozs. mince (I used turkey breast that I minced up, use any)
4 tablespoons soy sauce
3 tablespoons hot chilli flakes
1 teaspoon ground cumin
200g/7ozs tinned diced tomatoes
200g/7ozs. tinned black beans (use any tinned vegetable*)
2/3 cup tomato paste
1.5 tablespoons white vinegar
3 tablespoons sesame seeds
1 cup pasta cooking water
If you use soft tinned vegetables (eg green beans) add these in at the last minute just to heat them through.
Step 1 - Heat the oil in a large pot and add the garlic and shallots and sauté for 2-3 minutes until soft. Add the mince and fry for a couple of minutes turning to break it up.
Step 2 - Add the soy sauce, chilli flakes and cumin and fry for another minute. Then add the chopped tomatoes, black beans, tomato paste, vinegar and sesame seeds. Cook for 10 minutes stirring to make sure that the mince doesn't stick to the bottom.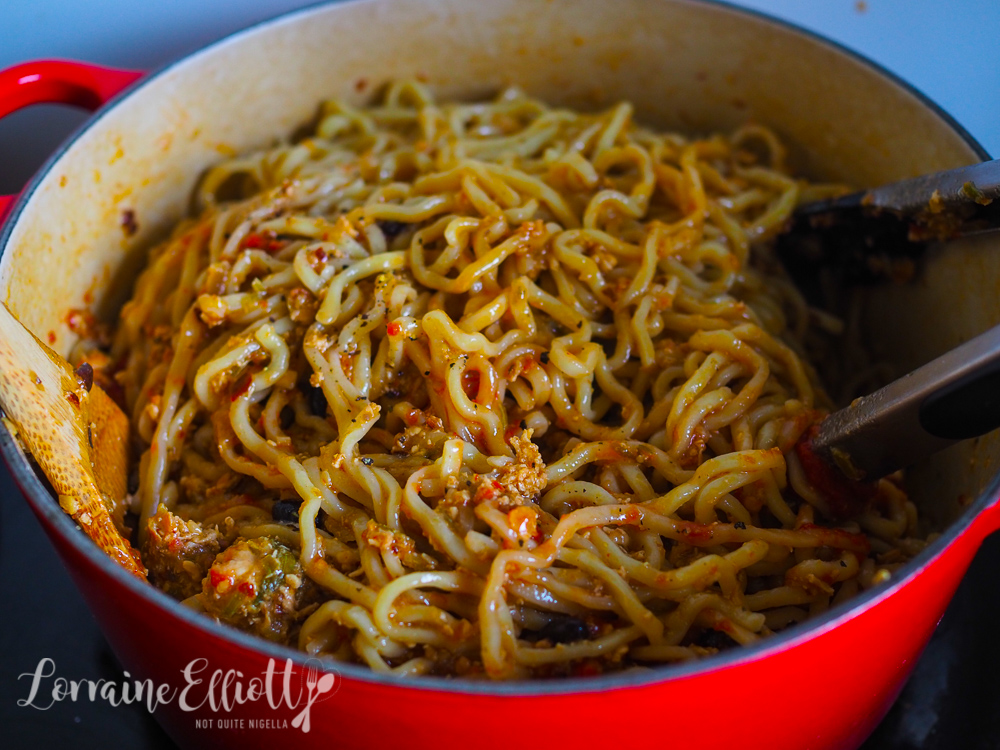 Step 3 - Meanwhile cook the noodles in plenty of salted boiling water. You can use 500g/1.1lb dried pasta or 1kg/2.2lbs fresh noodles. If using dried pasta cook for 8 minutes until al dente. If using fresh noodles cook for 2-3 minutes or according to directions. Reserve 1 cup of pasta cooking water. Add 3/4 of the cup of the cooking water to the sauce.
Step 4 - Drain the pasta and add to the pot of sauce. Season well with salt and pepper and coat the noodles in the sauce adding more pasta water if needed. Serve with extra chilli oil or chilli flakes.