Master the classic Mie Goreng with this utterly moreish recipe! Mie Goreng is a classic noodle dish from Indonesia, Malaysia and Singapore. Noodles are cooked with prawns, chicken and vegetables to create a delicious noodle dish all topped with a sunny fried egg! This is a pushy recipe Dear Reader!
Mie Goreng is a Chinese Indonesian dish said to be created by Chinese immigrants to Indonesia. It is a cousin to Chinese chow mein noodles.
Noodles are said to be good luck in Chinese culture because their length signifies a long life. I like to make these around Chinese New Year because they are easy but also store well and are great for picnics and outdoor eating (I even like these cold!). It is on February 12th this year so it's almost time to get noodling!
DID YOU MAKE THIS RECIPE? Share your creations by tagging @notquitenigella on Instagram with the hashtag #notquitenigella
5 Secrets to the best Mie Goreng:
Rated 5.0 out of 5 by 4 readers
1 - Mie Goreng, like a lot of noodle dishes requires you to fry ingredients and then remove them from the pan and then cook others. This is to keep the pan hot so that the ingredients cook quickly and to get a nice char on them so everything doesn't stew in juices. If you prep these items in bowls then you can just put them back in the bowls they were sitting in.
2 - Don't be alarmed, the amount of prawns and meat is small for the amount of noodles and typically a mie goreng isn't piled high with additions. It's the tangle of deliciously seasoned noodles that is the star.
3 - You can of course use fresh noodles for Mie Goreng but one of my favourite Mee Gorengs is at the Malaysian restaurant Ho Jiak restaurant and they use Indomie instant noodles so I followed suit. I usually don't eat instant noodles but in Mie Goreng they're perfect plus there's another reason why I use them...
4 - I also like using Indomie because you end up using the flavour sachets in the sauce and they add such a great flavour to your sauce. It's what makes them truly moreish (when I made this, I ate three serves!).
5 - I usually don't like instant noodles because I don't like my noodles too soft (I love the chewiness of fresh noodles). But in this recipe I slightly underboil the noodles to give them a better texture.
6 - Lastly, and this is an odd one but I love these noodles cold or even room temperature (which is why I love bringing them to picnics or dicnics haha). I think they really come into their own once they're cooled a little. Give them a go and tell me what you think! :)
My mother and I don't cook together any more but she passed on her folder and books of recipes and this one is vaguely based on it with my additions. I wanted to cook this dish while I was away on the Central Coast with Mr NQN and Laura but we ran out of days.
Although I've travelled with Laura many times as well as Mr NQN of course, it was the first time all three of us had travelled away together. Laura and I are very social while Mr NQN is much more introverted so there are different personalities but we all had our creature comforts. There were only two things that we needed: Laura needed her own bathroom and Mr NQN and I needed a king sized bed.
The day before we left I messaged the woman that owned the property and asked her about which bed was attached to the ensuite. Well it turned out that there was no en suite but there were two bathrooms. We adapted and Laura and I ended up sharing a bathroom and Mr NQN took one to himself.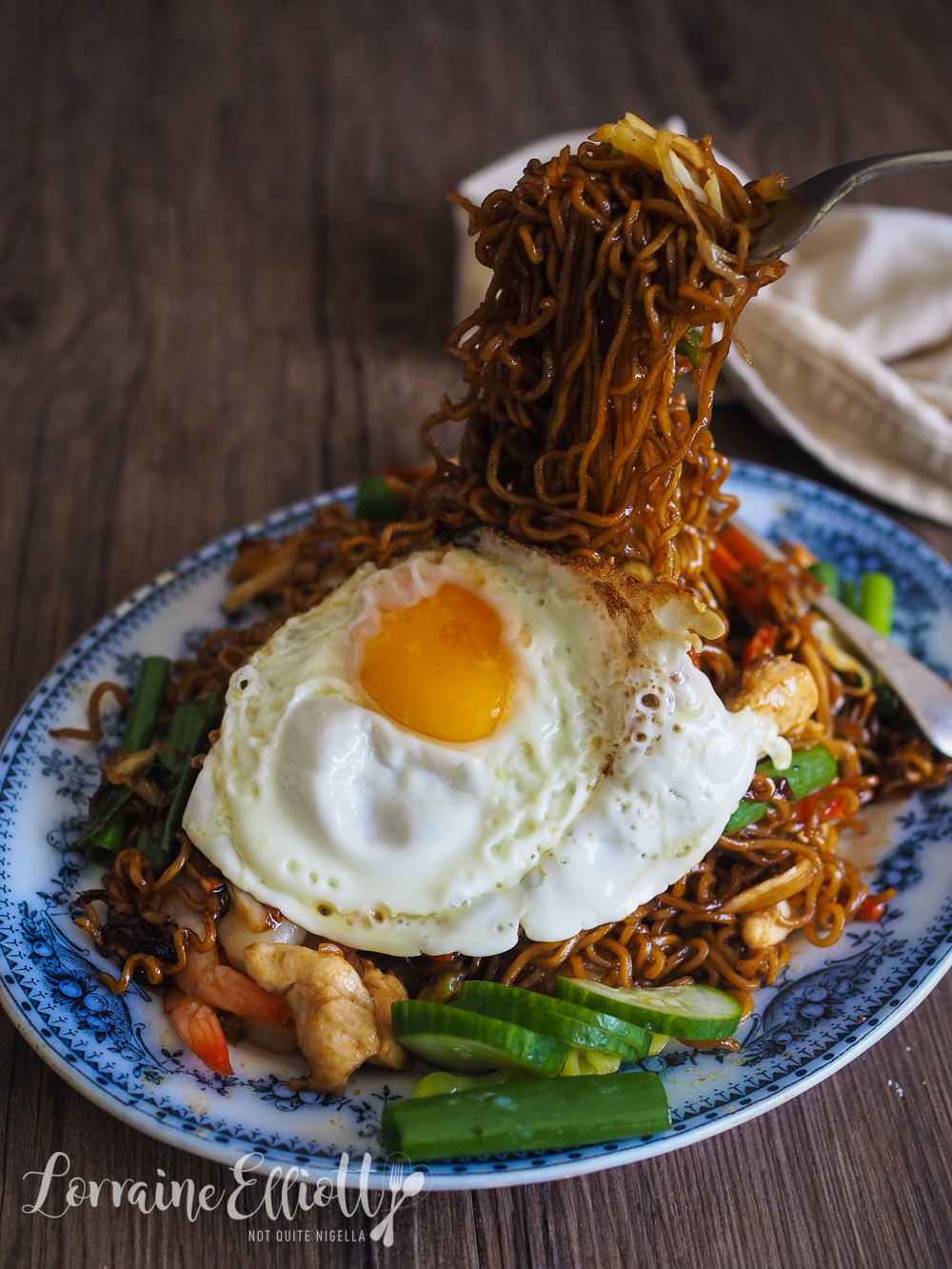 I always think that travelling together with someone is the best way to get to know their character but also their quirks. For example I learned that Laura (the girl that has a Mary Poppins bag with everything because she works in PR) also brings her own bug spray when travelling! There was a bug in one room and out came her own personal bottle of bug spray.
She also learned that I had this thing about my feet. I wash them about a dozen times a day when it's hot. "I'm just washing my feet!" I'd say to Laura whenever we would come back from a walk, or if I was about to put shoes on. I find it cooling and because I am OCD about feelings of cleanliness it makes me feel better. I also leave plenty of long, black hair everywhere so safe to say that if I ever commit a crime, there will be plenty of evidence that I will leave behind! And it's also something to expect when you share a bathroom with me.
So tell me Dear Reader, do you like Mie Goreng? Do you eat noodles around Chinese New Year? And what would people be surprised to learn about you if they travelled with you?
Mie Goreng
An Original Recipe by Lorraine Elliott
Preparation time: 20 minutes
Cooking time: 15 minutes
Serves: 4 people
5x85g/3oz packets of Indomie Mie Goreng (including all seasoning packets)
180g/6ozs. chicken tenderloins (around 3) or chicken thigh, cut into small pieces
1 teaspoon cornflour/fine cornstarch
Salt and white pepper
4 tablespoons kecap manis (Indonesian sweet soy sauce)
4 tablespoons oyster sauce
2 tablespoons soy sauce
3 cloves garlic, peeled and diced
100g/3.5oz or half an onion, sliced
100g/3.5oz carrot, julienned (around 1 medium carrot)
1.5 cups/150g/5ozs. shredded cabbage (around 1/4 small green cabbage)
3 slices fresh ginger
150g/5ozs. shelled raw prawns (around 14 medium sized prawns)
2 sticks greens onions/shallots cut into inch long pieces
Fried eggs to top
Accompaniments: chilli sauce, slices of cucumber and tomato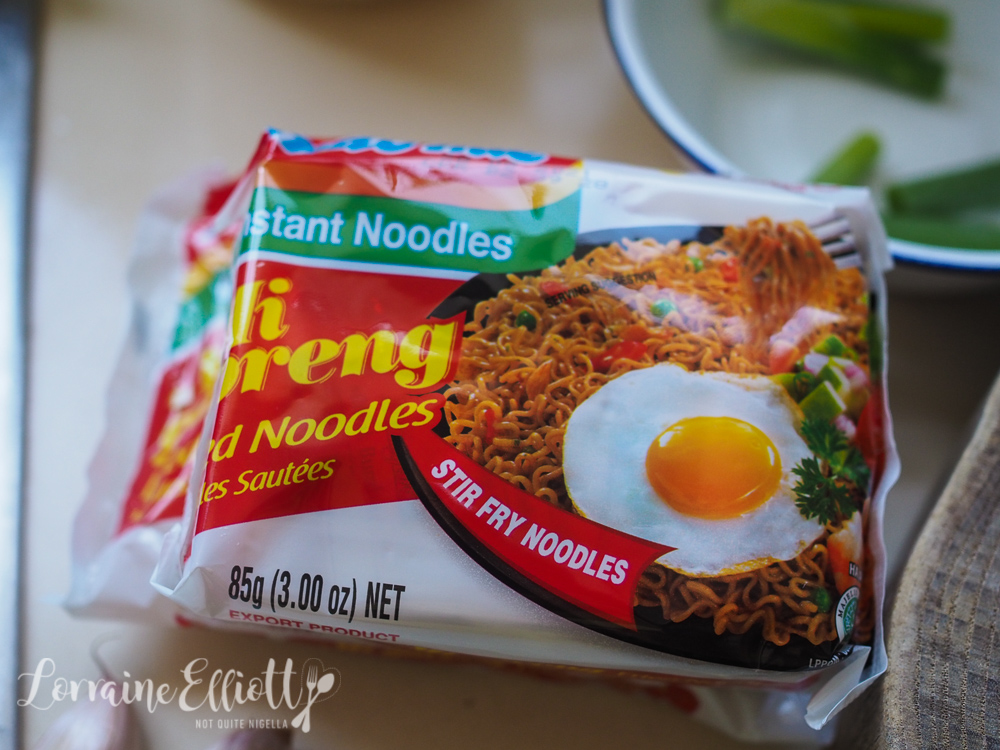 Step 1 - First remove the noodles from the packets reserving the sauce and flavour packets for use in this recipe. Note: Indomie comes with a clear pack of sambal chilli sauce, kecap manis and seasoning oil. There is also a foil packet with fried onions and seasoning powder. Boil the noodles in plenty of boiling water for 2 minutes (not the full 3 minutes) and then drain in a colander under plenty of cold water to stop the noodles cooking further.
Seasoning mix from packet
Step 2 - Mix the chicken with the cornflour, some salt and white pepper and set aside. Then mix the kecap manis, oyster sauce, soy sauce and garlic together along with the chilli sambal sauce, seasoning oil, kecap manis and fried onion from the Indomie packets and set aside (do not add the seasoning powder yet).
Mixing chicken with cornflour and seasoning
Step 3 - Fry the chicken in some oil in a large wok on high heat. Remove from the pan. Then add the onion, carrot, cabbage and ginger adding more oil and fry until softened. Add the prawns and fry until just starting to turn pink. Remove this mixture from the pan (or just push it to one side of the pan if it's a huge pan) and move that section off the heat.
Step 4 - Add the cooked noodles and green onions and fry for a minute. Then add the sauce ingredients coating the noodles and chicken and prawn mixture. Sprinkle some of the seasoning powder from the Indomie packet (not all packets of the powders, it will be way too salty if you add all of them, you'll probably use one packet of this or less total) to taste. Stir together and once cooked and coated in the sauce add some sesame oil and serve with cucumber and or tomato slices. You can also fry an egg or two and add on top.