These delicious scallion noodles are one of my favourite eats of 2023 so far! These "cong you ban mian" are so easy and made of very simple ingredients but produce the most delicious noodles made using items you probably already have in your pantry and fridge! The original recipe is also vegan and packed with flavour. This is a pushy recipe Dear Reader!
I first came across scallion noodles many years ago when visiting Shanghai. I was on a food tour and this bowl of rather plain looking noodles was so flavoursome that I was immediately wanted to know more. Spring onions or green onions are sliced and then cooked in oil imparting the oil with a delicious flavour. The sauce is then combined with soy sauce and sugar for an absolutely divine meal of noodles. If you're making anything this Lunar New Year try these. Not only are they simple and delicious but long oodles are also very good luck as they signify a long life.
Tips for Making Scallion Noodles
1 - I love this recipe as it is ideal if you have a lot of the white base of scallions and is great for using up scallions.
2 - Most of the time is spent julienning the scallions but the rest is so easy I promise!
3 - Some recipes call for more dark soy sauce than I specify but the ones I had in Shanghai were paler than a lot of the recipes on the internet and dark soy sauce needs to be used really sparingly and is just used for colour. If you use too much it really affects the flavour of the sauce to its detriment.
4 - I added pork mince and diced shiitakes to my scallion noodles but they're also delicious without these.
5 - I put the sauce ingredients in a jar and shake it up. It mixes the sauce up so much better than whisking and it stays emulsified for longer too!
6 - Usually the scallions aren't served with the actual noodles but they're so delicious that I serve them with the noodles.
7 - I've made these with fresh noodles and dried and they're both delicious. I used Mr Chen's thick egg noodles that come in a 300g packet (not sponsored). I like these because they're very, very long which is good luck for Chinese New Year! It just depends on how much time you want to spend cooking the noodles. Dried noodles can take up to 10 minutes while fresh noodles cook in around 3 minutes.
Noodles are popular in Chinese culture especially around Lunar New Year as eating noodles signifies a long life. The longer the noodles the longer your life! These noodles were super long which was meant to be good luck although in the last few weeks I've felt incredibly stressed and it's all due to one thing.
We have been invaded!
With summer has come an onslaught of bugs. We get pest control done every year and it's almost time to get it done again. Our garden, as beautiful as it is, is a breeding ground for mosquitoes. I call it the "mosquito farm" and will often refuse to go outside unless it's at the height of the day and its breezy and we have all mozzie coils going. Sometimes they get inside even though we have fly screens on the doors and windows. And then I have every contraption to stop them but none of them work.
After the mozzie epidemic, there came another. Flies. Usually flies fly in and try to fly right out but flies were flying in and disappearing. "Where are they going?" I asked Mr NQN. I was sure they were up to no good. It turns out they were breeding! In one day I killed 23 flies and Dear Reader, I was exhausted. I would walk around muttering, "We can't let them breed!" and the vigilant effort finally paid off. Each day after I killed half the number of flies until 5 days later, spent and exhausted, the flies were gone and the "great fly massacre of 2023" was over. "Bloody nature!" I muttered.
But my happiness was short lived.
The very next day I walked into my office where I saw a silvery trail all over the carpet. "Oh my god nooooo," I said to Mr NQN. There was a slug! "We have to move," I said weakly to Mr NQN, "To an apartment, high up in the sky where bugs can't fly..." I added dramatically. I made Mr NQN promise to find the slug. They only come out at night and that evening he found the slug who was actually heading out the front door. He disposed of it and then added copper tape at every entry point (snails and slugs can't cross copper or they'll get an electric shock). I don't know what the next creature will be to breach our perimeter but I'm ready if not exhausted!
So tell me Dear Reader, are you good or squeamish with bugs? Do you have any pest control tips? And have you ever eaten scallion noodles?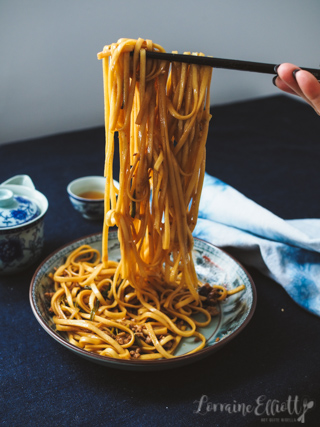 Did you make this recipe?
Share your creations by tagging @notquitenigella on Instagram with the hashtag #notquitenigella
Scallion Noodles
An Original Recipe by Lorraine Elliott
Preparation time: 20 minutes
Cooking time: 30 minutes
Serves: 4
150g/5ozs. green onion or scallions (around 6 or 8 depending on the size of them)
90ml/3fl ozs. peanut or rice bran oil
60ml/2 fl ozs. light soy sauce
10ml/0.3fl ozs. dark soy sauce
4 teaspoons/20g/0.7ozs. brown or caster/superfine sugar
200g/7ozs. pork mince (optional)
4 shiitake mushrooms, diced (optional)
300g/10.6ozs dried noodles or 500g/1lb fresh noodles
Step 1 - Cut the scallions into two inch pieces and slice to create thinnish wisps. Heat in a frying pan with the oil on low to medium heat for 15 minutes. Remove the green onions when they start to turn golden and place in a bowl. In a jar measure the two soy sauces and sugar and add the oil - you should end up with around 55mls/2fl ozs. of scallion oil. Place the lid on the jar and shake to emulsify the oil and the soy sauces to create the sauce.
Step 2 - Using the same pan (there should be a bit of oil left in the pan) fry the pork mince and shiitake mushrooms. Add a couple of tablespoons of the sauce. Place the noodles onto boil and cook according to directions. Drain and rinse under cold water. Then add into the pan along with the remainder of the sauce and reserved green onion and toss. Serve.
Note: you can make a big batch of the scallion oil and keep it in the fridge for up to a month.