The Good View is a Thai restaurant just off Canterbury Road. It's a tiny thing, seating around 18-20 people. The menu has a large range of Thai dishes including classics but also dishes like stir fried clams in chilli jam and crispy chicken with basil.
"Why do you think it's not called the Great View or something like that?" asks Daniela looking out of the window at the river below. We peer over. "I mean it's a good view, but not a great view," I remark. "Under promise and over deliver?" suggests Lutz.
The Good View is a little hidden away from the front of Charles Road in Canterbury. You sort of only happen upon it if you're looking for it or see it from the other side of the river which is where Valentina saw it during one of her walks. Because of its small size it's best to book ahead especially if there are more than two of you. Between the six of us we decide quickly on what to order.
The Thai milk tea is rather uniquely served and while it's not on the menu I saw a neighbouring table order it so I asked for one. Thai tea ice cubes are served in one glass while milk and sugar syrup come on the side. I like being able to control the sweetness and the creaminess of the drink and you can also get extra milk if you want.
These rolls come in a super crispy coating like Vietnamese netted spring rolls. They're quite small and the filling can be a bit dry and I dip them a few times in the palm syrup side. I think I prefer them a bit larger.
The calamari is a classic and is a tasty lightly battered calamari that is tender inside. It comes with a Thai sweet chilli sauce on the side.
"Are you ready for your main course?" our waitress enquires smiling and then disappears. Although there are three staff members there they are very busy and all working in the kitchen.
Valentina's husband Peter never orders anything but he put up his hand for the stir fried clams with chilli jam. It's a great choice and my favourite dish of the night. The chilli sauce is sweet but nuanced with plenty of flavour and Thai basil.
We order a few curries-the sweet potato curry has slices of chicken with big chunks of tender sweet potato.
The Panang curry with chicken is super rich with lots of coconut milk which is what makes it so damn good. It's a mild curry with mixed vegetables and plenty of sauce.
The crispy chicken is also very tasty and one of their most popular dishes. It also has a sweetness to it without it being overly so. The chicken is boneless strips and it comes with a salad on the side.
The Chinese broccoli comes with some stems of broccoli as well as lots of leaves. The crispy pork is sweet and comes in small bite sized pieces.
We ordered two types of rice: a coconut rice and a rice with peanut sauce. Both are delicious although the velvety rich coconut rice is my favourite. Or if you're in the mood for it there's also a crispy roti pastry much like a Malaysian roti for $2.50.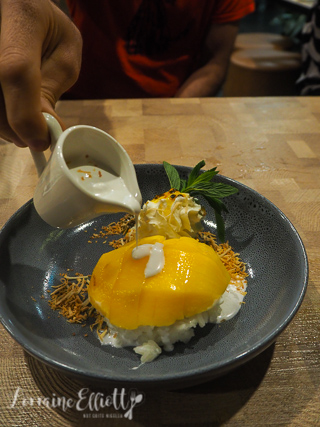 There's only one dessert on the menu and it is a mango sticky rice. It comes with a bed of sticky coconut rice topped with a mango cheek, shredded coconut and a squirt of cream with passion fruit for a touch of tartness. Although I love coconut I think I like plain sticky rice to a coconut one but it's still nice.
So tell me Dear Reader, do you ever see what another table orders and then order it yourself? How sweet do you like your tea ie how many sugars do you add?
This meal was independently paid for.
The Good View
Shop 6/211 Canterbury Rd, Canterbury NSW 2193 Tuesday to Friday 11am–2:30pm, 5–9pm
Saturday 11am–9pm
Sunday 11am–9pm
Monday closed