*Thai Pothong is somewhat of a rarity in Sydney's dining scene having being open for 20 years. Open in 1995 on busy King Street where there is no shortage of Thai restaurants, it serves classic Thai cuisine as well as having a gluten free and vegan menu. Popular dishes include betel leaf prawns, golden egg pastry tartlets, prawns choo chee, a range of cocktails and a large list of Thai sweets. *
It sounded like a great idea. For two of our friends to meet up - that is, Nick and The Wizard. In one corner we had Nick, the king of the Instagram pick up, in the other is The Wizard, king of the Tinder pickup. So a date was made for everyone to have dinner together and the two guys to swap dating tips, talk whisky and watches.
Then Mr NQN sent me a message that afternoon:
"The Wizard is out, he has a conference call."
"But nooooo!!!" was my response. Because I'm melodramatic (and Mr NQN ignores these histrionics anyway).
So it was just the four of us that turned up at Thai Pothong that evening. The long standing Thai restaurant is a regular haunt for Belinda and Nick but it has been a long time since I visited it. In fact the last time was at my hen's night and that was years ago. I remember my mother in law Tuulikki taking two of the empty young coconuts to feed Mr NQN's younger brother Manu. Ahhh those times...
We arrive first and I start with a Samed Island mocktail as it's an unusually hot day. It's a refreshing mix of lime and lychee straight from Thailand. Alas it doesn't look like the picture in the menu missing the pineapple leaf and slice of pineapple garnish.
Belinda orders a Thai Pothong Orchid a sweet, calamine pink cocktail. Alas 20 seconds after this picture was taken, I wore this bright pink cocktail on my dress and shoes as she passes it across the table to offer me a taste. Hey at least I wasn't wearing white!
Nick arrives and like any good salesman, he is friends with the restaurant manager so he is greeted warmly. Thai Pothong is named after a gold leaf that comes from a sacred tree. "Po" means leaf while "thong" means gold. The leaf is stamped on the serving and dinner plates. Open since 1995 they expanded their premises in 2005 and there is a shop at the entrance that sells Thai handicrafts and rather incongruously, two lit up Alien Vs Predator figurines. Service is friendly although one staff member does tend to roll eyes at requests. Maybe it's a tic rather than shade, I don't know.
Nick orders a range of items based on his and Belinda's favourites. The first is a cup of deep fried egg pastry filled with minced chicken, prawn and vegetables with coriander and chilli on top. It's crunchy and flavoursome and I kind of wish I had another mouthful.
The scallops are served with a sweet chilli and ginger shallot sauce. "Don't forget to swallow the juices ladies," Nick says. Belinda and I look at him suspiciously. "Why does everything you say sound dodgy?" I ask him.
Everyone's favourite is the betel leaf filled with prawns. In fact when I Instagrammed the picture of the cocktail pre-spill, a few people mentioned the betel leaf entree. It's a single betel leaf with sweet chilli, lemon, cashew, onion, caviar and roast coconut. I think you could serve a platter full of these and we would have eaten them all.
The rice noodle parcels remind me of Chinese rice noodles at yum cha. They're filled with minced chicken, prawns, bamboo shoots and mushrooms and come with a viscous soy based dipping sauce.
Food comes out quickly here and at this pace, we'll be having dessert before long but then again it's a Monday night so maybe that's not such a bad thing. The fried crab has small chunks of crab meat with egg. It's a simple and subtle but good fried rice.
Do you always have an item that you have to order when you go to a Thai restaurant? Mine is the banana blossom salad. It's a heady, flavour packed mix of prawns, chicken breast, crispy onions, chilli, peanuts and chilli jam.
The other favourite dish along with the betel leaves and banana blossom salad is the prawns choo chee. The prawns are perfectly stir fried and served in an aromatic coconut milk based sauce fragrant with lemongrass, finely chiffonaded and fried kaffir lime leaf and plenty of fragrant Thai basil. And look at that sauce-so much delicious sauce... Sorry I had a moment there!
They bring us the whole snapper and remove the bones from it. It comes back looking surprisingly just like the whole snapper they've done such an expert job deboning it. It's not a dish I would normally order as I find deep fried fish like this very sweet and a bit dry but if you like crispy fish then this might be your sort of thing.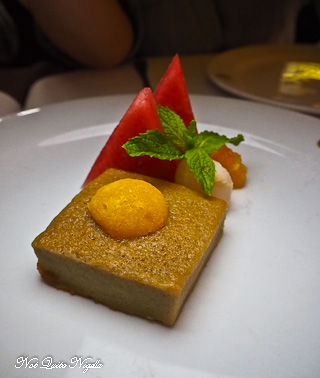 I love Thai desserts so we get a good range of what is on offer. The baked egg custard taro is a sweet square of pudding with a half sphere of syrupy sweet egg yolk in the centre. It is very sweet and simple.
We're all big fan of sticky rice and there are two dishes with it. This is a square with the bottom layer made of black sticky rice and a top layer of intensely sweet eggy custard. It's for those who really like the egg flavour in their custard although it's not my favourite.
We all went for the black sticky rice with coconut cream, fresh coconut and slices of mango fanned out to form a pretty flower. It's not just the look though, we love the salty balance to this dessert and the rich coconut cream.
The Jackfruit ice cream is made in house and it's a rich, creamy coconut and jackfruit ice cream, more coconut than jackfruit but good on this warm Summer's evening.
Is it just me or does this picture look odd? Nevermind...moving right along. It's battered and deep fried bananas in a sticky sweet coating served with ice cream. By the time I reach this dessert, it seems like pure gluttony so I try a bit and then settle back and digest. Like a snake that swallowed a wombat...
So tell me Dear Reader, is there a Thai dish that you always tend to order in restaurants? And are you a fan of Thai desserts?
This meal was independently paid for except for desserts that were given complimentary because of Nick's friendship with the owner.
Thai Pothong
294 King Street, Newtown NSW 2042 Phone:(02) 9550 6277
Lunch: Monday - Sunday 12pm to 3pm
Dinner: Friday & Saturday 6pm to 11pm
Monday - Thursday 6pm to 10.30pm
Sunday 5.30pm to 10pm
http://www.thaipothong.com.au/newtown