Bon is a Japanese restaurant located on Canterbury Road in Canterbury. Rumour had it that they served up great Japanese food but with a side of quirkiness and great prices and we are always on the look out for the best affordable Japanese food in Sydney!
Dear Readers, I am still sharing eating out stories because I think we need a bit of a diversion but I am not suggesting eating out at this time. If you do want to patronise restaurants and cafes please get takeaway from there to avoid contact spreading COVID-19 or save this to a to-eat list to visit later :)
You see there's this thing about the service at Bon. There's no dedicated waitstaff. There's just Takumi and Miki Marui who are the owners and chefs. Chefs don't often have to interact with the public usually for good reason-they don't want to. So when Miki comes out to deliver food to tables, she seems very busy and stressed.
So with that out of the way, the way you order is by filling out the form with what you want. On the flipside of the order form are the rules of which I promptly break one by walking past the curtains (I didn't see the rules Your Honour).
There are also A4 print outs posted about the restaurant and on the way to the bathroom detailing the rules because they don't have time to explain all of this to you because they're busy cooking in the kitchen.
I'm dining tonight with Mr NQN, Valentina, Peter, Jaqi and Everett. The restaurant is BYO for all alcoholic drinks. It's a simple room, paintings and prints on walls and hard surfaces. There's a table that gets increasingly louder as the night goes on, so much so that it's almost painful sitting in there. Once they leave, everyone else remaining in the restaurant (that's us and another table) breathe a sigh of relief at their retreating backs.
I was told that the food doesn't come out in a hurry as there's just the two of them in the kitchen cooking so I expect to wait a while as it is crowded but the food comes out shortly after we order. We ordered two lots of the gyoza. One lot arrives first and then the next batch arrives about 10 minutes later. The gyoza are crispy on one side, piping hot inside and delicious.
There is a 100% likelihood of ordering chicken karaage if I see it on the menu. Bon's chicken karaage is around half a dozen boneless pieces of chicken with a side portion of their house made Japanese tartare sauce which just happens to be my favourite type of tartare sauce as it's like a tartare sauce and egg salad mated and had the most delicious offspring (okay that sounds weird I know). What I'm trying to say is that it is so good you may want your own separate pot of this to have on the side which you can order for $2 and for good measure I also order a side of pickled ginger for $2 because I love it with my chicken karaage.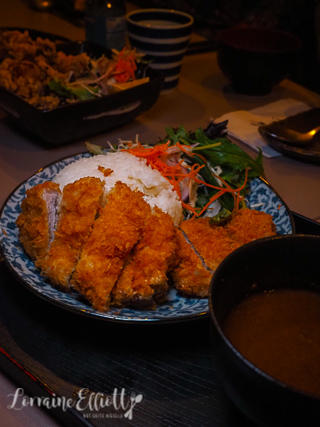 It was slightly cooler today which means I was freezing and needed to bury myself under a layer of soup, carbs and melted cheese. It also meant that the katsu curry was a must order. It's a thick fillet of tender pork katsu that is deep fried and golden crumbed and comes pre-sliced. The curry sauce is to the side which means that the katsu stays crunchy while the curry sauce is intense and rich.
The tonkotsu pork bone broth takes them 72 hours to make and there is a soy or shio (salt) based one to choose from. We go for the soy based one and they only make 10 serves of this a day. We're lucky enough to nab one and it's very rich and comforting. The noodles are nicely al dente with a generous four slices of pork chashu, a gooey yolked soy marinated egg, bamboo shoots and black funghi. It's a very rich ramen so I always find this best shared between a few people.
Miso cod is such a classic crowd pleaser. The buttery black cod is basted with miso paste which makes it sweet and caramelised at the same time so that it melts in the mouth.
The Spider roll is soft shell crab with avocado, cucumber, roasted jalapeno mayo and spicy fish roe. There's lots of good flavours and textures here.
The menu doesn't say how many pieces the sushi comes as and some of the bigger sushi rolls come in pieces of four while others six. The prawn tempura roll is one of my favourite items of the night with a large tempura prawn, avocado and mayonnaise but alas there are only 4 pieces. Mr NQN and I share a piece. The prawn tempura is fresh and crunchy with a soy glaze on top. I wish I had ordered another.
There's a choice of vegetable, pork or wagyu yaki soba and we went with the wagyu one. It's a very flavoursome dish with plenty of dark sauce and a tangle of tasty noodles. There's a good amount of wagyu although for me this was a bit too firm and thick for my liking.
The new style kingfish sashimi has a soy, garlic, ginger, jalapeno, chives and yuzu dressing and is lightly seared on the outside with smoking oil while the inside is still raw. There are slices of chilli on top and it's very tasty indeed.
Valentina's favourite dish is the miso eggplant or nasu dengaku which is a large half eggplant deep fried and glazed with a sweet miso reduction. In fact she loves it so much we order two of these. It's a solid version of this and very caramelised.
There's only one dessert on the menu. It's a matcha cheesecake and it has a tasty biscuit base, creamy centre and a generous sprinkling of matcha powder on top. And when we get the bill it's a nice surprise at around $40 per person!
So tell me Dear Reader, do you like the idea of writing down your order? Is there a Japanese dish you always have to order?
This meal was independently paid for.
Bon
163 Canterbury Rd, Canterbury NSW 2193 Monday & Tuesday closed Wednesday to Friday 5:30–9pm Saturday & Sunday 12–2:30pm, 5:30–9pm Phone: (02) 9718 7139