Social enterprise meets delicious food at Zen Tea Lounge in Smithfield. This oasis in the middle of an unexpected setting channels funds raised in their restaurant towards programmes to eradicate domestic violence. Tomorrow, the 20th of November 2020 marks White Ribbon Day.
"Where are we?" asks Ivy holding my phone directing us into an industrial area of Smithfield. We're driving past businesses with trucks and earth movers parked next to chain link fences. Then we spy a colourful sign pointing people towards Zen Tea Lounge.
It's a leafy oasis in an unassuming looking area. Instantly calming, there's plenty of outdoor seating and a large teak canopy with a large table and chairs.
"Our purpose in to eliminate domestic violence," explains Amy Nguyen, co-founder and director of the Zen Tea Lounge Foundation and herself a survivor of trauma. She knows how hard it is to break the complicated and multi generational cycle of domestic violence. Amy explains that women from foreign countries and those that do not speak English are more likely to experience domestic violence. Every 2 minutes, Australian police deal with 1 domestic violence case. "Some women don't even know that they're living in DV situations," she adds. Many people living in domestic violence situations feel invisible and unseen.
The Zen Tea Lounge allows the foundation a public facing way to raise funds for the programs. There are four programmes designed to tackle the issue in different ways. These are funded mostly by the public from donors in Sydney, Canberra and Melbourne. Council contributes a small amount and while politicians have gotten in touch, nothing has materialised. So far $168,000 has been raised over the three years that this has been in existence.
All sauces and ingredients are made in-house by the chefs. All of the women who work in the restaurant are themselves former participants of the programs or what Amy calls "Warriors." Even the herbs come from some of the women in the program who bring them from their gardens. "They just want to give back," says Amy.
There are workshops that focus on MBSR (mindfulness-based stress reduction) and these teach trauma coping techniques, emotional resilience and to get rid of the fixed mindset and instead learn about growth mindset. There are also upskills workshops to help women transition back into society and gain employment for financial freedom. During school holidays they also run workshops for children from disadvantaged households that teach them how to developing mindfulness and self-esteem as well as strategies to address emotionally complex situations.
So far they have assisted over 18,000 women. 100% of profits goes back into the business with 5% to admin and marketing and the rest to the programmes. It is mostly staffed by volunteers who are passionate about eradicating domestic violence from society.
For now people can support them by eating at the restaurant or buying meals to go. The ready made meals from the kitchen can last up to 14 days thanks to MAP (modified atmosphere packaging) technology. They deliver to the surrounding areas or you can pick up your meals from the restaurant.
They also do an Asian high tea for $59 a person for 20 people which includes delivery in Sydney. They also loan out the tea pots for the full experience and collect them at a later date. Corporates can support them by ordering tea which broadens fundraising to the whole of Australia rather than just the Sydney area. An order of 1,500 tea bags gives financial independence for a woman's family for a week.
Vietnamese Iced Coffee With Ice Cream $7.90
We are here at lunch time and start with a tea in the front garden. The tea service comes with your choice of tea, in our case it's a Vietnamese 100 year wild green tea and a deliciously moreish Vietnamese iced coffee.
Zen Lounge Tea $5
Angel Hair Spring Rolls $10, Curry Puffs $7
The prices for food and drink are very reasonable with most of the main meals between $12-$15. We start with some angel hair spring rolls filled with taro, lotus seed, lotus stems and mushrooms. These are absolutely divinely crunchy and yes I ate three of these they were so good. The curry puffs are also nice and tasty.
Chef's Special Most Popular Rice Dish $15
We also order the chef's rice special with honey soy chicken, barbecue pork patties and a fried egg with rice and salad. The chicken is delicious and the ground pork patties have a lot of flavour and texture to them. And if you are vegan there is also a vegan version of the honey soy chicken that is a good imitation.
Sydney Sunrise on Toast Baguette $11
The banh mi comes as two full sized rolls with a choice of fillings. We go with the Sydney Sunrise baguette with slow cooked barbecue pork, fried egg, bologna, barbecue patties and cheese and it's delicious and filling.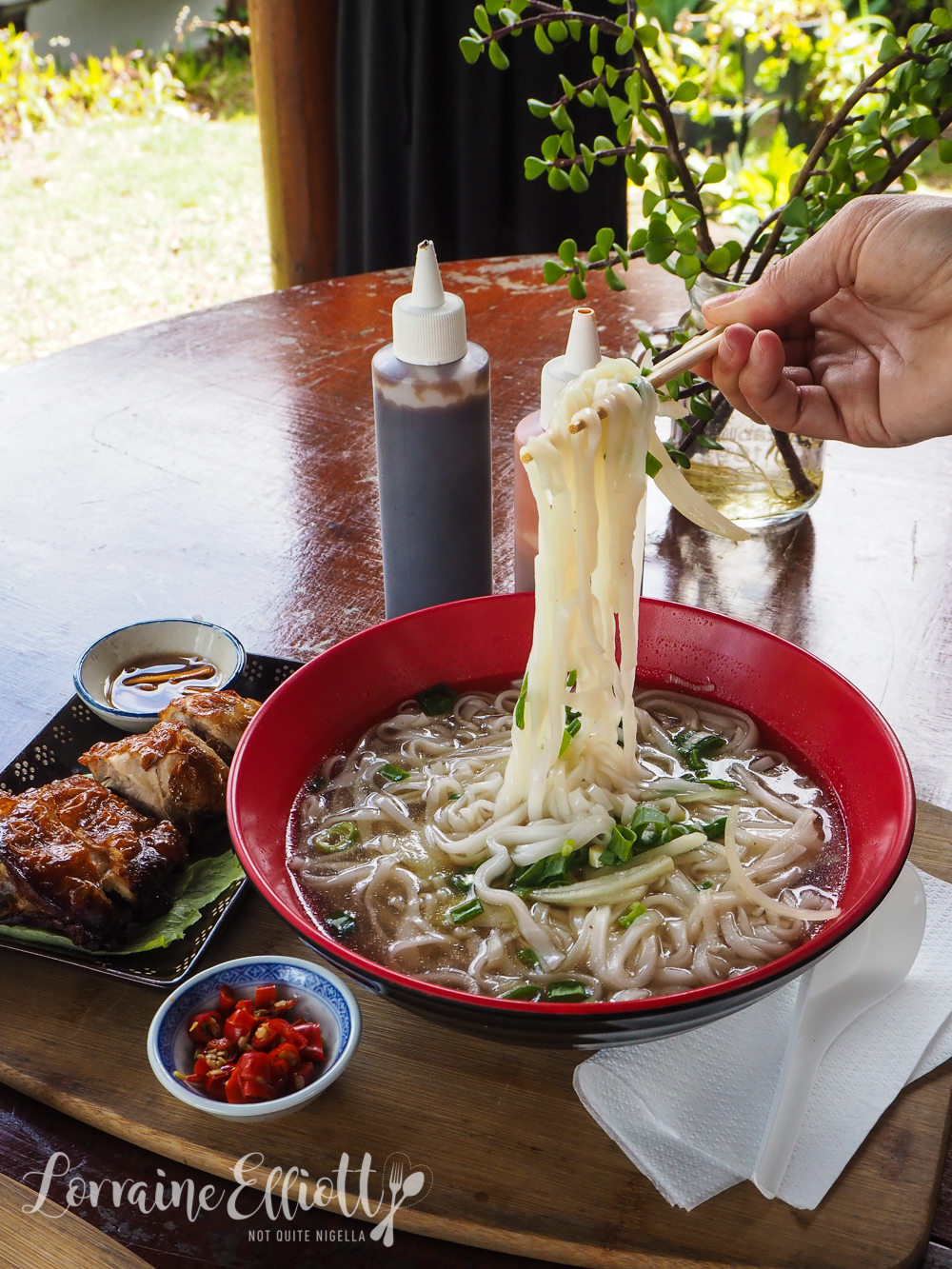 Grilled Chicken Noodle Soup $15
The grilled chicken noodle soup comes with a big bowl of rice noodles in a chicken broth and some tender grilled chicken on the bone on the side. There is chilli and hoi sin sauce as well as fresh bird's eye chillies. This is comforting as well as tasty.
Watching the kitchen staff go about their work quietly with their fantastic new found skills Amy says, "This is a sisterhood standing next to me. And they fight with me."
So tell me Dear Reader, are there any social enterprises that you support? Has the issue of domestic violence touched you or anyone you know?
This meal was independently paid for.
Zen Tea Lounge
15/108 Percival Rd, Smithfield NSW 2164
Monday to Friday 10am–4pm
Saturday & Sunday closed
zentealounge.com.au